Born Louise Gesellius, in Helsinki, Finland, Loja Saarinen is known today primarily as a weaver—a legacy that she helped to define but which mischaracterizes her many roles at Cranbrook. An artist in her own right when she married architect Eliel Saarinen in 1904, she studied at the Art School of the Finnish Academy in Helsinki (Konstföreningen) and trained in sculpture at the Académie Colarossi in Paris, the same school where Swedish sculptor Carl Milles perfected his art. 
At the top of her roles as entrepreneur and designer, Loja Saarinen led Studio Loja Saarinen, an innovative weaving studio that produced rugs, curtains, and fabrics for use at Cranbrook and around the country. Loja's management of the enterprise followed corporate design studio strategies rather than those of the art world and ideas of single authorship. Loja promoted her Studio through exhibitions and publications and completed commissions for residences, businesses, and offices, including a commission from Frank Lloyd Wright to design the rugs and upholstery for the office of Edgar Kaufmann in Pittsburgh. 
Parallel to her work leading Studio Loja Saarinen, Loja was the head of the Department of Weaving and Textile Design at Cranbrook Academy of Art. Eliel and Loja Saarinen are well-known for their association with Cranbrook Academy of Art, the revolutionary school of art, design, and architecture they helped to shape and lead. At the center of the Academy of Art sits Saarinen House, designed collectively by Eliel, Loja, Pipsan, and Eero in 1928. Completed in 1930, Saarinen House served as the home of the presidents of Cranbrook Academy of Art for sixty years. The home's Dining Room, with its circular table and golden dome, was the setting for many memorable dinner parties hosted by Loja and Eliel Saarinen during Eliel's presidency. 
 
As a landscape gardener, Loja designed not only the Saarinen House landscape, selecting the textures of the shrubs and trees like a weaver selecting yarns, but also designed the iconic landscape surrounding the Triton Pools in front of Cranbrook Art Museum. She oversaw the planting of close to 500,000 annuals each spring for Cranbrook. And, as if all of this was not enough, she also collaborated with Eliel on his architectural projects, sculpting large-scale clay models and directing photography.
Loja and Eliel also raised two precocious children, Pipsan and Eero, both of whom left their own marks in the fields of design and architecture. As young adults at Cranbrook, they worked alongside their parents, as can be observed through the design contributions they made in Saarinen House and Kingswood School where Pipsan added interior finishes, decorations, and paintings, and Eero designed furniture.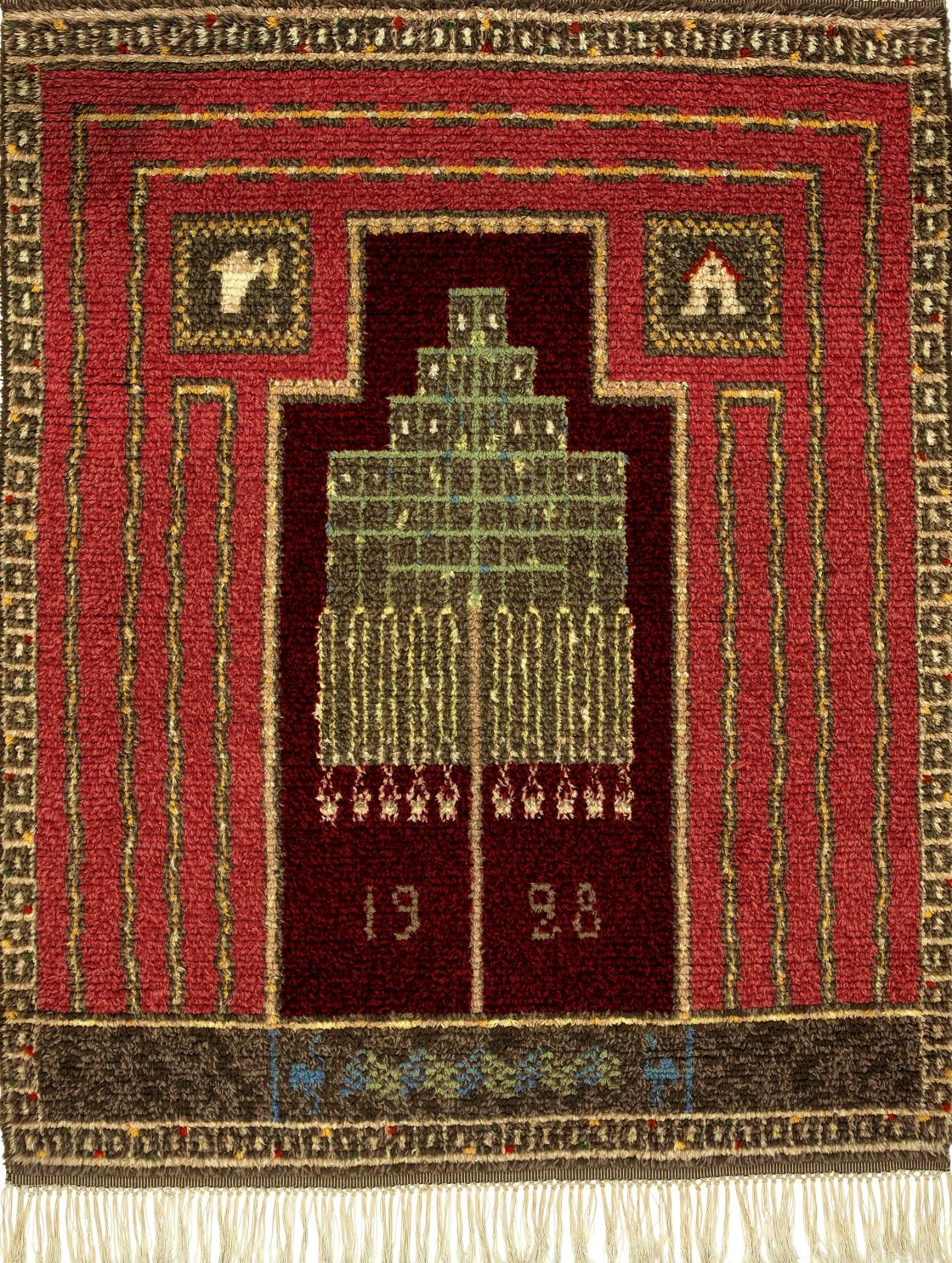 PHOTO CREDITS
Unless otherwise noted, Photography by James Haefner.

George Booth Office Carpet/Museum Rug, 1931; Studio Loja Saarinen (maker); Maja Andersson Wirde (designer); Wool pile, linen warp; 282 x 142 inches (716.3 x 360.7 centimeters); Collection of Cranbrook Art Museum. 
Loja Saarinen showing Eliel Saarinen a cartoon of their tapestry, The Sermon on the Mount, April 1941; Photograph by Betty Truxell, Courtesy of Cranbrook Archives.

Studio Loja Saarinen Rug No. 1, 1928; Studio Loja Saarinen (maker); Loja Saarinen (designer/weaver); Walborg Nordquist Smalley (weaver); Cotton warp, linen weft with wool pile; 67 x 53 inches (170.2 x 134.6 centimeters); Collection of Cranbrook Art Museum, Museum Purchase through the Cranbrook Foundation.