Saarinen house
Saarinen House is Eliel Saarinen's Art Deco masterwork and the jewel of Cranbrook's architectural treasures. Designed in the late 1920s and located at the heart of Cranbrook Academy of Art, from 1930 through 1950 Saarinen House served as the home and studio of the Finnish-American designer Eliel Saarinen—Cranbrook's first resident architect and the Art Academy's first president and the head of the Architecture Department—and Loja Saarinen—the Academy's first head of the Weaving Department. The extraordinary interior, now impeccably restored, features Saarinen's original furnishings, including Eliel's delicately veneered furniture and Loja's sumptuous textiles, as well as early furniture designs by their son, Eero Saarinen.

The Cranbrook Center for Collections and Research, in partnership with Cranbrook Art Museum, is responsible for stewarding the collections of Saarinen House and opening its doors to visitors from around the world.

The 2021 tour season begins May 1, 2021, with public tours Friday, Saturday, and Sundays at 3:00pm Eastern Time. Private tours and group tours are available per staff availability; please call the Center at 248.645.3307 for more information.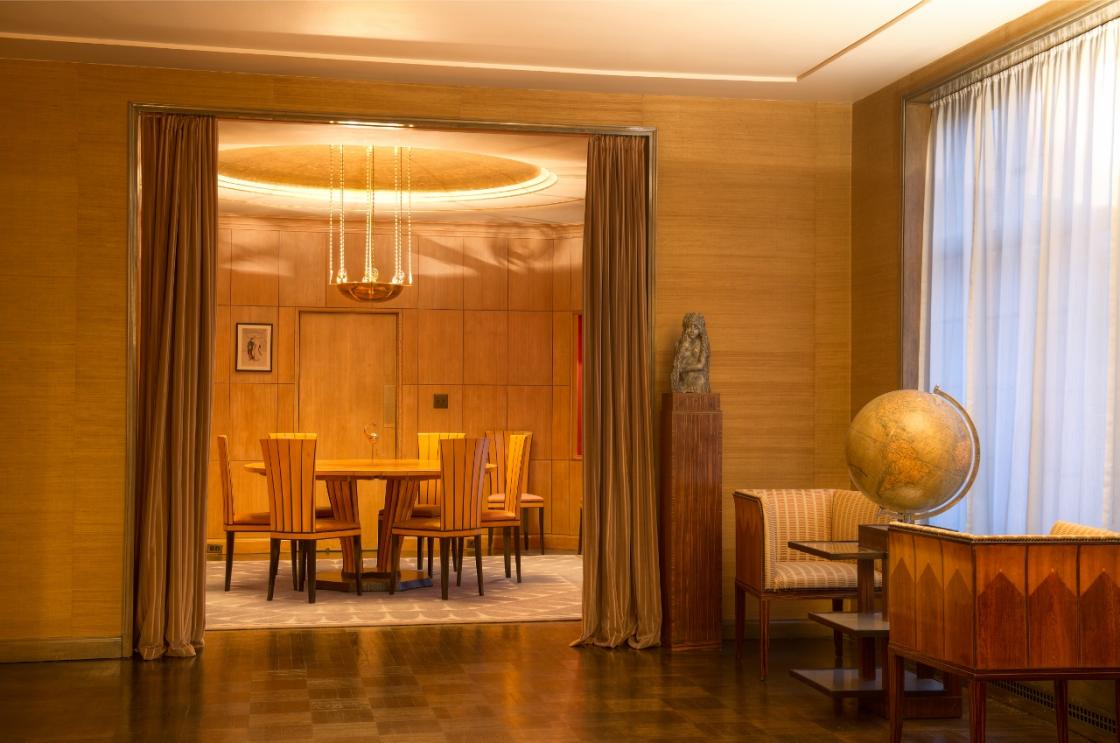 PUBLIC TOURS
Visitors are required to purchase Saarinen House tickets in advance through the Center for Collections and Research website or by calling the Center at 248.645.3307. Advance ticket sales for each weekend close Friday at 9:00am. 

The tours are approximately 75 minutes in length and include stairs and two ten-minute walks on Cranbrook's campus. Tours take place rain or shine. To protect the carpeting and flooring in Saarinen House, you will be asked to remove your shoes and wear slippers, which will be provided.

For the safety and comfort of all visitors, children younger than eight years old, including infants and toddlers, are discouraged from joining the tour. Due to the historical status and intimate nature of the house, many rooms and passageways are very narrow, and therefore the house is not wheelchair-accessible.

Only small wallets and handheld cameras are permitted on the tours. Please leave all backpacks, purses, camera bags, camera equipment, and other cumbersome items in vehicles. This policy was created for the security and protection of Saarinen House and its collection of fine and decorative art.

All tours are walking tours and guests must be able to walk and stand throughout most of the tour. There are no places to sit down in the house itself. There are no public restroom facilities in the house; please use the facilities at the Cranbrook Art Museum before beginning your tour.
PUBLIC TOUR FEES

Adults                                                            $20
Students with ID                                          $10
ArtMembers (join now)                               Free

Tickets are non-refundable. However, with at least three days advance notice, your ticket may be transferred to another tour date during the same tour season. Your ticket also may be transferred to another participant for the tour on the same day and time as the original ticket.
SPECIAL COVID-19 INFORMATION
Don't feel well? Stay home. Visitors showing signs of illness will be asked to return at a later date.
Wear a mask.  Face masks must be worn by all visitors inside Cranbrook buildings, at all times. Your guide will also be wearing a mask.   
Stay 3 to 6 feet apart. Physical distancing is required and will be enforced. Households may remain together. 
Be aware of space and people around you. Please be aware of the number of people in each space before entering.
Keep your hands clean. Hand-sanitizer will be available.
Be smart, stay safe. An inherent risk of exposure to COVID-19 exists in any public place where people are present. Please observe the precautions above!
PRIVATE TOURS
Cranbrook Center for Collections and Research offers a limited number of private tours of Saarinen House from May through November, with at least three weeks of advance notice. The Center's staff will be glad to include a visit through Saarinen House as part of a longer custom-designed campus tour. To inquire about private tours, please call the Center at 248.645.3307.

Adults and Seniors: $50
Students with ID: $25 
Minimum Private Tour Group Fee              $150
CRANBROOK VIRTUAL TOURS
Cranbrook Center for Collections and Research is offering Cranbrook Virtual Tours. Working directly with our resident curator, Kevin Adkisson, these tours allow you to enjoy the wonders of Cranbrook's architecture and grounds—from the comfort of your home or business. Contact us to craft your own custom Cranbrook experience for your family, friends, colleagues, or organization. 
photo credits 
Haefner, James. Main room of Saarinen House. 2015. Cranbrook Center for Collections and Research, Bloomfield Hills.
Graub, Colton. Dining room of Saarinen House. 2012. Cranbrook Center for Collections and Research, Bloomfield Hills.
Haefner, James. Living room of Saarinen House. 2015. Cranbrook Center for Collections and Research, Bloomfield Hills.