Saarinen house
Saarinen House is Eliel Saarinen's Art Deco masterwork and the jewel of Cranbrook;s architectural treasures. Designed in the late 1920s and located at the heart of Cranbrook Academy of Art, from 1930 through 1950 Saarinen House served as the home and studio of the Finnish-American designer Eliel Saarinen—Cranbrook's first resident architect and the Art Academy's first president and the head of the Architecture Department—and Loja Saarinen—the Academy's first head of the Weaving Department. The extraordinary interior, now impeccably restored, features Saarinen's original furnishings, including Eliel's delicately veneered furniture and Loja's sumptuous textiles, as well as early furniture designs by their son, Eero Saarinen.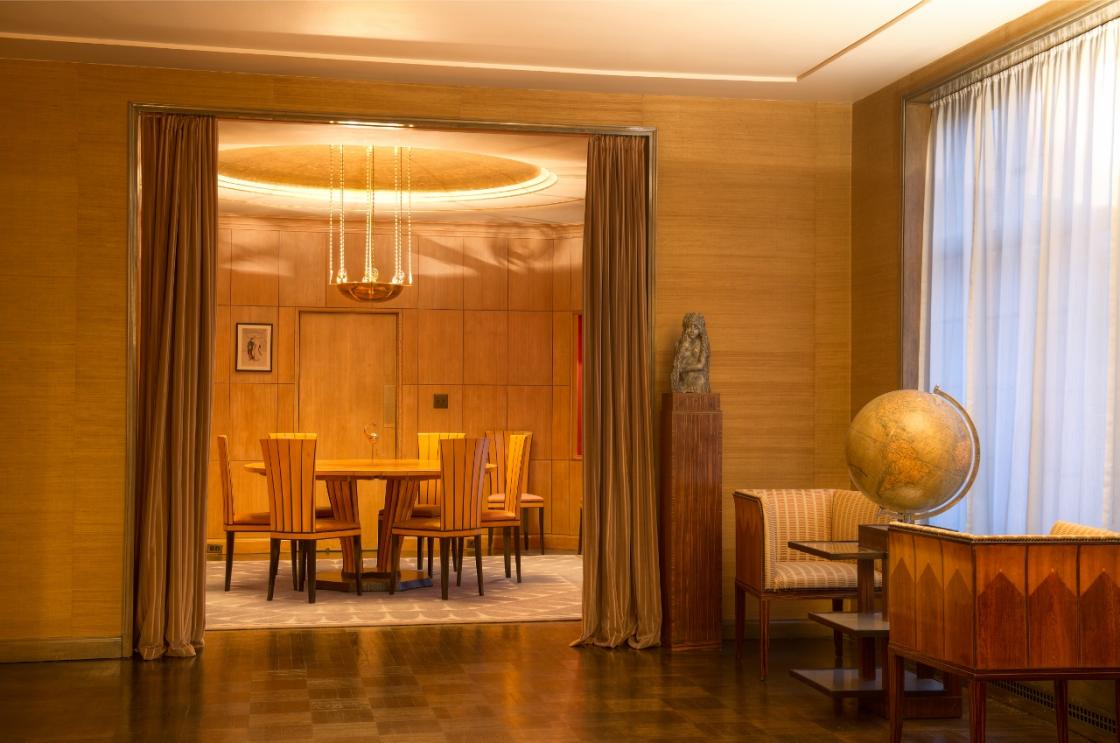 TEMPORARY SAARINEN HOUSE EXHIBITION
From September 22 through November 26, 2017, tours of Saarinen House will feature the exhibition, Jason Carter at Saarinen House: #digital_presence. For this project, which is the third in a series of interventions in Saarinen House designed to rethink the purpose and experience of visitors within historic house museums, Cranbrook Academy of Art graduate Jason E. Carter is replacing eight framed artworks owned by the Saarinens with eight of his new paintings. In these works, Carter imagines the carefully composed pre-digital interiors illuminated by the cool blue light of the digital devices of an imagined twenty-first-century resident.  For more information on the exhibition, click here. 

PUBLIC TOURS
Staff-guided public tours of Saarinen House depart from the front desk of Cranbrook Art Museum, where tickets may be purchased on tour days. Public tours are scheduled May 1 through November 26, at 2:00pm on Fridays and Saturdays, and at 1:00pm and 3:00pm on Sundays. Tours are limited to 12 guests. Reservations are strongly encouraged to ensure tour availability.

The tours are approximately 75 minutes in length and include stairs and two ten-minute walks on Cranbrook's campus. Tours take place rain or shine. To protect the carpeting and flooring in Saarinen House, you will be asked to remove your shoes and wear booties, which will be provided.

For the safety and comfort of all visitors, children younger than eight years old, including infants and toddlers, are discouraged from joining the tour. Due to the historical status and intimate nature of the house, many rooms and passageways are very narrow, and therefore the house is not wheelchair-accessible.

Only small wallets and handheld cameras are permitted on the tours. Please leave all backpacks, purses, camera bags, camera equipment, and other cumbersome items in vehicles. This policy was created for the security and protection of Saarinen House and its collection of fine and decorative art.

All tours are walking tours and guests must be able to walk and stand throughout most of the tour. There are no places to sit down in the house itself. There are no public restroom facilities in the house; please use the facilities at the Cranbrook Art Museum before beginning your tour.
PUBLIC TOUR FEES (INCLUDES ADMISSION TO CRANBROOK ART MUSEUM)
ArtMembers (join now)                               Free
Adults                                                            $15
Seniors (65 and older)                                $13
Students with ID                                          $11

Saarinen House tours include admission to the Cranbrook Art Museum. Please call the front desk at 248.645.3320 to make a reservation, or email artmuseum@cranbrook.edu.
PRIVATE TOURS
The Cranbrook Center for Collections and Research offers a limited number of private tours of Saarinen House from May through November, with at least three weeks of advance notice.

ArtMembers (join now)                              $15
Adults and Seniors                                     $20
Students with ID                                         $15
Minimum Private Tour Group Fee              $100

To inquire about the availability of a private tour, please call the Center at 248.645.3307.
photo credits 
Haefner, James. Main room of Saarinen House. 2015. Cranbrook Center for Collections and Research, Bloomfield Hills.
Graub, Colton. Dining room of Saarinen House. 2012. Cranbrook Center for Collections and Research, Bloomfield Hills.
Haefner, James. Living room of Saarinen House. 2015. Cranbrook Center for Collections and Research, Bloomfield Hills.