Samuel Simpson Marquis
1866 – 1948
Dr. Samuel Simpson Marquis was the missionary and first official rector of Christ Church Cranbrook, where he served from 1924 until 1939.
Marquis was born on a farm near Sharon, Ohio, on June 8, 1866. He became a teacher at the age of 17, before entering Alleghany College in Meadville, Pennsylvania, in 1885. After graduating in 1890, he entered the General Theological Seminary in New York, before transferring to Cambridge Theological Seminary in Massachusetts the following year. Upon graduation in 1893, he was ordained as an Episcopalian priest. He married Gertrude Lee Snyder on August 23, 1894, in Warren, Ohio, and they had four children.
Marquis served in two churches in Massachusetts before being called to St. Joseph's Church in Detroit in 1899. He served St. Joseph's until 1906, when Bishop Williams invited him to become rector, and later dean of St. Paul's Cathedral in Detroit. As dean of St. Paul's, Marquis oversaw construction of the new cathedral building, designed by Ralph Adams Cram (1908-1911).
In December 1915, Marquis sailed on the "Peace Ship" with Henry Ford, despite having attempted to talk him out of the endeavor. Later, he wrote that he questioned Ford's judgement, not his motive.[1] In May 1916, at the invitation of Henry Ford, Marquis resigned from St. Paul's to work as head of Ford Motor Company's Sociological Department. He undertook this charge as an "experiment in applied Christianity."[2] Marquis welcomed the ideals and policies of 1914 and 1915, including the living wage, the eight hour day, and the profit-sharing plan.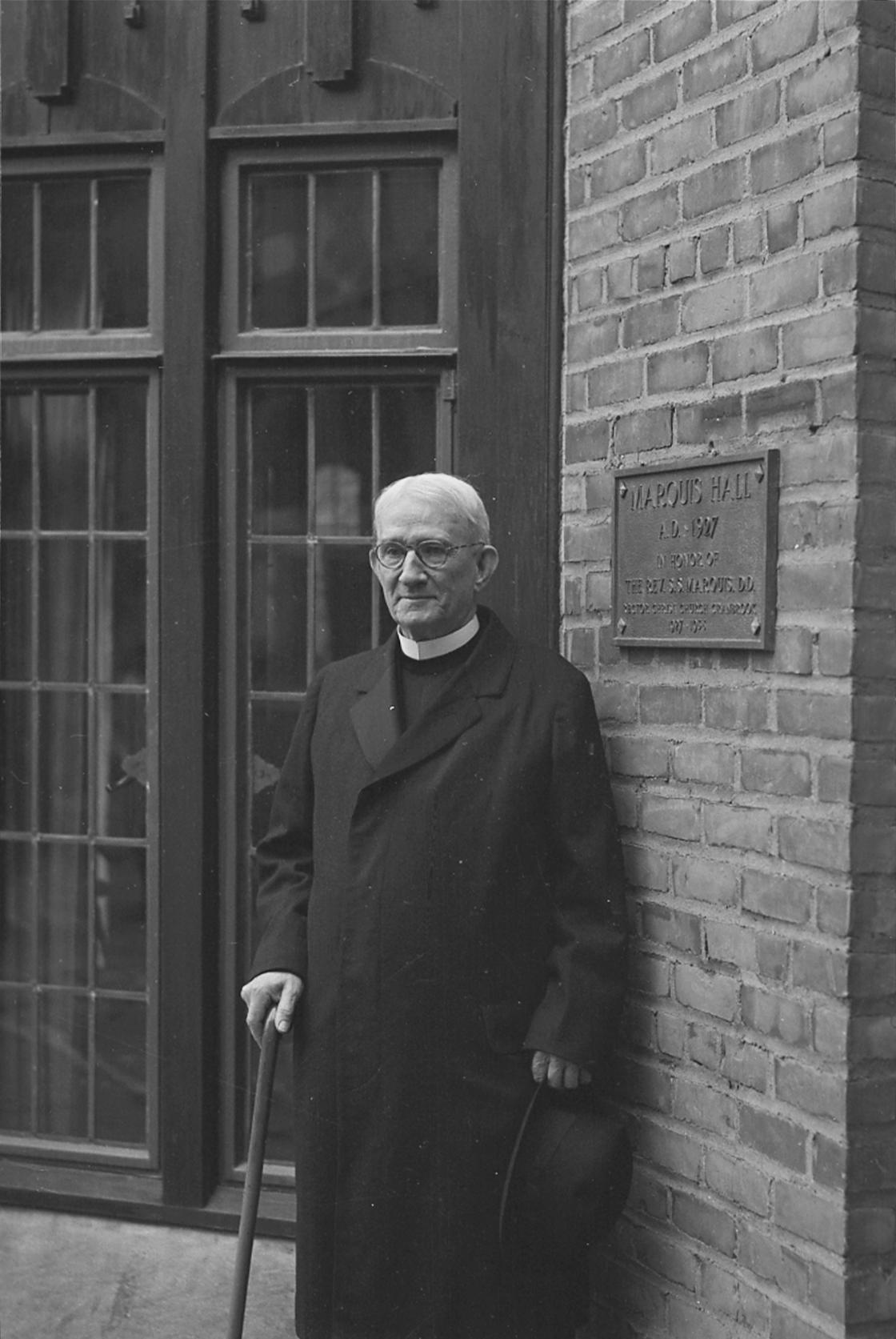 However, by the time of his resignation in 1921, these policies had become difficult to enforce and the executives who had "set justice and humanity above profits and production were gone" and with them "the era of cooperation and goodwill in the company."[3] He returned to the ministry as rector of St. Joseph's in 1921. In April 1923, he published Henry Ford: An Interpretation, which was also published in weekly editorials in nationwide newspapers, including The Boston Herald and The New York Times. The book was met with great interest and mixed emotion due to its frank discussion of humanity in industrial relations, as observed in relation to Henry Ford and his company, in which Marquis described the "executive scrapheap" and lack of loyalty to workers.
In October 1924, George Gough Booth wrote to Marquis with the polite but emphatic request that he oversee the mission of Christ Church Cranbrook:
"I do not overstate at all in saying that the present rather important prospect has grown up on our hope and faith in you. … We do not intend to allow ourselves to expect anything – but we do hope everything and are really very anxious to have the work rest in your care – I think you must see that this is really very important, in fact that St. Joseph's future is not anything like as precarious without you as this would be. … You could cooperate in perfecting details of the building plans and watch the progress of the work and when it seemed best could start such services as seemed best to you…."[4]
Marquis and his wife moved to Cranbrook in April 1925 and, as missionary, conducted services at the Meeting House (now Brookside School). He helped supervise the completion of the new church building, designed by Bertram G. Goodhue Associates of New York, and was appointed rector of Christ Church Cranbrook when it was officially established in 1927. As a friend and confidant of Booth, he was instrumental in establishing the guiding principle of Cranbrook School for Boys, for which he was a Trustee from 1926 until 1939. In 1939, he resigned from his duties due to ill health and became rector emeritus. In his resignation letter, he impressed that: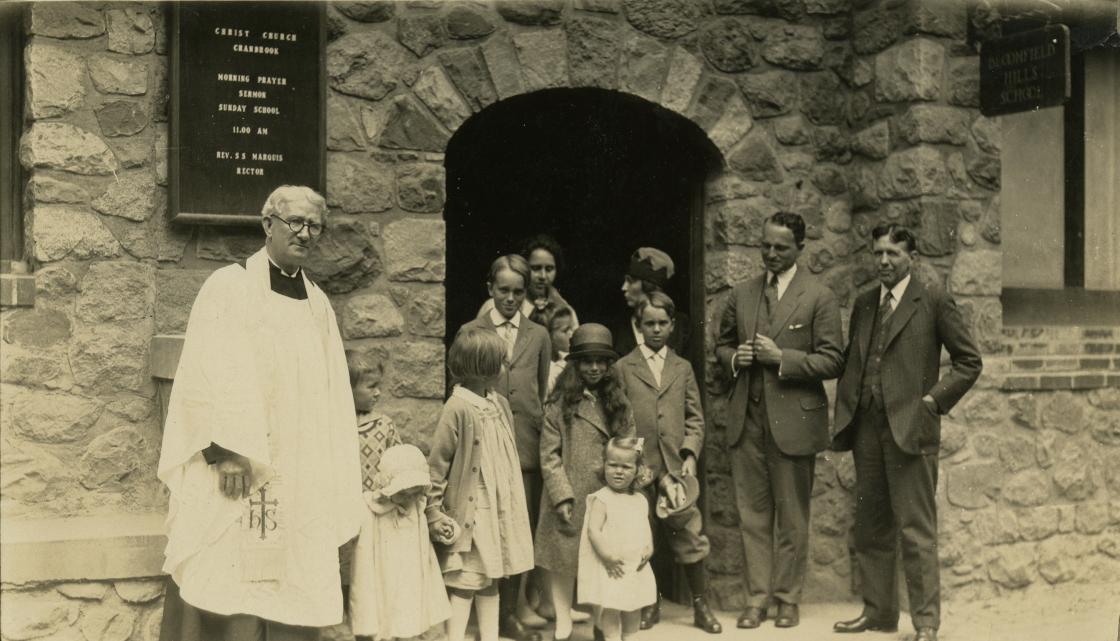 "Christ Church is an Episcopal Church, but it has been my aim from the day its services were started to make it a community church with doors open to all interested in religious worship and work, and willing to place such above divisive denominational forms and doctrines…."[5]
Cranbrook School's Marquis Hall was dedicated in his honor on May 23, 1940. Headmaster Dr. Rudolph Lindquist gave the address, often quoting from Marquis's own address, 'The Language of Art'[6], including,
"Two things enter into Art, the material used by the artist and the thought or ideal or feeling instilled into it."
At the dedication, Marquis related that one of the reasons why he accepted the call to Cranbrook was finding in Mr. Booth, "a mind that seems to me to be the ideal kind … a mind with which I can disagree and yet be in harmony."[1]
Dr. Samuel Marquis enjoyed many hobbies, including music, fishing, and poetry. Upon his retirement, he and Gertrude resided in Birmingham, Michigan where he died on June 21, 1948. Fittingly, his funeral services were held at Christ Church Cranbrook.
Laura MacNewman, Archives Assistant
Cranbrook Archives, Cranbrook Center for Collections and Research
July 2017
related links
sources
[1] Marquis, Samuel S. D.D. (1923). Henry Ford: An Interpretation. Little, Brown, and Company. (p.19)
[1] Detroit News, The, 'Tribute Paid to Dr. Marquis' May 17, 1940
[3] Ibid, p. 140, 144-145
[4]    Booth, George Gough Letter to Samuel Simpson Marquis, Oct 8, 1924 (1983-07 1:7)
[5] Marquis, S.S. Letter of Resignation read at Vestry meeting on June 22, 1936. (p.8) (1983-07 2:11)
[6] Marquis, S.S. 'The Language of Art' Address at the formal opening of Cranbrook Pavilion, Dec 17, 1934.
PHOTO CREDITS
Reverend Marquis at the dedication of Marquis Hall, May 1940. Cranbrook Archives, Cranbrook Center for Collections and Research, Bloomfield Hills.
Reverend Marquis with Grace Booth Wallace (center), Harry Wallace (second from right) and the Frederick Strong family. June 1926. Samuel Simpson Marquis Papers, Cranbrook Archives, Cranbrook Center for Collections and Research, Bloomfield Hills. 
Banner photo by P.D. Rearick, CAA '10.