Jason Carter at Saarinen House: #digital_presence
OPENING RECEPTION WITH THE ARTIST IN SAARINEN HOUSE
Sunday, September 17, 2017 | 2:00 pm – 5:00 pm
EXHIBITION TOUR DATES 
September 22 through November 26 | Fridays & Saturdays at 2:00 pm, Sundays at 1:00 pm & 3:00 pm
Free admission during the opening, regular fees apply for tours
The Cranbrook Center for Collections and Research is pleased to announce the exhibition J
ason Carter at Saarinen House: #digital_presence
. For the project, eight new paintings by Jason E. Carter will be placed throughout Saarinen House, the restored 1930 home of Eliel and Loja Saarinen. His works explore the Art Deco landmark through the lens of contemporary technology, specifically the interaction between the historic domestic environment and the glowing light of contemporary digital devices. Guests will see Carter's paintings as part of the Center's regular Saarinen House tours, learning about the history of the building and its designers while also viewing
#digital_presence
. To learn more about Saarinen House,
click here
.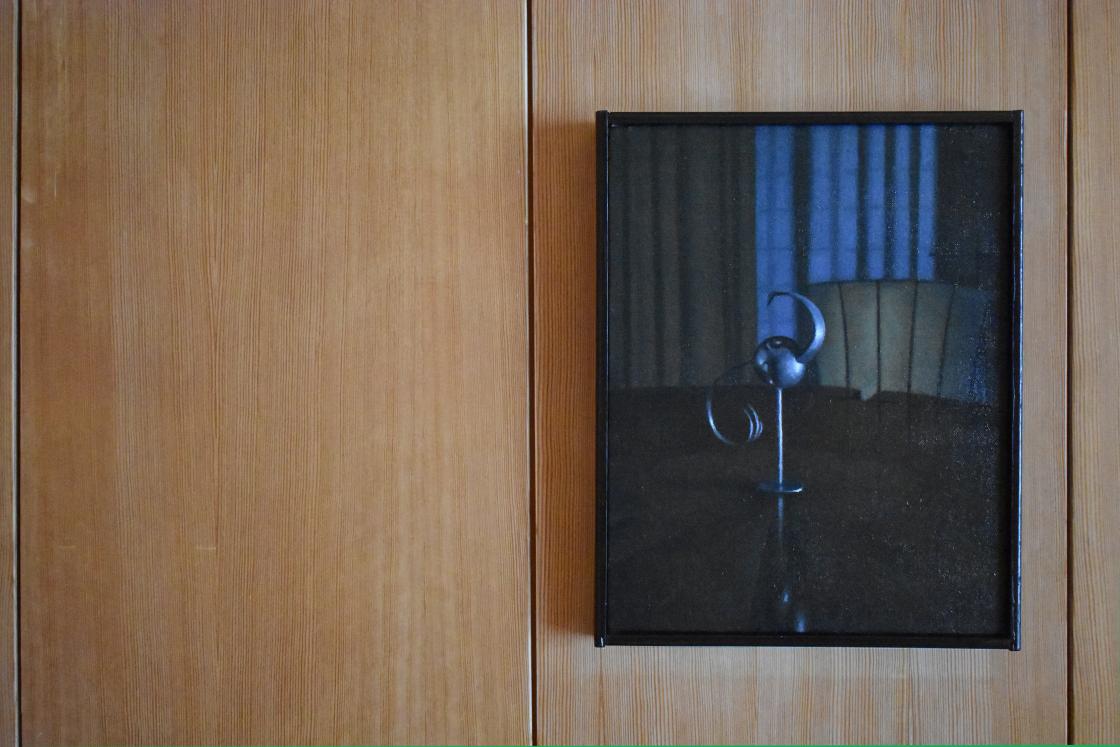 In his paintings, Carter imagines the carefully composed interiors of Saarinen House illuminated not by architect Eliel Saarinen's careful placement of windows and lamps but by the cool light of anonymous screens: dark rooms meticulously rendered in the diffuse blue glow of the multitude of digital devices of an imagined resident. These intimate views of the space require the visitor to consider the house in a way it was never used—Eliel Saarinen died in 1950 and the house became a museum in 1994, well before the smart phone became a staple of the American bedtime. By projecting the light of twenty-first-century technology through the interiors of this modernist masterwork-turned-museum, he makes the rarefied house strangely more familiar to our own lives.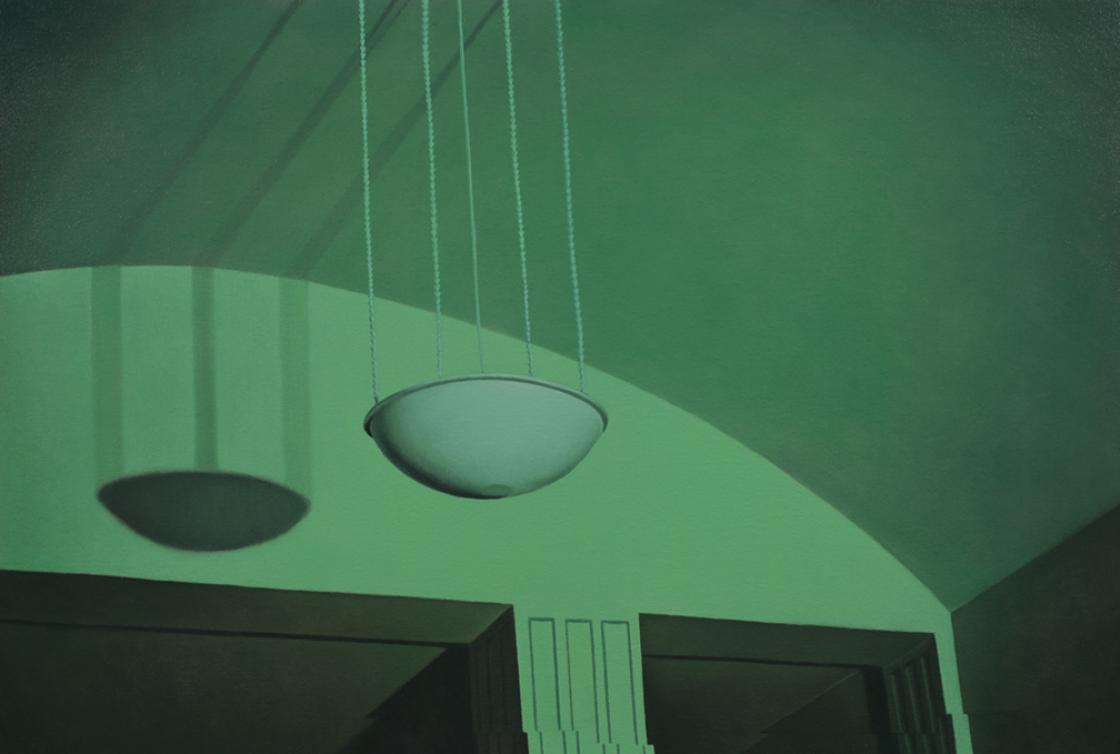 Carter produced his site-specific pieces to be the exact same size as works Eliel and Loja Saarinen collected, so certain works of art placed by the Saarinens will be removed and replaced with new pieces by Carter of the same size. This leaves intact the careful interior arrangements of furniture, textiles, lighting, and even art placement, yet allows visitors to consider the house differently as they tour. By projecting the light of twenty-first-century technology into the interiors of this modernist masterwork, Carter engages with the ramifications of today's screen culture, considering what is sacrificed and what is gained.
The paintings continue a body of work begun when Carter was a Masters of Fine Arts student at Cranbrook Academy of Art, where he studied painting under Artist-in-Residence Beverly Fishman from 2009 to 2011. Prior to coming to Cranbrook, Carter received his BFA from Detroit's College for Creative Studies. In 2011, Carter received a Joan Mitchell Foundation MFA Grant to support his work in Detroit, showing at two of the region's most important private galleries, the Lemberg Gallery and Paul Kotula Projects. Carter also received a prestigious 2013 Kresge Artist Fellowship that included a 2015 exhibition at the Museum of Contemporary Art Detroit. Jason E. Carter currently practices in Los Angeles.
Jason Carter at Saarinen House: #digital_presence continues a series of interventions in the historic Saarinen House organized by the Cranbrook Center for Collections and Research. These exhibitions are designed to rethink the purpose and experience of visitors within historic house museums. In 2013, the first exhibition, Anders Ruhwald at Saarinen House: The Anatomy of a Home, explored the complex relationships within the Saarinen family through site-specific work. In the Spring of 2017, Saarinen Home: Living and Working with Cranbrook's First Family of Design filled the house with art objects, drawings, and archival materials to further explore how the Saarinens actually used and created within the house across their twenty-year residence there.
The exhibition in Saarinen House is curated by Center Director Gregory Wittkopp and Collections Fellow Kevin Adkisson and organized as a collaboration between the Cranbrook Center for Collections and Research and Cranbrook Academy of Art and Art Museum. 

Jason Carter's exhibition at Cranbrook will be complimented by an exhibition of his photographs, #distracted_presence, presented by Paul Kotula Projects. This series of new photographs, which also examine Saarinen House, will be presented by Paul Kotula Projects at a special temporary venue, 700 Livernois Avenue, in Ferndale, Michigan. The exhibition opens on September 16 and continues through October 20, 2017. Gallery hours are Thursday through Saturday from 11:00 am to 5:00 pm.

PUBLIC TOUR FEES (INCLUDES ADMISSION TO CRANBROOK ART MUSEUM)
ArtMembers (join now)                               Free
Adults                                                            $15
Seniors (65 and older)                                $13
Students with ID                                          $11

Saarinen House tours include admission to the Cranbrook Art Museum. Please call the front desk at 248.645.3320 to make a reservation, or email artmuseum@cranbrook.edu.

PRIVATE TOURS
The Cranbrook Center for Collections and Research offers a limited number of private tours of Saarinen House from May through October, with at least three weeks of advance notice.

ArtMembers (join now)                              $15
Adults and Seniors                                     $20
Students with ID                                         $15
Minimum Private Tour Group Fee              $100

To inquire about the availability of a private tour, please call the Center at 248.645.3307.