untitled tapestry
Lillian Holm (Designer and Weaver)
(Born 1896, Båstad, Sweden; Cranbrook Arts and Crafts Studios, Weaving Department, Weaver, 1929 – 1932; Kingswood School Cranbrook, Weaving Instructor, 1933 – 1965; died 1979, Båstad, Sweden)
Untitled Tapestry (mid-twentieth century, 1957 or earlier)
Linen warp; linen, wool, cotton, and synthetic and metallic weft; plain weave with discontinuous wefts (initialed LH)
61 x 36 inches
Cultural Properties Collection, Cranbrook Schools
Gift of Jane Shoemaker Wimmer (KS '63) in memory of Marion Goodale Marsh and Lillian Holm, 2016
Lillian Holm, Kingswood School Cranbrook's first full-time weaving instructor, headed Kingswood's Arts and Crafts department for over thirty years while also serving, for shorter periods, as a weaving instructor at both Cranbrook Academy of Art and the Flint Institute of Arts and a weaver with Studio Loja Saarinen. At the time of her retirement from Kingswood in 1965, Holm received the Founders Medal from the Cranbrook Foundation.This untitled tapestry, among her finest, depicts a skyscraper rising high in the middle of an urban canyon—an abstraction of the energy and vitality of American cities.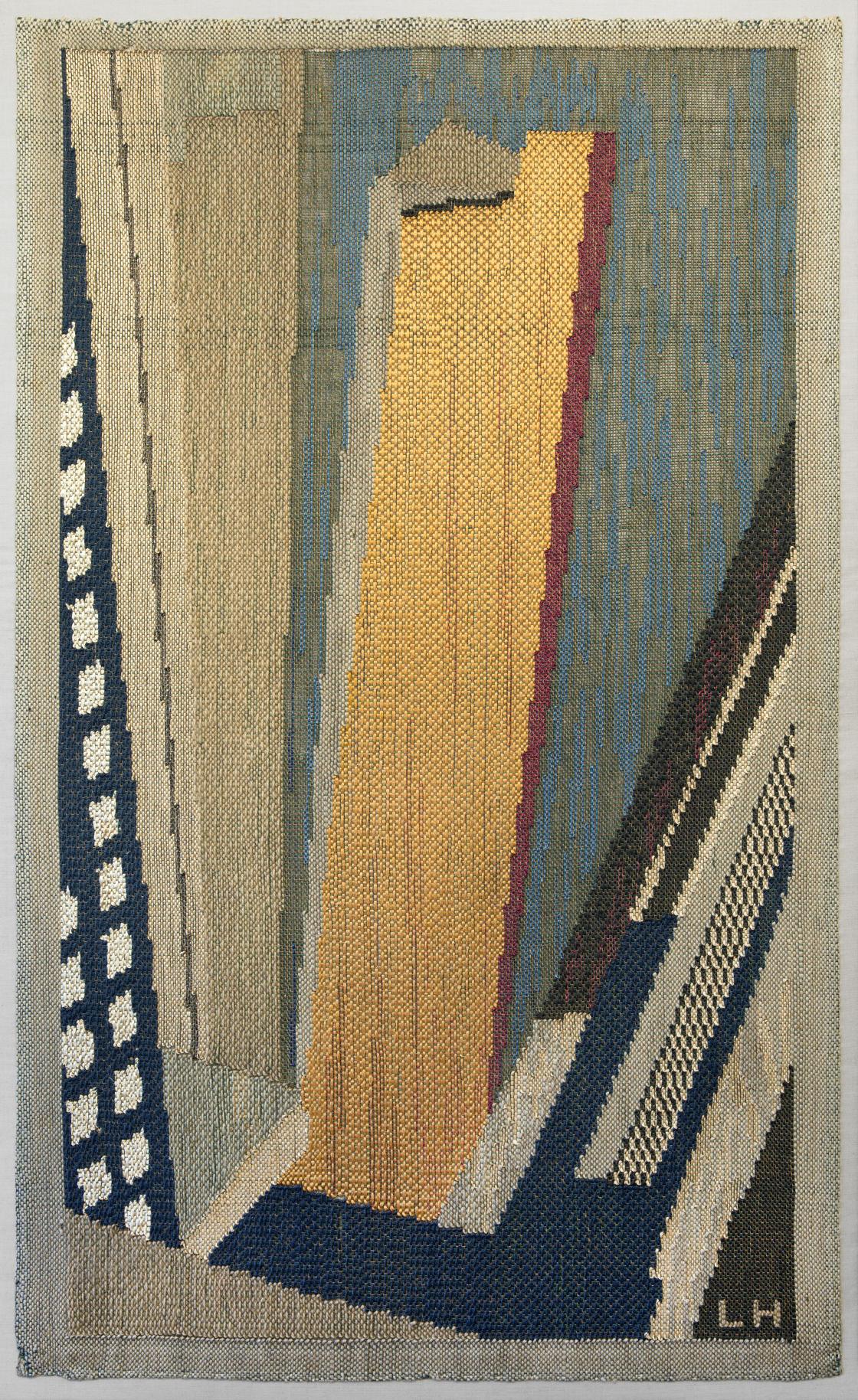 The subject relates to another signed tapestry by Holm, First Sight of New York, now in the collection of the Flint Institute of Arts.[1] The Flint tapestry, woven by Holm in the 1930s, depicts a group of towering skyscrapers flanked by crowds of people. The more representational image suggests that the Cranbrook tapestry might have been woven later as her compositions became increasingly stylized and abstract.
Holm gave the Cranbrook tapestry in the 1950s to Kingswood Headmistress Marion Goodale who hung it in the newly completed Headmistress's Residence (known today as Robin Hill). Goodale, in turn, gave it as a wedding present in 1967 to her niece Jane Shoemaker Wimmer, a Kingswood alumna who developed a love of weaving through classes with Holm.[2] The tapestry was conserved and remounted in 2017 and now hangs in the Girls Middle School in the dining room. Cranbrook Schools has several other textiles by Lillian Holm, including The Llamas tapestry, which is on display in Kingswood in the hallway near the dining hall and auditorium.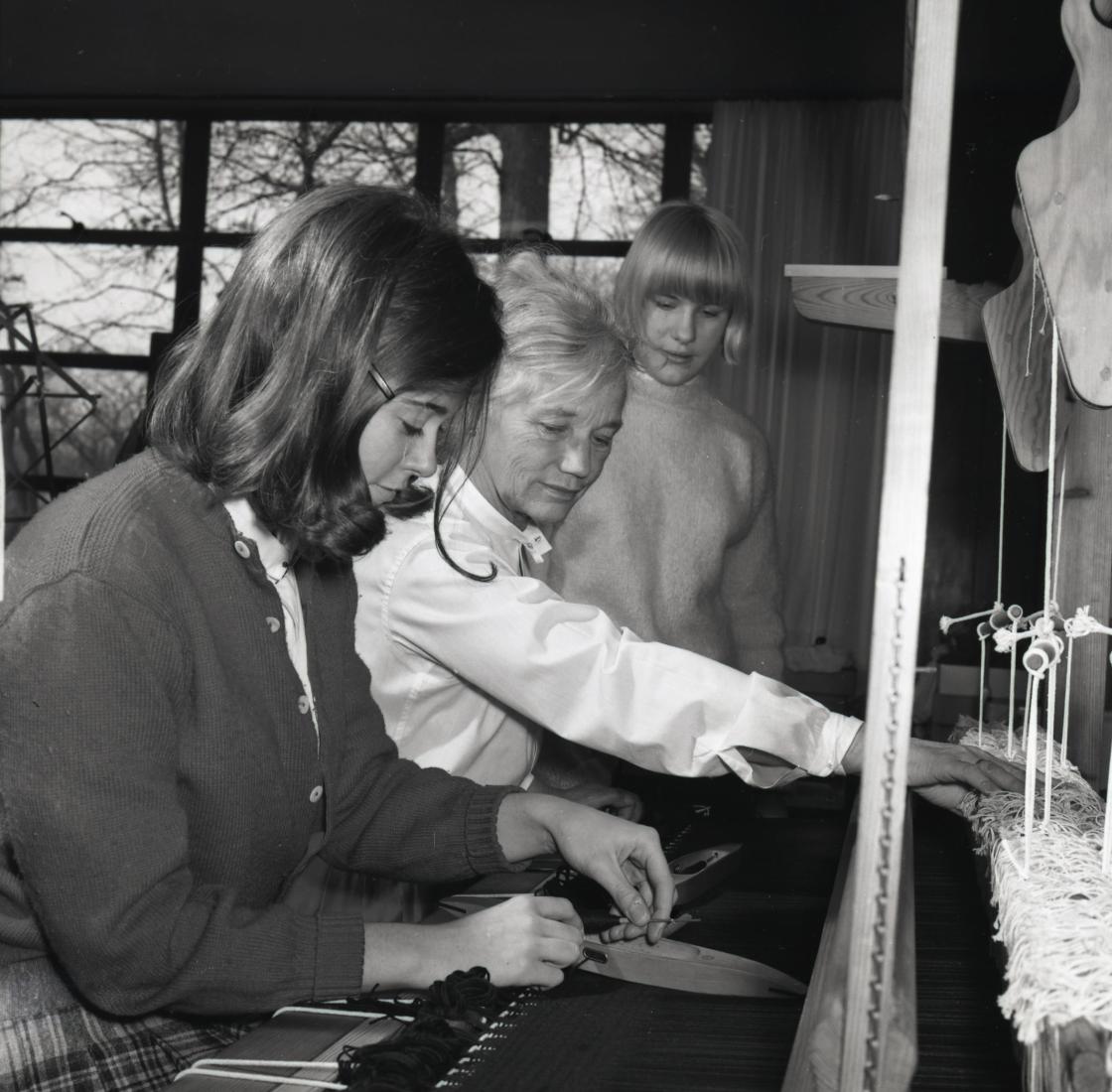 Gregory Wittkopp, Director
Cranbrook Center for Collections and Research
June 2017
related links
SOURCES
[1] For a color image of the Flint tapestry, see Christa C. Mayer Thurman, "Textiles," in Design in America: The Cranbrook Vision, 1925 – 1950 (New York: Harry N. Abrams, Inc., in association with the Detroit Institute of Arts and the Metropolitan Museum of Art, 1983), p. 191.
[2] Jane Shoemaker Wimmer, e-mail to author, June 9, 2017. In this e-mail, Wimmer also recalls seeing the tapestry in Goodale's house as early as 1957.
photo credits
Lillian Holm--untitled tapestry. Courtesy of Cranbrook Archives, Cranbrook Center for Collections and Research, Bloomfield Hills.
Lillian Holm assisting students at her loom, February 1965. Cranbrook Archives, Cranbrook Center for Collections and Research, Bloomfield Hills.
Banner photo by P.D. Rearick, CAA '10.