Cranbrook School for Boys
Eliel Saarinen with Henry Scripps Booth and J. Robert F. Swanson (Architects)
Charles R. Wermuth (Contractor)
Constructed 1926-1931
Completed 1927-1931
Cranbrook School for Boys opened in late September 1927 with seventy-four students and seven faculty on a campus that just days before had been a muddy, unfinished construction site. First conceived as a choir school connected to Christ Church Cranbrook, founder George Gough Booth instead expanded his vision into Michigan's first non-sectarian private college preparatory boarding school. The school buildings were completed in stages from 1927 to 1931, and remain in use today, largely unchanged, as part of Cranbrook Schools' coeducational Upper School.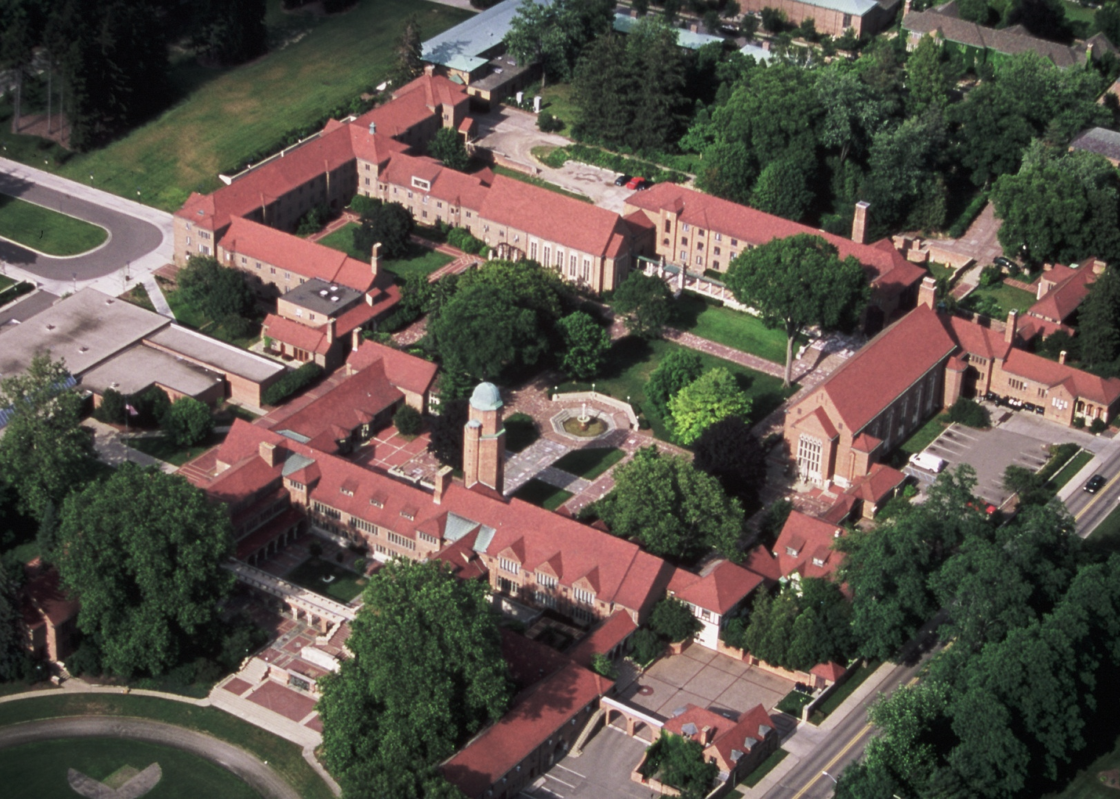 As he set about to build a school on his estate, George Booth, along with his son Henry Scripps Booth and J. Robert F. Swanson (both recent graduates from the University of Michigan's architecture program), initially studied how to simply remodel his 1911 dairy farm buildings into classrooms. Eliel Saarinen, who had been a professor of the younger architects at Michigan, was hired as a consultant to the project and after the contractor, Charles R. Wermuth of Fort Wayne, Indiana, found it would be cheaper to build a completely new structure instead of remodeling, plans were developed for a cohesive new quadrangle. The plan of the school developed by Saarinen in close consultation with both Booths and Swanson follows the contours of the old farm buildings: an observatory tower replaced the grain silo, the hay barn became the Assembly Hall, and the wagon shed, implement shop, and blacksmith studio became the Study Hall, library workroom, and Library Reading Room.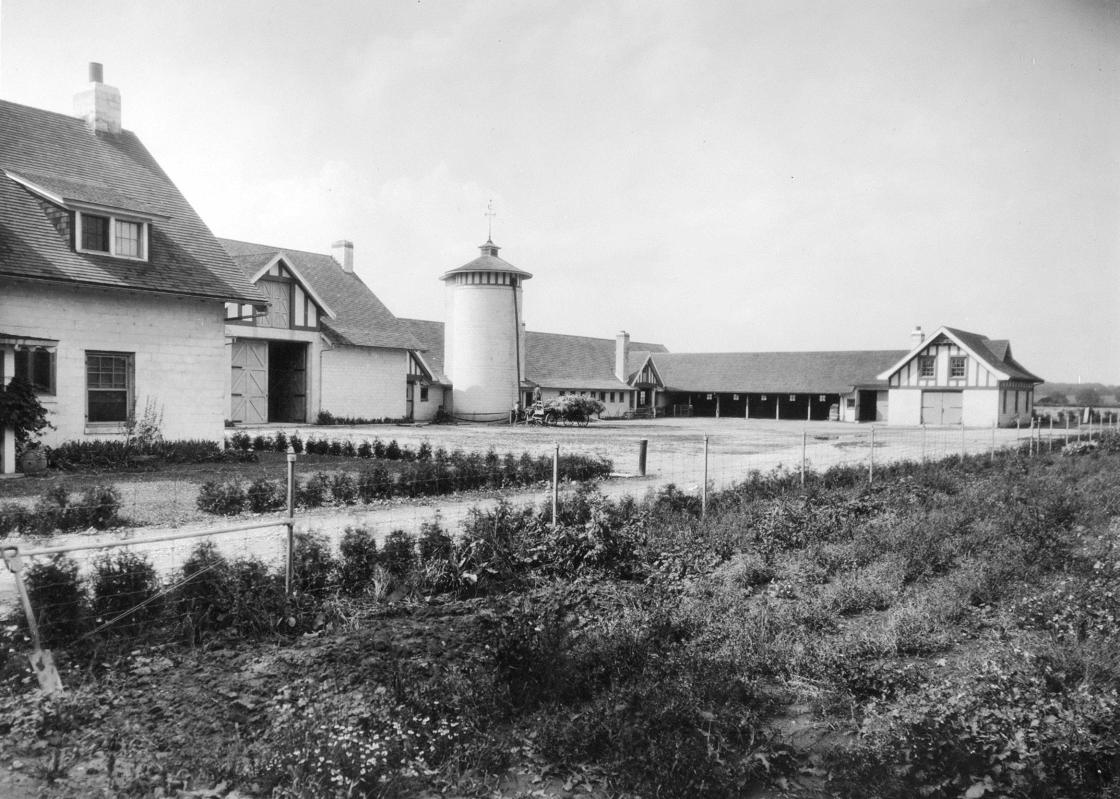 Saarinen, who had immigrated with his family from Helsinki to the Midwest in 1923, moved to the Cranbrook campus in 1925. After a successful career as an architect, designer, and city planner in Finland, here he served as chief designer of the Cranbrook Architectural Office, the first of many positions he held within the Cranbrook developments. Cranbrook School for Boys became his first fully realized project in America.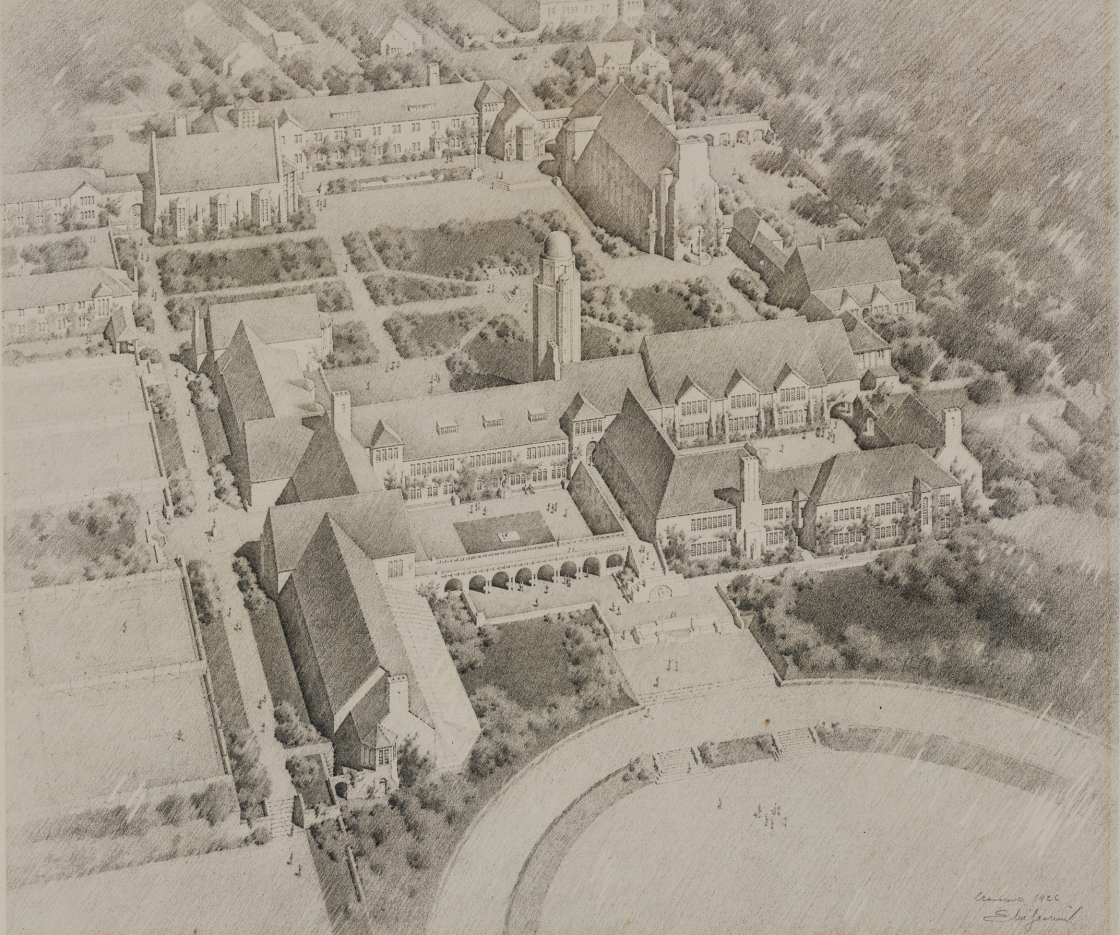 The School complex consists of brick buildings with carved stone details and red tile roofs arranged around a central quadrangle and connected to ancillary courtyards and terraces. Recalling in form the popular Collegiate Gothic of the 1920s, in detail Saarinen weaves together elements of medieval, Arts and Crafts, and contemporary Scandinavian and Art Deco design. Along with the extraordinarily high quality of craftsmanship, it is Saarinen's ability to evoke the past without directly copying historic forms that remains one of the School for Boys' most memorable achievements.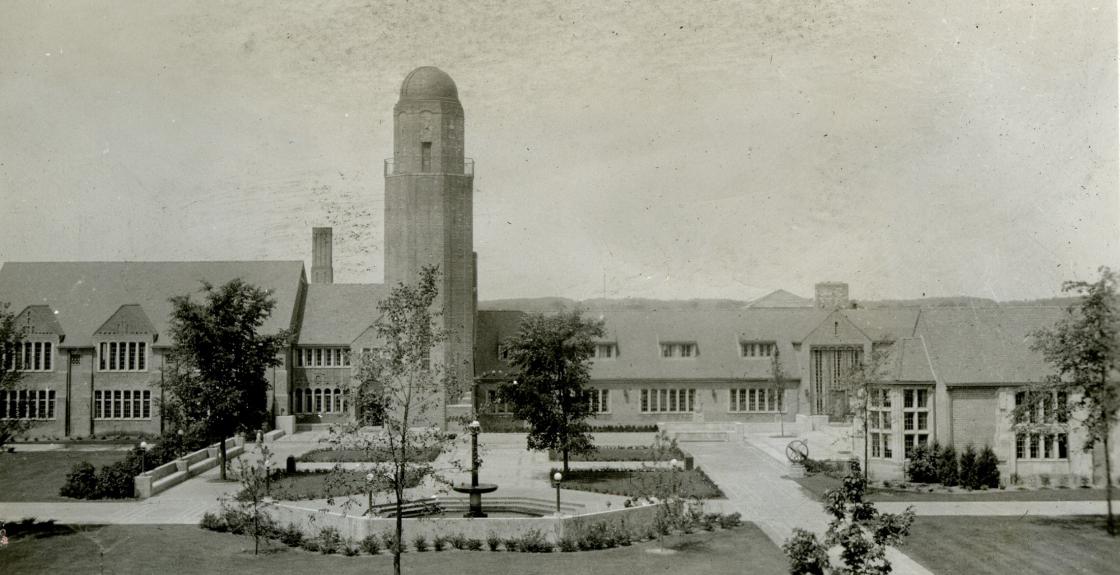 Whether through the Saarinen-designed Peacock Gates, manufactured by Oscar Bruno Bach, or the Beauty Arch, inscribed with one of George Booth's mantras, "A Life Without Beauty is Only Half Lived," entering the school grounds marks a transition into a realm where art, architecture, and education harmoniously coexist. From historic Roman and Byzantine architectural fragments (spolia), to Carl Milles's Running Dogs (Coursing Hounds), or Paul Manship's Armillary Sphere, works of art were selected for their aesthetics and their relationship to the purpose of the school. At the center of the quadrangle stands a reproduction fountain from the Monreale Cathedral cloister in Palermo, Italy, made by the skilled craftsmen of the Chiurrazi Company in Naples.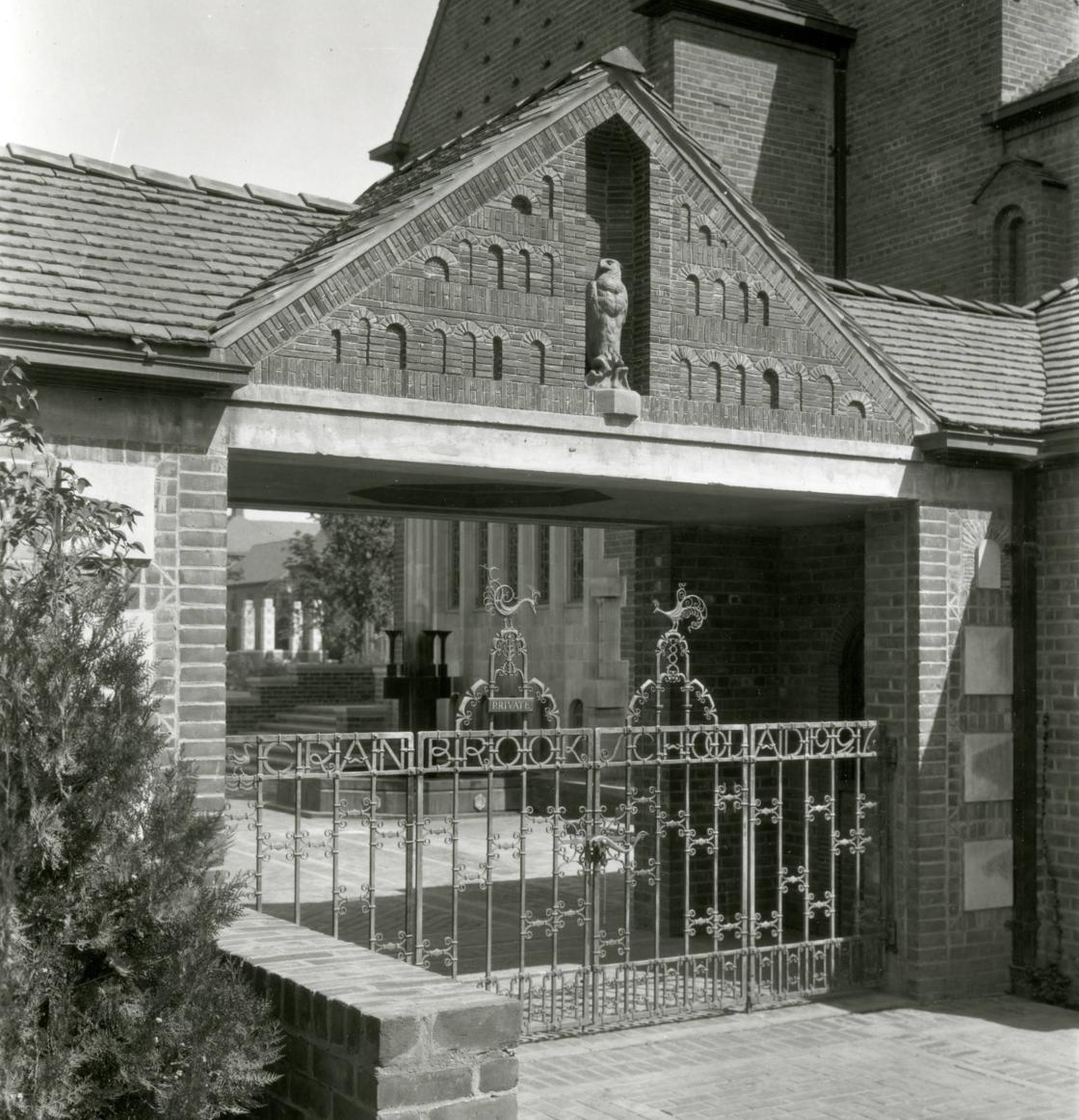 Hoey Hall (the main academic building) is marked by a large octagonal tower, originally home to a telescope, at the base of which is the entrance to the South Lobby. Featuring a Pewabic Pottery fireplace with decorative tiles by Eliel Saarinen's seventeen-year-old son Eero opposite a seventeenth-century Italian painting by Luca Carlevarijs of Venice. The room is defined by its concrete rib slab ceiling with painted decoration designed by daughter Pipsan Saarinen Swanson. Nearby, the North Lobby  is marked by the two-story Map Depicting the Principal Expeditions of Discovery and Exploration, showing a history of colonization in North America in muted earth-tone egg tempera by John Hession, Jr. Off the North Lobby , the former Junior Study Hall features exposed timber beams with painted decoration and leads into the historic Library Reading Room, where the monumental overmantel by the Hungarian architect and sculptor Géza Maróti depicts The Gift of Knowledge.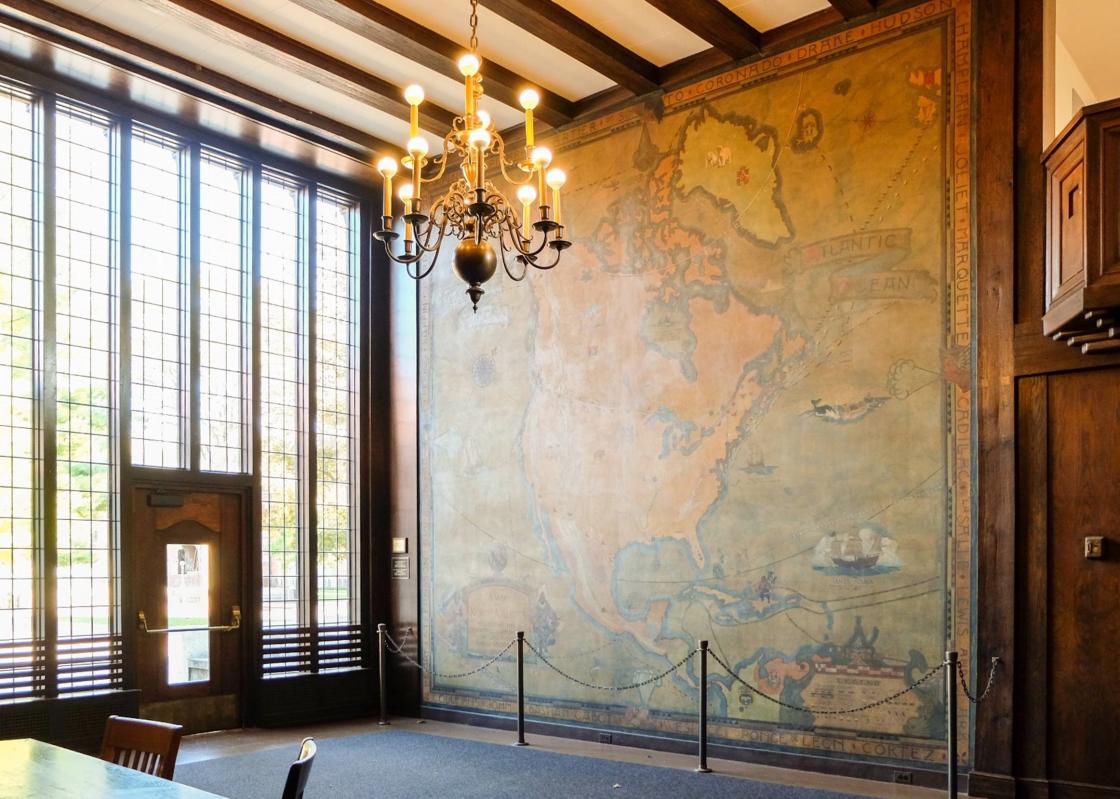 The School comes to a crescendo in the Dining Hall, completed to Saarinen's design in 1929. Outside, Indiana limestone carved in a variety of botanical and geometric  ornament surrounds the principal windows, and doorways are marked by a mixture of stone, brick, and copper decoration. Inside, the large vaulted space is flooded with natural light through leaded-glass windows, with select panes tinted purple and blue. Tables, chairs, plates, and even the boys' requisite ties worn to dinner were designed by the Saarinen family; today the tables and chairs (featuring a decorative crane inset designed by Eero) are still in use.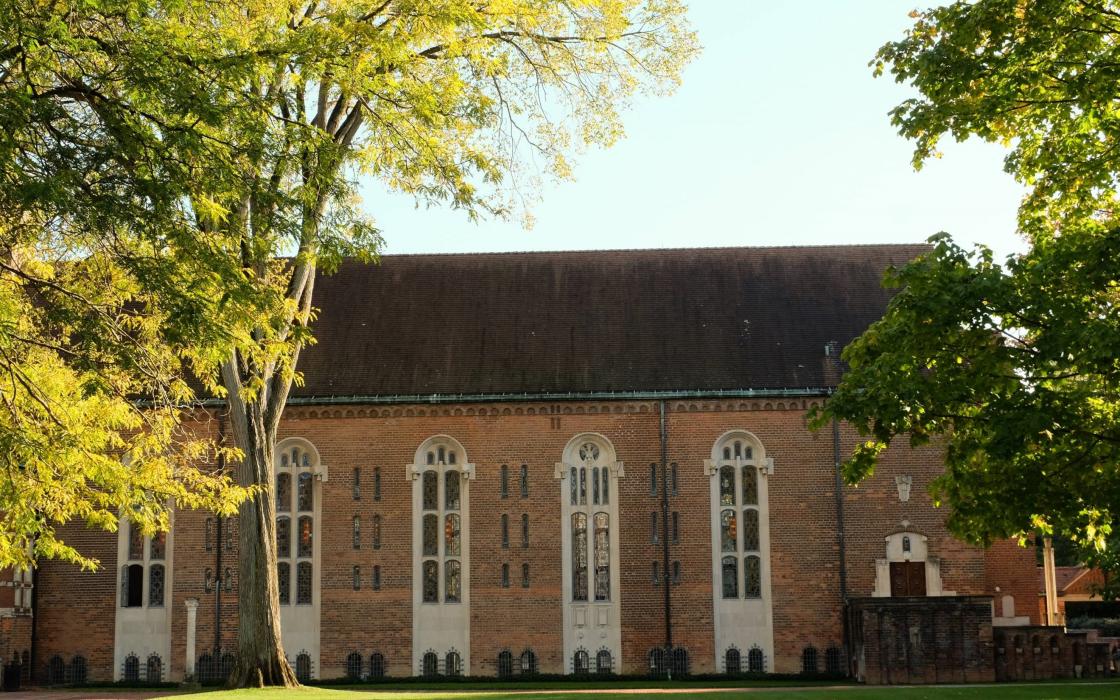 At one end of the Dining Hall hangs the Clock of the Handicrafts by Oscar Bach, marking the hour with aluminum hands over a clockface of iron, bronze, copper, and brass figures of artisans at work: a weaver, bookbinder, potter, sculptor, and other crafts surround two blacksmiths at the center, hammering away. Established by George Booth, an ironworker himself, and his wife Ellen Scripps Booth, Cranbrook School for Boys stands as a testament to the best craftsmanship of the era from a talented team of international architects and designers.
Kevin Adkisson
Associate Curator
Cranbrook Center for Collections and Research
June 2020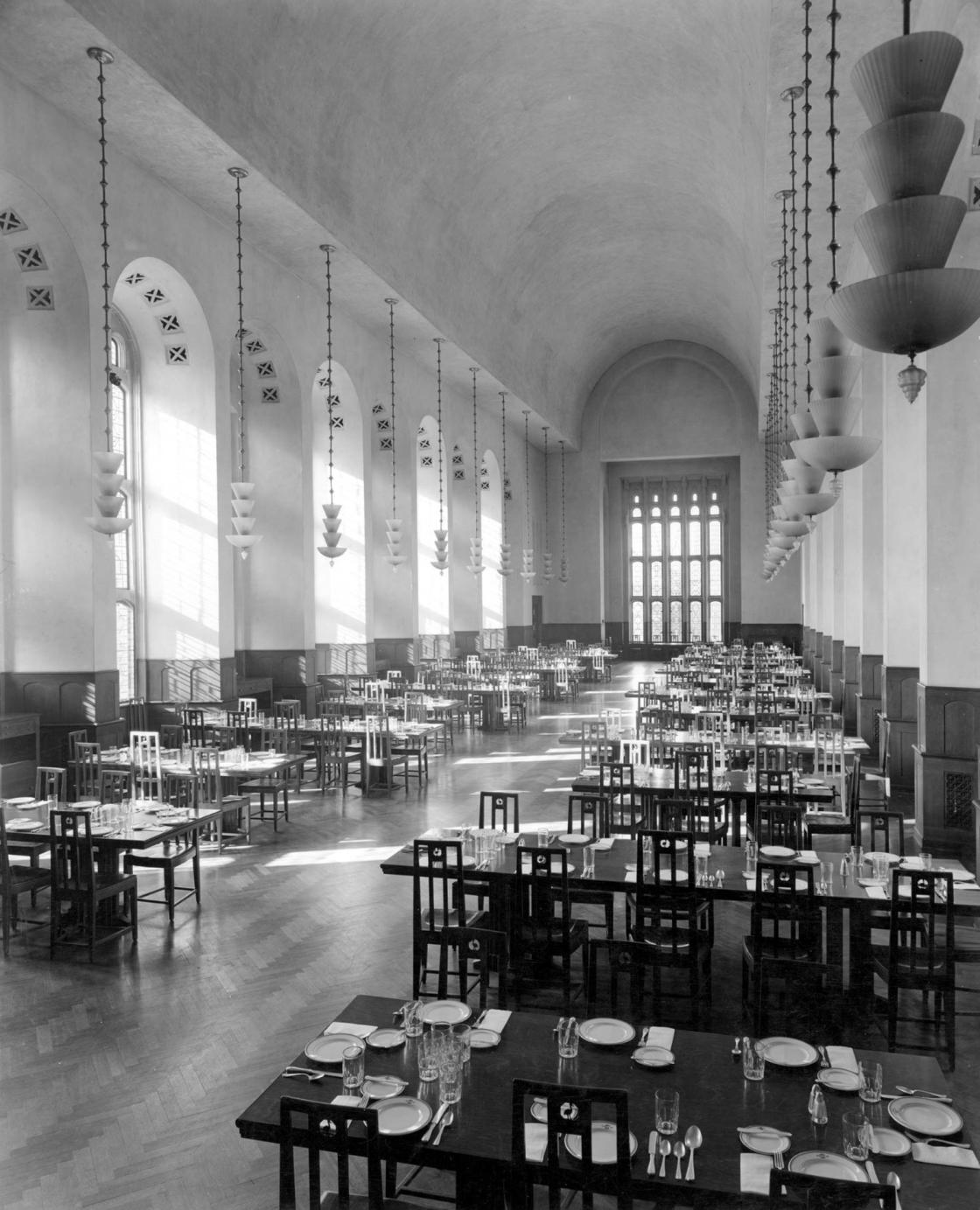 PHOTO CREDITS
Banner Image: Detail of Cranbrook School for Boys, Aerial Perspective by Eliel Saarinen, 1926. Courtesy Cranbrook Art Museum.
Figure 1: Aerial view of the Cranbrook Campus Quadrangle with a view of the Hoey Tower. Copyright Balthazar Korab/Cranbrook Archives.
Figure 2: Cranbrook Farm, circa 1911. The Farm Group was demolished in 1926 to build Cranbrook School on the site. Copyright Cranbrook Archives.
Figure 3: Cranbrook School for Boys, Aerial Perspective by Eliel Saarinen, 1926. Courtesy Cranbrook Art Museum.
Figure 4: View of the Cranbrook Campus Academic Building and Observatory Tower with the Quadrangle Fountain in the foreground, 1931. Copyright Cranbrook Archives.
Figure 5: View of the Cranbrook Campus Peacock Gate designed by Eliel Saarinen. Photographer. Richard G. Askew. Copyright Cranbrook Archives.
Figure 6: Cranbrook Campus Map of North America located in the North Lobby of Hoey Hall, 2019. Photographer Daniel Smith.
Figure 7: Exterior of Cranbrook Campus Dining Hall, 2019. Photographer Daniel Smith.
Figure 8: Interior of Cranbrook Campus Dining Hall, October 1936. Copyright Cranbrook Archives.