Cranbrook's Edible Landscape
A GARDEN TOUR AND FARM-TO-TABLE DINING EXPERIENCE FEATURING ANDY HOLLYDAY OF SELDEN STANDARD
Sunday, September 20, 2015, 5:00pm to 8:30pm
Cranbrook House
$150 per person (included a $25 tax-deductible donation to the Center)
Proceeds benefit the preservation, collections management, and interpretation efforts of the Cranbrook Center for Collections and Research.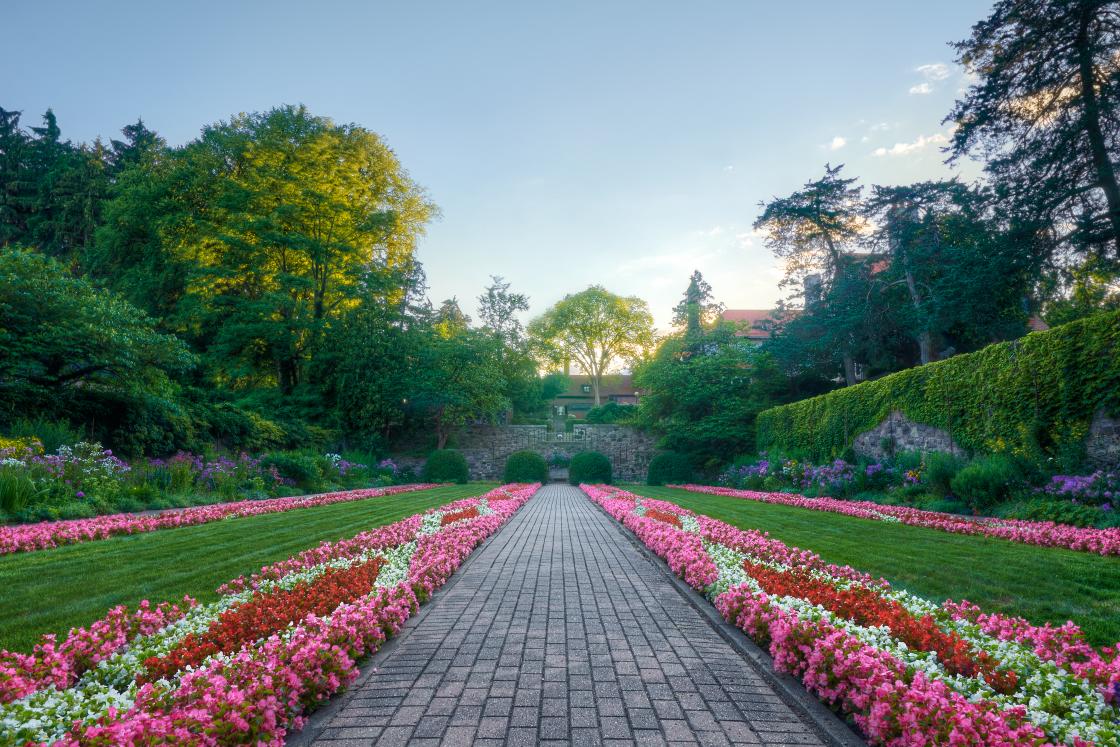 From George and Ellen Booth's original Kitchen Garden (now the Sunken Garden) to the heritage apple trees still found growing in the woods around the Institute of Science, Cranbrook's campus has been-and remains-an edible landscape.

Cranbrook Center for Collections and Research's multi-sensory educational program and dining experience connected Cranbrook's history, plants, and fine dining with a specially designed farm-to-table menu inspired by flora grown on Cranbrook's campus.

Hosted by the Director of the Center and Cranbrook Art Museum, Gregory Wittkopp, the evening started with a tour of the gardens and grounds surrounding Cranbrook House. Our guide was Cranbrook Academy of Art alumna (Fiber Department, 2015), artist, and Cranbrook Art Museum Assistant Curator of Education Emily Staugaitis, whose Academy thesis work focused on Cranbrook's contemporary and historic landscapes. After the tour of the grounds, the culinary experience began with appetizers and wine on the North Terrace overlooking Kingswood Lake. Guests then moved into the Library where the tables were set for a four-course dinner and dessert—a collaboration between Staugaitis and Andy Hollyday, Executive Chef at Selden Standard in Detroit, both of whom narrated the dinner as it unfolded.

Each of the dinner courses were inspired by an edible plant from Cranbrook's campus, both historic and present, including foraged wild plants as well as produce which would have been grown in the historic campus gardens. The event encouraged all those with a taste for the curious to participate—including gardeners, foodies, and those with a passion for Cranbrook's history.
Selden Standard is a new restaurant located in Downtown Detroit that uses local farms and seasonal produce served small plates-style. The restaurant was getting press even before it opened on the national food site Eater.com as one of "The 50 Most Anticipated Restaurants of 2014" and this year was voted "2015 Restaurant of the Year" by the Detroit Free Press. The Cranbrook Center for Collections and Research selected Selden Standard as a collaborator because of their focus on creating dishes inspired by local ingredients, their emphasis on farm-to-table dining, and their knowledge of local farms from which they obtain the highest quality of ingredients found in Southeast Michigan.
additional information
Tickets for this all-inclusive dining experience (appetizers, four dinner courses, dessert, and carefully-selected white wines) were $150 per person.
photo credits
A Night on Lake Como Edible Landscapes Dinner. June 11, 2017. Cranbrook Center for Collections and Research, Bloomfield Hills.
Graub, Colton. Sunken Garden. 2015. Cranbrook Center for Collections and Research, Bloomfield Hills.
Chef Andy Hollyday. Courtesy Selden Standard, Detroit.