George Gough Booth
1864 – 1949
George Gough Booth was a renowned advocate of the arts, and a great philanthropist, whose crowning achievement was the establishment of today's Cranbrook Educational Community. He was also one of the nation's leading newspapermen in the first half of this century.
Born into a modest household in Toronto, Canada, on September 24, 1864, Booth received only a limited formal education. His early interests in art and architecture deepened with age, and after his family moved to Detroit in 1881, he put his artistic talents to use by purchasing a half-interest in an ornamental ironworks firm in Windsor, Ontario. The business prospered, turning out products of Booth's design.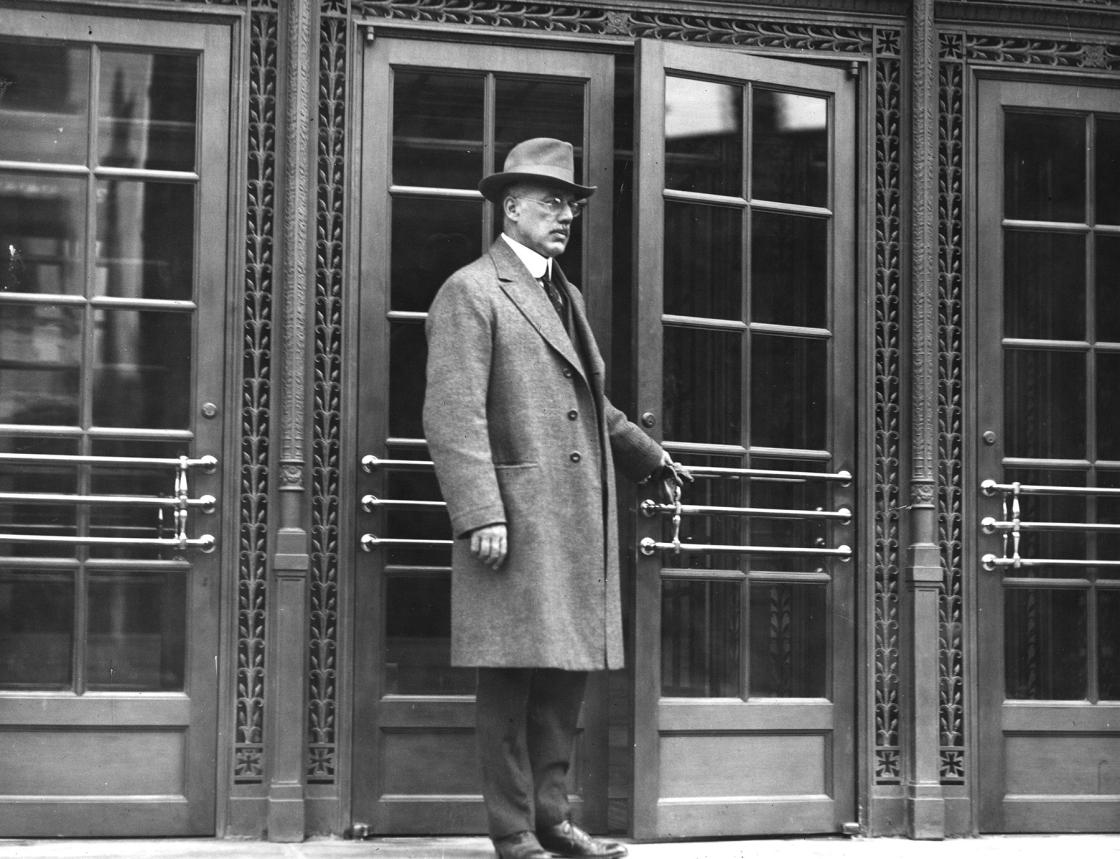 On June 1, 1887, Booth married Ellen Warren Scripps, daughter of The Detroit News founder James Scripps and Harriet J. Messinger Scripps. The following year Booth sold his business and, at the urging of his father-in-law, joined The Detroit News staff as the paper's business manager. Entrusted with increasing responsibility, Booth eventually succeeded Scripps as president in 1906. Under his direction, The Detroit News blossomed into one of the great metropolitan dailies in the nation. Booth stepped down as president of the paper in 1929, but remained a director of the company until his death.
Separately from The Detroit News, Booth began to purchase small Michigan newspapers in the 1890s. He combined these with others belonging to his brother Ralph Booth to form the Booth Publishing Company in 1914, the forerunner of Booth Newspapers, Incorporated. As chairman, and later as president, George Booth successfully guided the chain of papers through decades of sustained profitability and growth, thus securing his personal fortune. He retired from his administrative positions with Booth Newspapers in 1946, but continued to sit on the board.
Although weighed by the demands of his many business ventures, Booth's contributions to the cultural life of his adopted country increased markedly in the years after 1900. He established a private press, helped to found the Detroit Society of Arts and Crafts, and began to donate a considerable number of decorative arts objects to the Detroit Institute of Arts. He encouraged the study of architecture by endowing a travelling scholarship in that field at the University of Michigan, and worked on behalf of many national organizations to advance opportunities for American craftsmen and artists.
The crowning achievement of George Booth's life was, however, the creation of the great educational and cultural community on the grounds of his home at Cranbrook, Bloomfield Hills, Michigan. With the generous support of his wife Ellen, Booth established six institutions -- Christ Church Cranbrook, Cranbrook School for Boys, Kingswood School for Girls, Brookside School, Cranbrook Institute of Science, and Cranbrook Academy of Art. He was still engaged in the process of refining Cranbrook when he died at the age of 84 on April 11, 1949.
Adapted from Cranbrook Archives Finding Aid and A BRIEF HISTORY OF CRANBROOK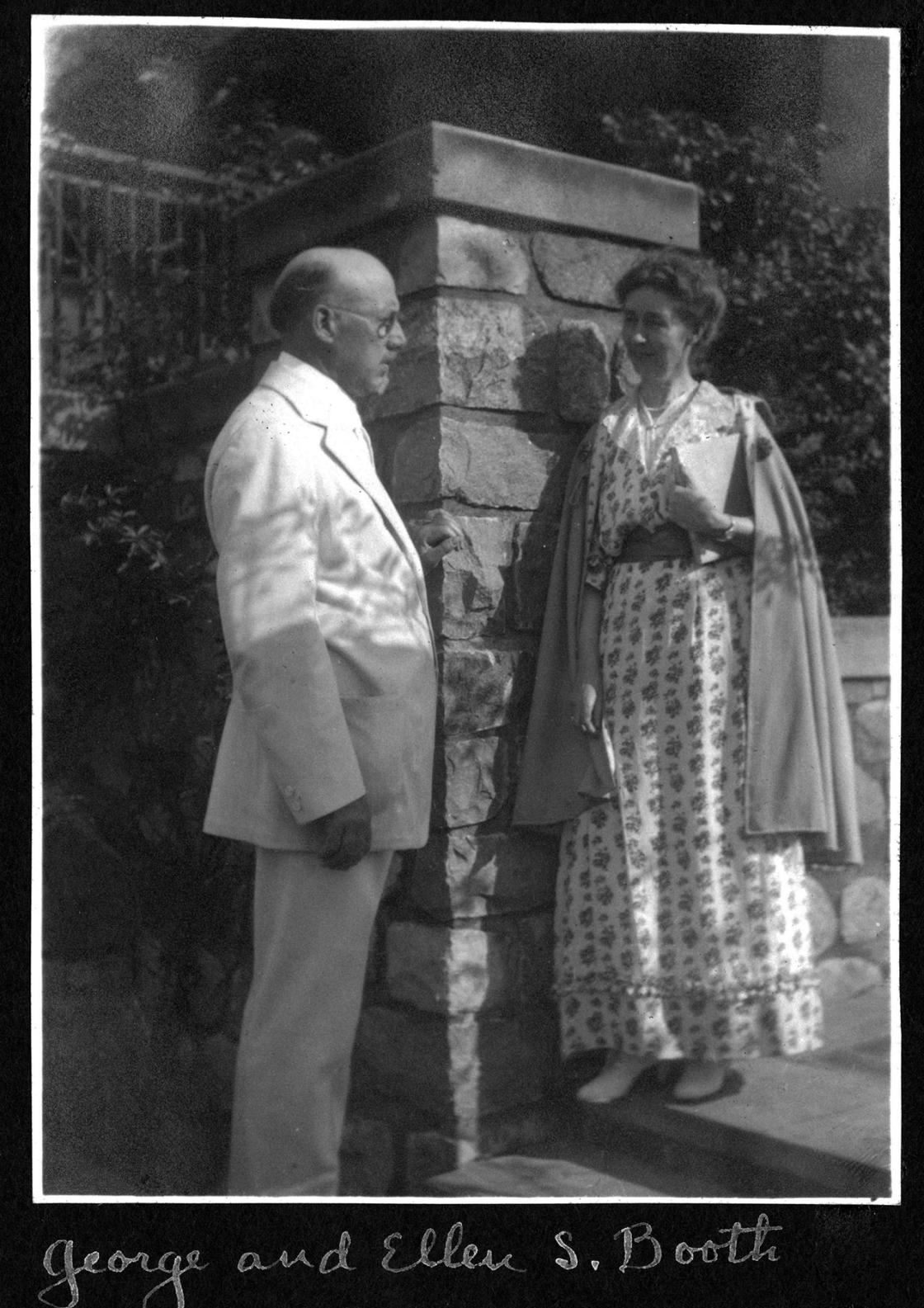 Leslie Mio, Associate Registrar
Cranbrook Center for Collections and Research
May 2017
related links
Ellen Scripps Booth
Henry Wood Booth
Perelma Portrait
Sources
George G. Booth Papers, Cranbrook Archives, Bloomfield Hills, Michigan.
Coir, Mark. "A Brief History of Cranbrook." (Bloomfield Hills, Mich.: Cranbrook Archives, 2005)
photo credits
The Detroit News. George Booth at the entrance to the newly completed Evening News Association (Detroit News) building. Ca 1917. Cranbrook Archives, Cranbrook Center for Collections and Research, Bloomfield Hills.
George and Ellen Booth on the steps of the garden at Cranbrook House. 1915. Cranbrook Archives, Cranbrook Center for Collections and Research, Bloomfield Hills.
Banner photo by P.D. Rearick, CAA '10.