CRANBROOK VIRTUAL TOURS
Cranbrook Center for Collections and Research is offering Cranbrook Virtual Tours. Working directly with our resident curator, Kevin Adkisson, these tours allow you to enjoy the wonders of Cranbrook's architecture and grounds—from the comfort of your home or business. Contact us to craft your own custom Cranbrook experience for your family, friends, colleagues, or organization. 
Tours of Cranbrook's Campus
Cranbrook's world-renowned campus is a treasure-trove of history, architecture, craftsmanship, design, and beauty. Designated a National Historic Landmark District in 1989, the campus is a living collection of masterworks by architects such as Albert Kahn, Eliel Saarinen, Billie Tsien and Tod Williams, and Rafael Moneo. It is not just stunning architecture and sweeping vistas you will see at Cranbrook: the attention to design and detail by Cranbrook artisans are present in the intricate brickwork patterns in walkways and buildings, the ironwork of the gates, and the historic and contemporary sculpture that enhances the campus. The grounds of Cranbrook have been walked by some of the most influential people in the worlds of art and design, and the Schools and Academy of Art continue to educate innovative and creative minds.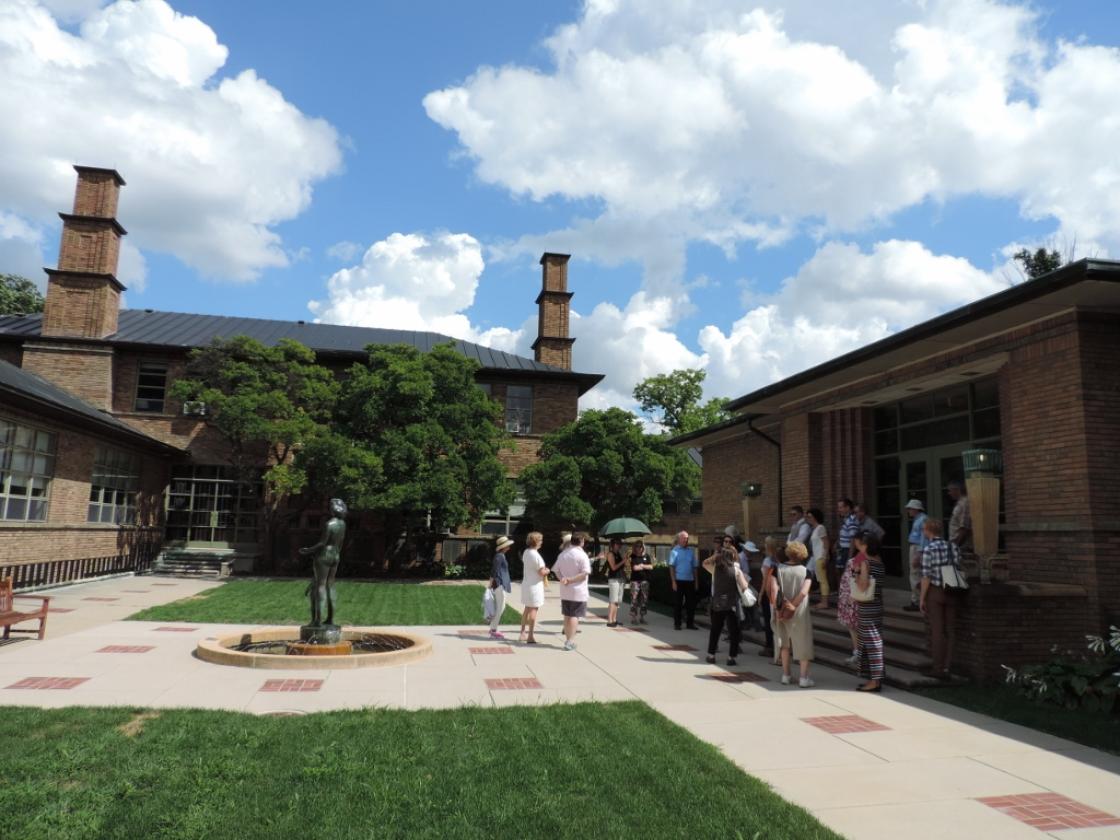 Private walking tours of the campus with Center staff can be arranged with a two-week notice. Visitors will be treated to an illuminating and revealing experience with a personalized tour of various places on Cranbrook's campus, listed below. The stories of Cranbrook's historic campus will be shared, as well as preservation issues associated with keeping a living, working place of history for future generations.

Campus tours, which are available for groups of 6 or more people, require a minimum of two hours. For reservations and price inquiries, please call 248.645.3307. 
Cranbrook School
Opened in 1927, the campus is the center of academic life for Cranbrook Schools students, and the earliest work designed by Eliel Saarinen at Cranbrook.
Kingswood School
Kingswood's design and decoration was a Saarinen family project that includes the first furniture designs of Eero Saarinen. Today, it is the jewel of the Cranbrook Schools campus.
Institute of Science
The largest earth sciences and natural history museum in Michigan has grown well beyond its humble beginning to carry on fostering knowledge and curiosity to students and the public.
 
Art Museum
Since 1942, Cranbrook Art Museum has showcased important works of modern and contemporary art, as well as work from Academy students and faculty. 
Christ Church Cranbrook
This English Gothic-style church is rich in architectural detail, and houses beautiful examples of craftsmanship by celebrated artists. 
Outdoor Sculpture
The Eliel Saarinen-designed campus has fostered the careers of many celebrated artists and designers, and continues to inspire future artists today.
Cranbrook House
The home of Cranbrook's founders George and Ellen Booth, Cranbrook House embodies the ideals of the Arts and Crafts Movement.
Japanese Garden
Inspired by their travels, George and Ellen Booth transformed a humble rock garden on their estate into a serene Japanese-style garden.
Greek Theatre
This open-air theatre built in 1915 is an intimate space surrounded by secluding evergreens, and is still used for performances today. 
Saarinen House
The home of Eliel and Loja Saarinen and their family is a magnificent example of Art Deco design, and an impeccably restored treasure of Cranbrook.
Smith House
Built by two schoolteachers, Melvyn and Sara Smith, and designed by Frank Lloyd Wright, Smith House is a spectacular example of Wright's Usonian ideal. 
Natatorium
A newer addition to Cranbrook's campus, the Natatorium (1999) is a breathtaking marriage of modern design and functionality.
Photo Credits
Banner and header photos by Eric Franchy. Box photos by Eric Franchy, Colton Graub, Jerry Beznos, and James Haefner.