Japanese Kasuga Lantern
1915, or earlier
Carved stone (approximately 84 inches high; 33 inches wide)
Japanese
Cranbrook Center for Collections and Research, Cultural Properties Collection, Founders Collection (CEC 1126), Bequest of George Gough Booth and Ellen Scripps Booth through The Cranbrook Foundation
Purchased by George Gough Booth, 1915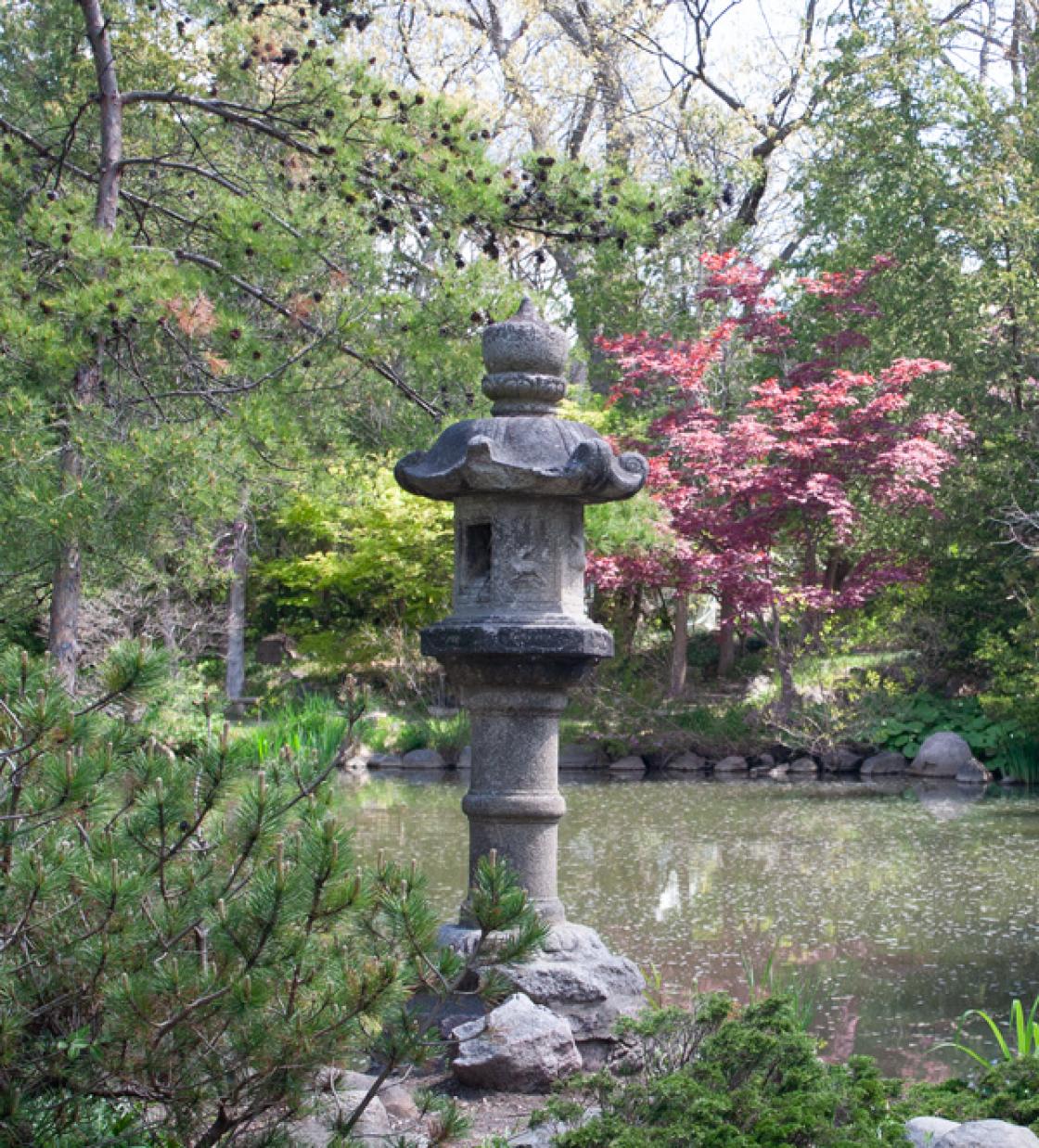 Standing quietly on the South Landing of Lily Pond, the Japanese Kasuga Lantern (Kasuga-dōrō) (fig. 1) has been a focal point of the Cranbrook Japanese Garden for more than 100 years. George Booth purchased this Kasuga lantern for seventy-five dollars in December 1915 from the famous Yokohama Nursery Company in San Francisco (the receipt is dated December 29) (fig. 2). He bought it following the trip he took in March with his wife Ellen Scripps Booth and father Henry Wood Booth to visit both the Panama-Pacific International Exposition in San Francisco and its rival, the Panama-California Exposition in San Diego. In addition to the nursery's presence at the World's Fair in San Francisco as part of the United States Department of Horticulture exhibits, the company also had a permanent branch office in San Francisco, which opened in 1893, just three years after the company was founded in Yokohama, Japan. By 1915, they were Japan's largest exporter of horticultural products, including stone lanterns, with an additional American office in the Woolworth Building in New York City and another office in London.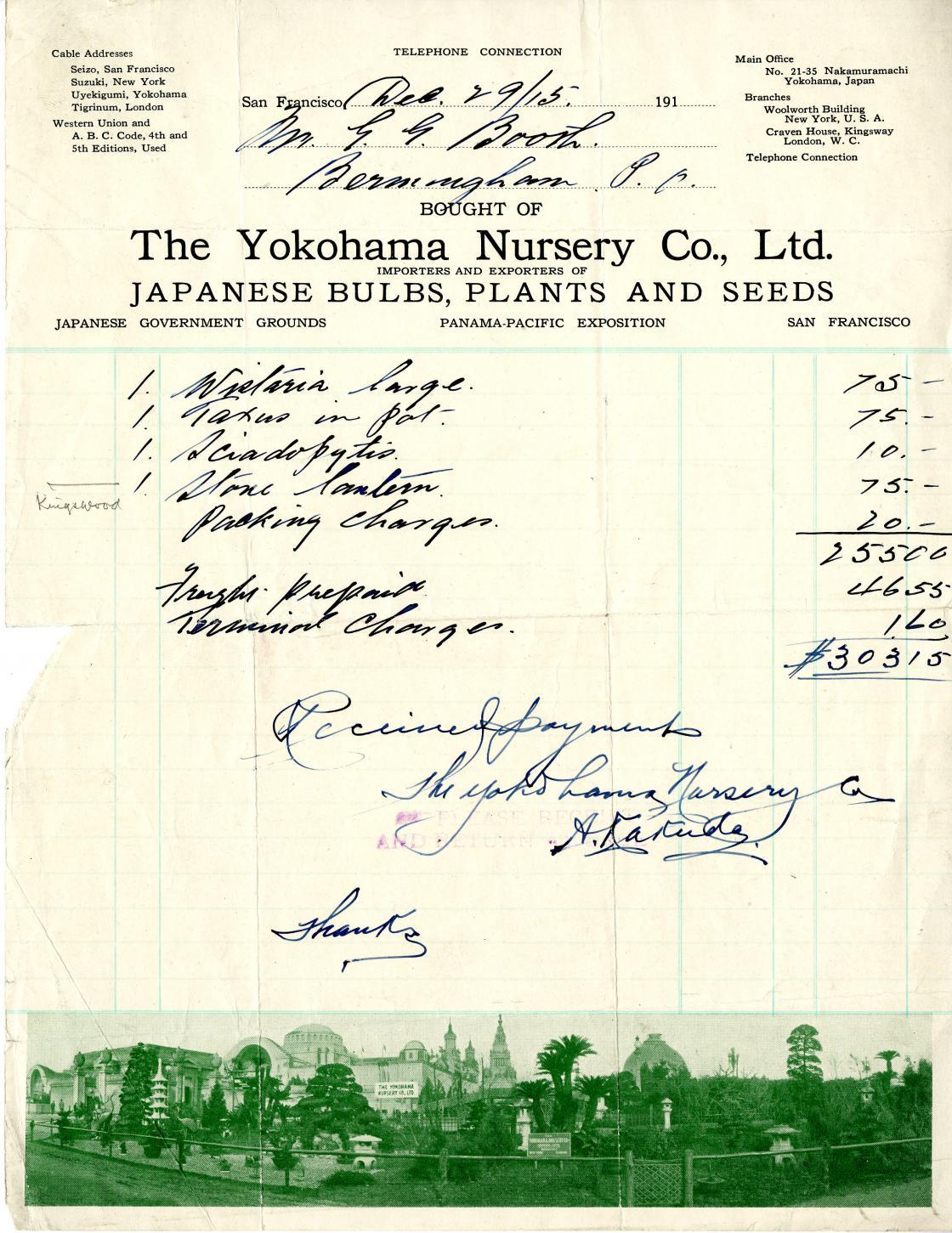 Working with a team of gardeners, George Booth and his father Henry Booth—who originally created the rock garden that they slowly transformed into the Japanese Garden—installed the Kasuga lantern in the garden sometime in 1916, along with three plants purchased at the same time from the Yokohama Nursery: a large wisteria ($75), a potted taxus ($75), and a Sciadopitys or Japanese Umbrella Pine ($10). Together with the existing Japanese-style bridge and three bronze cranes that they bought from the S. & G. Gump Company in San Francisco in March ($125) (fig. 3), the Kasuga lantern and the Japanese plants added even greater authenticity to a garden that George Booth already had described in May 1915 as having a "Japanese look."1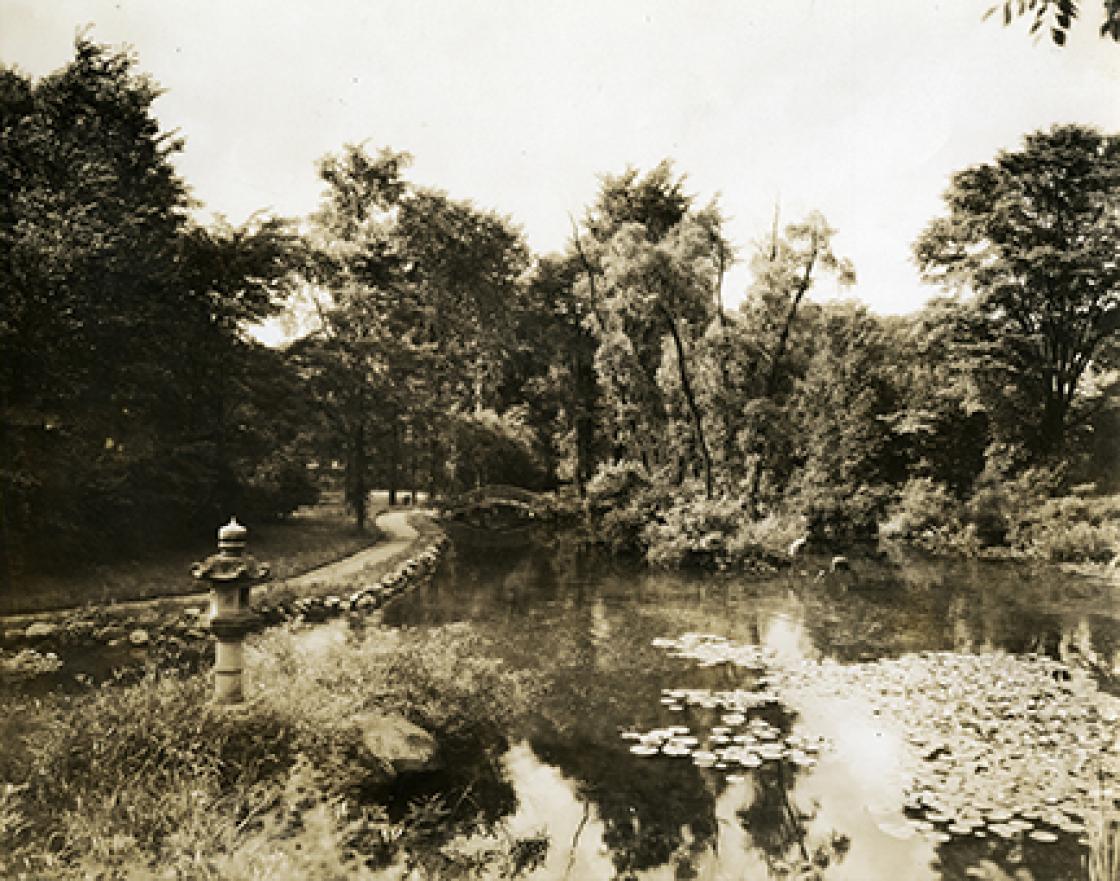 Kasuga lanterns take their name from the Kasuga Shrine (Kasuga-taisha) in Nara, which was the capital of Japan from 710 to 784 CE and now is a UNESCO World Heritage Site. The path to this ancient Shinto shrine winds through a cypress forest with wild deer and is lined by over 2,000 stone lanterns donated by worshippers over the centuries (fig. 4).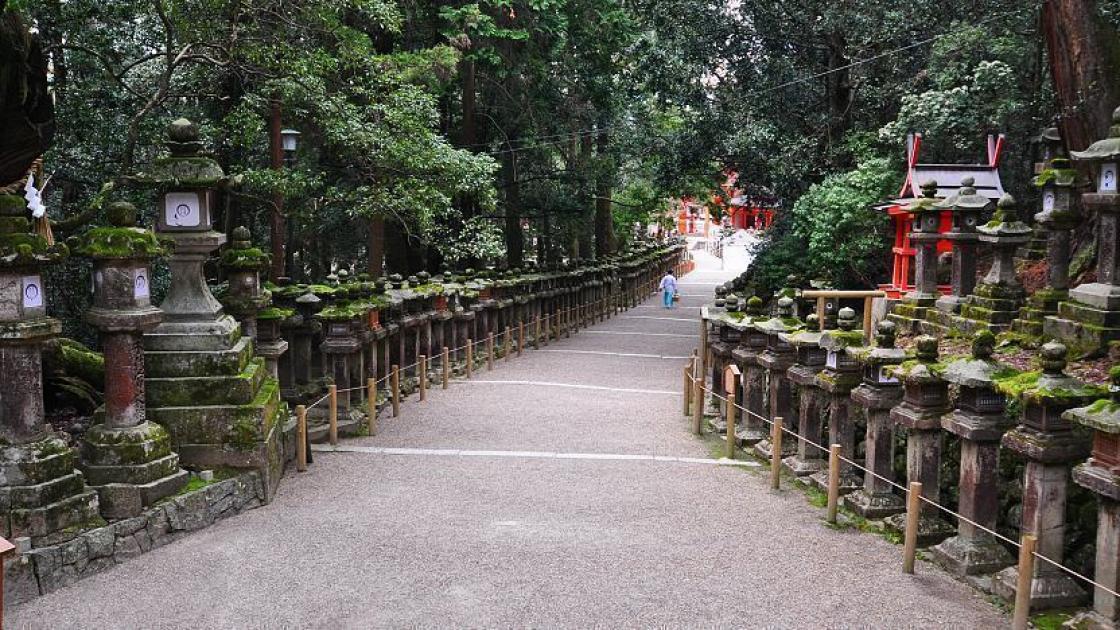 The form of Cranbrook's Kasuga lantern is paradigmatic of this style of Japanese lantern: a cylindrical shaft, standing on a hexagonal base and platform ornamented with lotus petal designs, supports a hexagonal hibukuro, or fire-box. While two of the six sides of the fire-box are open, permitting access to a hollowed-out space meant to house an oil lamp, the other four are carved with representations of a stag, a doe, the sun, and the moon. The stag and doe refer to the ancient Kasuga Shrine where the wild deer are respected as sacred messengers of the deities. Hunting, and tree-felling, have been prohibited in the forest since 841 CE.
The age of Cranbrook's Kasuga lantern is difficult to determine. While it could have been carved decades before George Booth bought it in 1915, it was not uncommon for new lanterns to be 'aged' to appear much older. Writing in his influential 1893 book, Landscape Gardening in Japan, of which George Booth had a copy of the 1912 revised edition in his personal library (fig. 5), Joshia Conder wrote:
Stone Lanterns are chiefly valued in proportion to their age, and various devices are employed for imparting an antiquated appearance to new specimens. Those rendered weather-worn by long exposure to the elements are mostly brought from old country temples and mountain shrines, and are in special demand. A fictious age is given to the new Lanterns by attaching, with a gummy solution, patches of green moss, and by fixing to them decayed leaves by means of bird-lime, or by smearing them with the slime of snails; after either of which processes they are kept in the shade and frequently wetted. The result of these methods is to produce on the stone a white lichen and other fungeous growths.2
Cranbrook's Kasuga lantern stands on the edge of the South Landing (fig. 6) and is part of a balanced composition that includes a large boulder, which, like the lantern, remains in its original location, and, planted much later, two Japanese black pines (Pinus thunbergii) and a lower mound of mugo pines (Pinus mugo). As often is the preference in Japanese gardens, the lantern is positioned on the bank of the pond, where the soft glow of the burning lamp could reflect on the surface of the water in the evening.
The Kasuga lantern is one of four stone lanterns in the Cranbrook Japanese Garden. A more contemporary Kasuga lantern is located on the Northeast Landing and was added to the garden by the Cranbrook Gardens Auxiliary during their rejuvenation of the garden in the 1980s and early 1990s while a planet-shape lantern (Shuko-gata), located on Duck Island, was added in the late 1970s. The fourth lantern, Cranbrook's new Mountain Lantern (Yama-dōrō) (fig. 7), was created and added to the rehabilitated Lily Pond Cascade in October 2018.
Gregory Wittkopp
Director
Cranbrook Center for Collections and Research
February 2020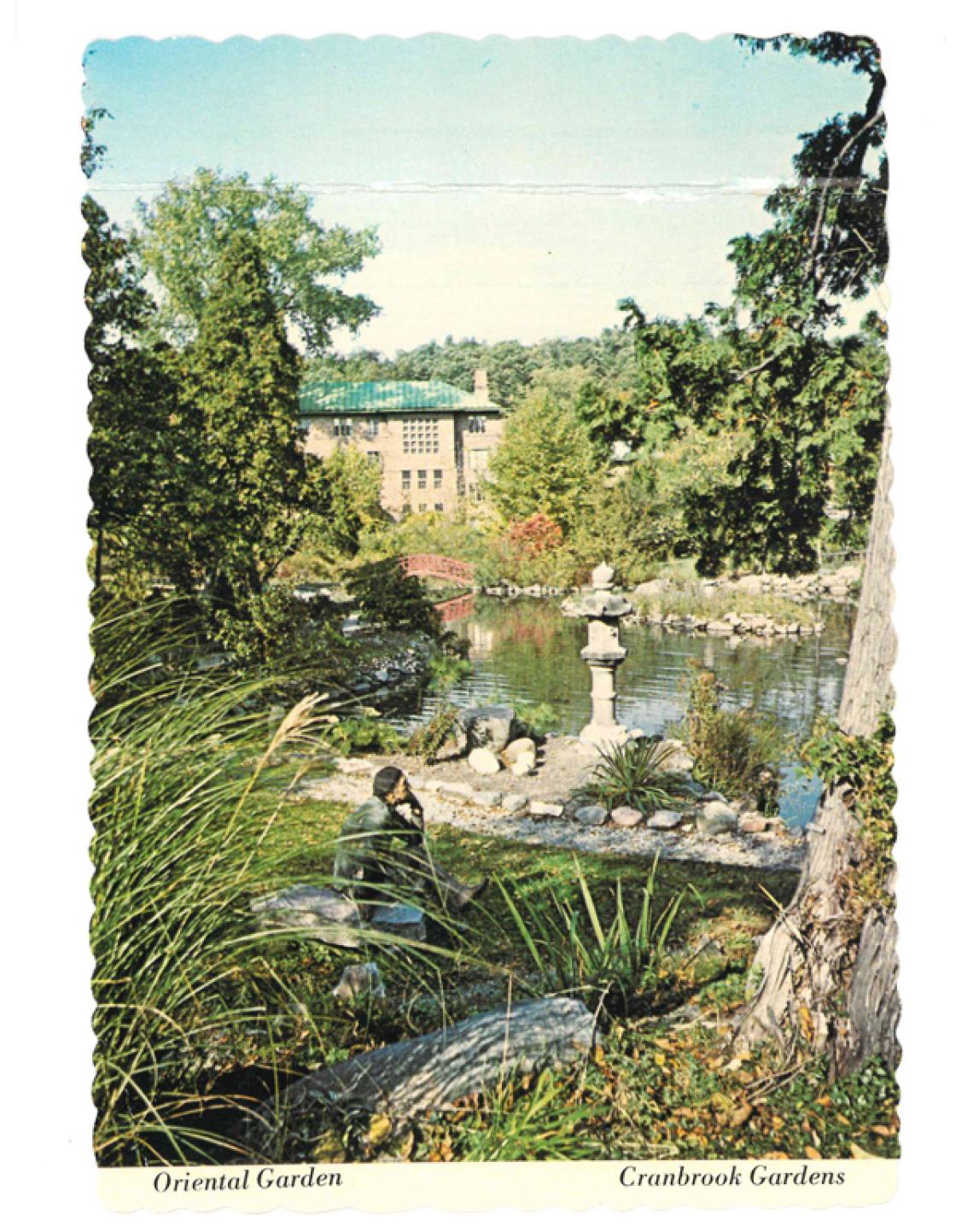 RELATED LINK
For more information on the Cranbrook Japanese Garden, including its history, rehabilitation, and programming, explore the Center for Collections and Research's VISIT THE JAPANESE GARDEN website.
PHOTO CREDITS FROM TOP TO BOTTOM
Header Image and Figure 1. Cranbrook Japanese Kasuga Lantern, May 13, 2017. Photography by Thomas Booth.
Figure 2. Yokohama Nursery Receipt, December 29, 1915. George Gough Booth Papers (1981-05), Box 17:19, Cranbrook Archives.
Figure 3. Cranbrook Japanese Garden with Kasuga Lantern (left) and Bronze Cranes (center right), circa 1928. Photography Copyright Cranbrook Archives.
Figure 4. Stone Lanterns, Kasuga Shrine, Nara, Japan. Photography from the Japan-Guide.com website: https://www.japan-guide.com/e/e4102.html. 
Figure 5. Cover of Josiah Conder's Book, Landscape Gardening in Japan. Originally published in 1893, this is the cover of the 1912 edition, which was in George Booth's collection. Collection of Cranbrook Academy of Art Library (SB466.J3C7 1912).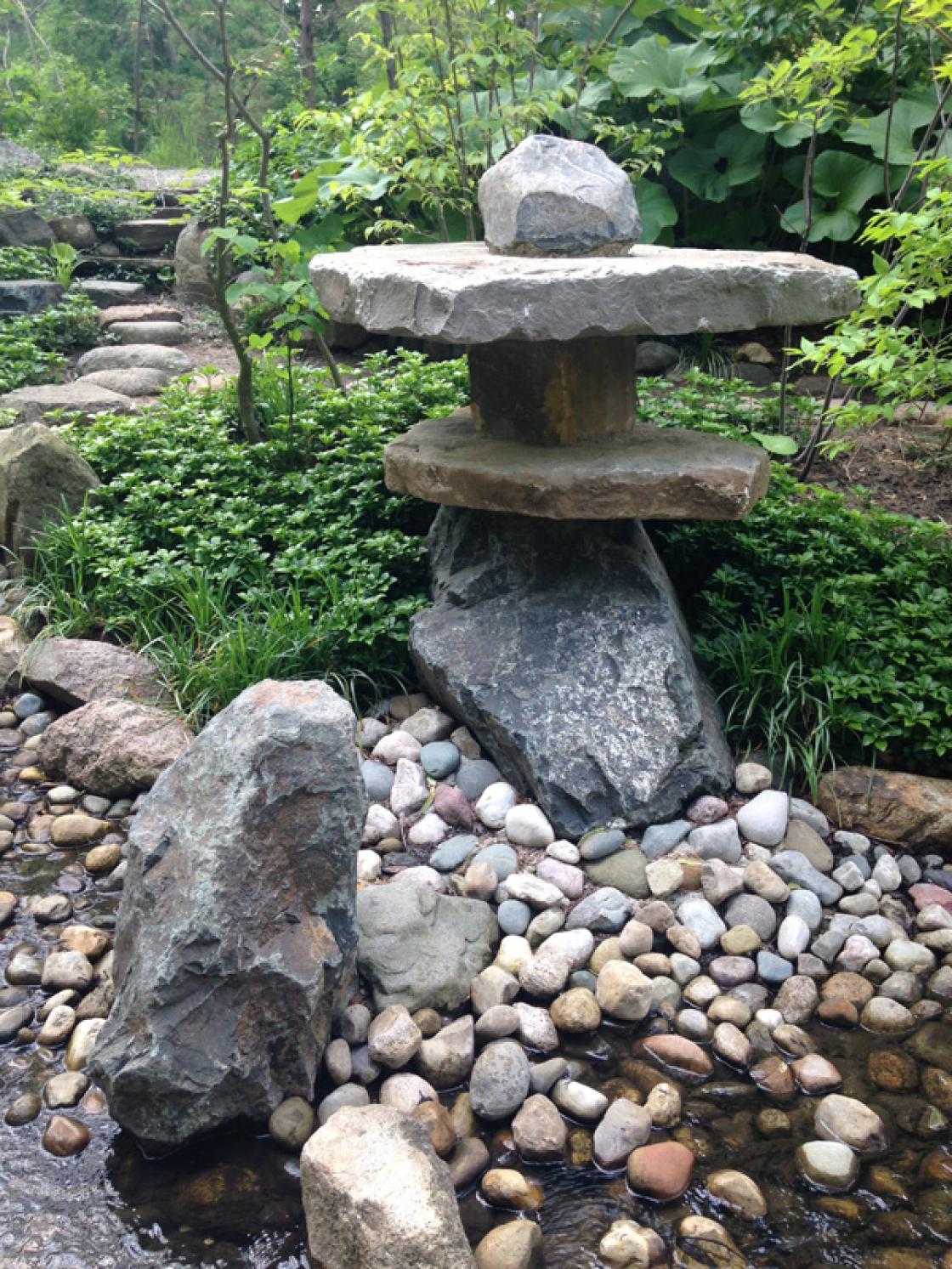 Figure 6. Postcard of the "Oriental Garden" with Rudy Fedus seated near the Japanese Kasuga Lantern, circa 1976, Published by Cranbrook Gardens Auxiliary. Collection of Cranbrook Center for Collections and Research, Gift of Katie McCreighton Young, 2019.
Figure 7. Cranbrook Mountain Lantern, October 9, 2018. Photography by Gregory Wittkopp.
SOURCES
1. George Booth to Henry Scripps Booth, May 16, 1915. George Gough Booth Papers (1981-05), Box 19:11, Cranbrook Archives.
2. Josiah Conder, Landscape Gardening in Japan, 2nd and rev. ed. (Tokio: The Maruzen Kabushiki Kaisha, 1912), 60-61.
3. Sometime before or after World War II, the Cranbrook Japanese Garden was renamed the "Oriental Garden." This name persisted until May 16, 2016, when Cranbrook's Properties Committee, upon the recommendation of Cranbrook Center for Collections and Research and the Center's Japanese Garden Advisory Group, officially changed the name back to the Cranbrook Japanese Garden.