A Midsummer Night's Dinner
A GREEK THEATRE TOUR AND FARM-TO-TABLE DINING EXPERIENCE FEATURING GOLD CASH GOLD AND CHEF JOSH STOCKTON
 
Sunday, June 5, 2016, 5:00 – 8:30pm
Cranbrook House
$175 per person (included a $25 tax-deductible donation to Cranbrook's Center)
GUEST ARTISTS
Daniel Dobrovich, Director of Theatre, Cranbrook Kingswood Upper School
Sam White, Founder, Shakespeare in Detroit
Proceeds benefit the preservation, collections management, and interpretation efforts of Cranbrook's Center for Collection and Research
With William Shakespeare serving as our muse, the Center's second Edible Landscapes Dinner wove together the histories of Cranbrook House and Cranbrook's Greek Theatre with the sumptuous feasts penned by the great English Bard in his plays, including A Midsummer Night's Dream.
In June 1916, George and Ellen Booth and their guests attended The Cranbrook Masque in the recently completed Greek Theatre. Commissioned by George Booth, written by Sidney Coe Howard (who would later become famous for his screen play adaptation of the book Gone With the Wind), and produced by the Detroit Society of Arts and Crafts, this dedicatory play told the story of the conflict between romance and materialism. Exactly one hundred years later—to the month—St. Dunstan's Theatre Guild of Cranbrook is celebrating the centennial of the theatre's first play with a production of Shakespeare's A Midsummer Night's Dream.
Be kind and courteous to this gentleman.
Hop in his walks, and gambol in his eyes.
Feed him with apricots and dewberries,
With purple grapes, green figs, and mulberries;
The honeybags steal from the humble-bees, …
--A Midsummer Night's Dream
(Act 3, Scene 1, Lines 155-159)
While scenes of A Midsummer Night's Dream are filled with colorful references to edible flora and fauna, the five courses of this second "Edible Landscapes" dinner drew upon the feasts depicted throughout all of Shakespeare's plays. After all, Cranbrook House itself draws on inspiration from the country homes of England's Tudor period (1485-1603), the era during which Shakespeare wrote his plays.
The dinner was hosted by Gregory Wittkopp, Director of the Cranbrook Center for Collections and Research, and Daniel Dobrovich, Guest Director of St. Dunstan's production of A Midsummer Night's Dream and Director of Theatre at Cranbrook Kingswood Upper School. The evening started with a tour of the Greek Theatre and—quite literally—a behind-the-scenes view of the production's stage set. After the tour of the theatre, the culinary experience began on the North Terrace of Cranbrook House overlooking Kingswood Lake with appetizers and wine or an Oberon beer (as Oberon was Shakespeare's King of Fairies). Guests then moved into the Library where tables were set for a three-course dinner and dessert—a collaboration between Chef Josh Stockton at Gold Cash Gold in Detroit, and Daniel Dobrovich, both of whom narrated the dinner as it unfolded.
Located in Detroit's Corktown, in the shadow of the infamous Michigan Central Station, Gold Cash Gold was created by Corktown's Cooley family, who turned an eyesore of an old pawnshop—known for its "gold cash gold" sign—into and inviting, artful dining space. Chef Josh Stockton calls his menu "farmstead fine food," an apt description for the restaurant's seasonal, locally sourced, house-made, farm-to-table dishes. Opened in December 2014, the restaurant immediately earned a spot on the Detroit Free Press's 2015 list of Detroit's Top Ten New Restaurants.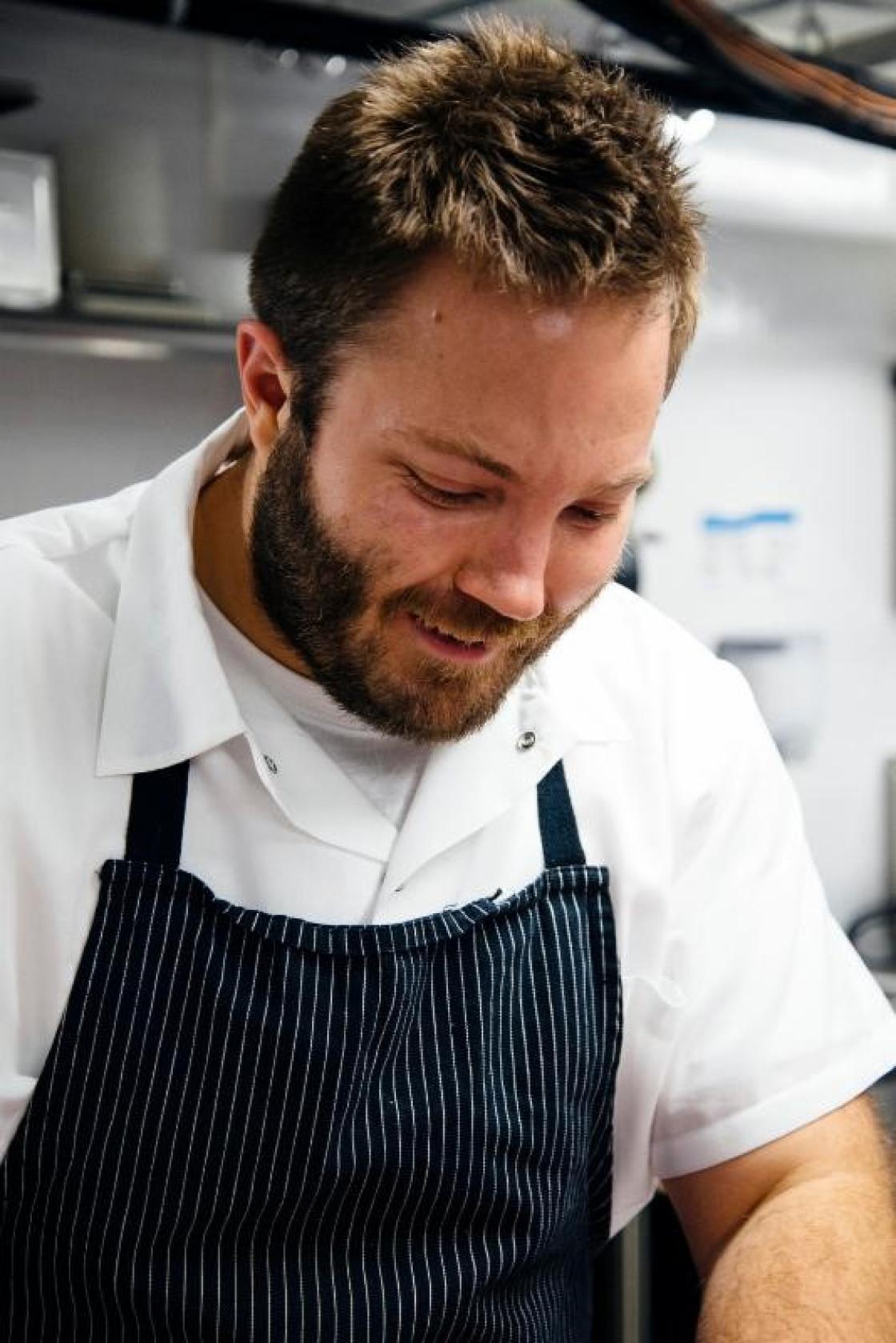 ADDITIONAL INFORMATION
Tickets for this all-inclusive dining experience (appetizers, three dinner courses, dessert, and carefully-selected white wines—and a few featured beers) were $175 per person and included a $25 tax-deductible donation to the Cranbrook Center for Collections and Research.
photo credits
A Night on Lake Como Edible Landscapes Dinner, June 11, 2017. Cranbrook Center for Collections and Research, Bloomfield HIlls.
Hance, George W. Cranbrook Masque with Actor Sam Hume on the Stage of the Greek Theatre, Cranbrook Estate, 1916. Cranbrook Archives, Cranbrook Center for Collections and Research, Bloomfield Hills.
Chef Josh Stockton, Gold Cash Gold. Courtesy Gold Cash Gold, Detroit.