Portrait of Clara Gagnier Booth
Oil on canvas (signed, upper right: Ossip Perelma 1918)
Ossip Perelma (Artist)
(Born 1876, Odessa, Russia; active in California; died 1949)
Canvas: 24 x 21-1/4 inches
Cultural Properties Collection, Cranbrook House (T2012.35)
Purchased by the Cranbrook Center for Collections and Research through a directed gift from John Lord Booth II, 2016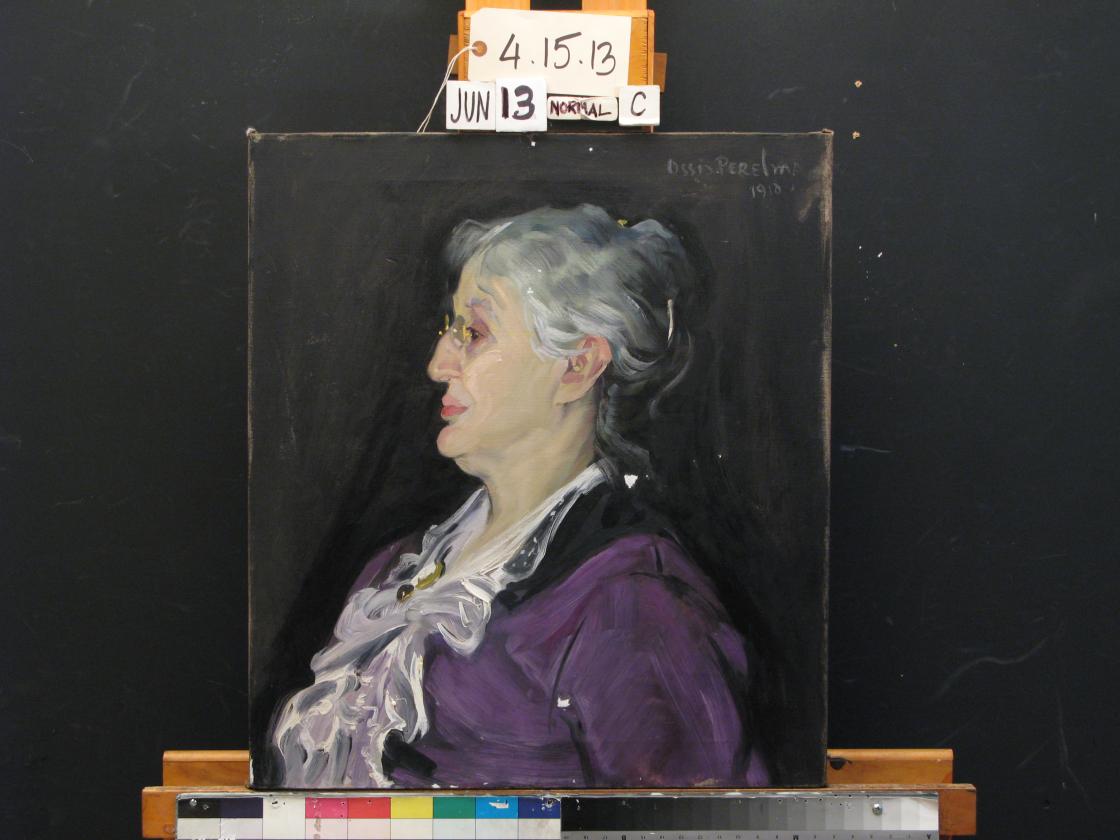 Hanging in the Cranbrook House Oak Room is this portrait of Clara Gagnier Booth (1839 – 1930), the mother of Cranbrook founder George Booth.  The artwork was painted in 1918 by the Russian-born artist Ossip Perelma, known particularly for his portraits of men of stature such as President Woodrow Wilson, King Albert I of Belgium, and several Russian and French political officials. Perelma (born Perelmann) also executed the stately portrait of Clara Booth's husband, Henry Wood Booth, also on view in the Oak Room.
Demure in size and executed with soft and fluid brush strokes, Clara Booth's portrait contrasts with that of her husband. While Henry is depicted in full length in an outdoor background, his wife is shown only by profile, with just the upper half of her torso included in the composition. The stylistic distinction between Clara's portrait and that of her husband—and indeed many of Perelma's other subjects—emphasizes the differing approach Perelma took to depicting a woman.
In the early twentieth century, even women of position, beauty, and culture were often removed from public view after their role as wife and mother was fulfilled, and their youth had faded. This portrait was painted when Clara Booth was 79, and it is notable that Perelma chose not to conceal his subject's age. Indeed, the portrait is a rare and significant example of art providing legitimacy and prestige to a woman who remained elegant and strong as she reached an age when most women no longer had a public presence or were being immortalized by artists.
Stefanie Kae Dlugosz-Acton
2014 – 2016 Collections Fellow, Cranbrook Center for Collections and Research
June 2015
Director's Note: For many years, the painting was in the collection of the Saginaw Art Museum, which acquired the painting through a donation from Clara Booth's grandson, John Lord Booth I.  The painting was not the only gift to the Saginaw Art Museum by Booth family members, who often supported the art museums in the cities where they owned newspapers and radio stations, including the Saginaw News.  In 2012, the painting was loaned by the Saginaw Art Museum to the Cranbrook Center for Collections and Research, allowing the Perelma portraits of both Clara and Henry Booth to hang near each other in Cranbrook House.  As the painting was not central to the collection of the Saginaw Art Museum, the museum's board made the decision to deaccession it in 2016 at which point it was purchased by the Cranbrook Center for Collections and Research through a directed gift from Clara and Henry Booth's great-grandson, John Lord Booth II, who also funded the painting's conservation treatment and new frame in 2013.
SOURCES
An expanded version of Stefanie Kae Dlugosz-Acton's essay on Perelma's painting, "A Portrait Comes Home to Cranbrook House," was published in the Cranbrook Kitchen Sink, the Center's WordPress blog, on June 3, 2015.  For the complete version, click here.
photo credits
Katz, Ken. Conservation of Ossip Perelma portrait of Clara Gagnier Booth. 2013. Courtesy Cranbrook Center for Collections and Research, Bloomfield Hills.
Banner photo by P.D. Rearick, CAA '10