CRANBROOK VIRTUAL TOURS
This summer Cranbrook Center for Collections and Research is offering Cranbrook Virtual Tours. Working directly with our resident curator, Kevin Adkisson, these tours allow you to enjoy the wonders of Cranbrook's architecture and grounds—from the comfort of your home or business. Contact us to craft your own custom Cranbrook experience for your family, friends, colleagues, or organization. On-site tours are scheduled to resume September 11, 2020.
frank lloyd wright smith house
School teachers Sara Stein Smith and Melvyn Maxwell Smith, undeterred by their modest salaries and guided by a shared love of architecture, met Frank Lloyd Wright at Taliesin in 1941 and commissioned a custom home. The Smith House in Bloomfield Hills is an excellent example of Wright's Usonian ideal, which aimed to build quality houses for the American middle class.

Tours offer a unique view of this special home, its landscape, and the story of a couple whose vision and determination allowed them to achieve their dream. All tours meet at the front desk of Cranbrook Art Museum. Reservations are required in advance. 
The Cranbrook Center for Collections and Research is responsible for stewarding the Smith House and its collections and opening its doors to visitors from around the world. The house was donated to Cranbrook Educational Community in 2017 by The Towbes Foundation with support from Anne Smith Towbes and the late Michael Towbes.
TOUR SCHEDULE
The tour season begins May 1 and ends Thanksgiving weekend, with public tours Friday, Saturday, and Sunday afternoons. Private tours and group tours are available May to November per staff availabilty; please call the Center at 248.645.3307 for more information. 

Spend the day in Bloomfield Hills and plan a visit to the Smith House AND the Frank Lloyd Wright Affleck House, owned and operated by Lawrence Technological University and located just a few minutes away. 
3D Smith House Tour
In 2019, the Center for Collections and Research collaborated with SEEN Magazine and photographer Brett Mountain of PLAC3D to create a 3D "Walk Through Tour" of the interior of Smith House. While nothing replaces the experience of visiting the house with a knowledgeable staff member, the 3D tour is the next best thing.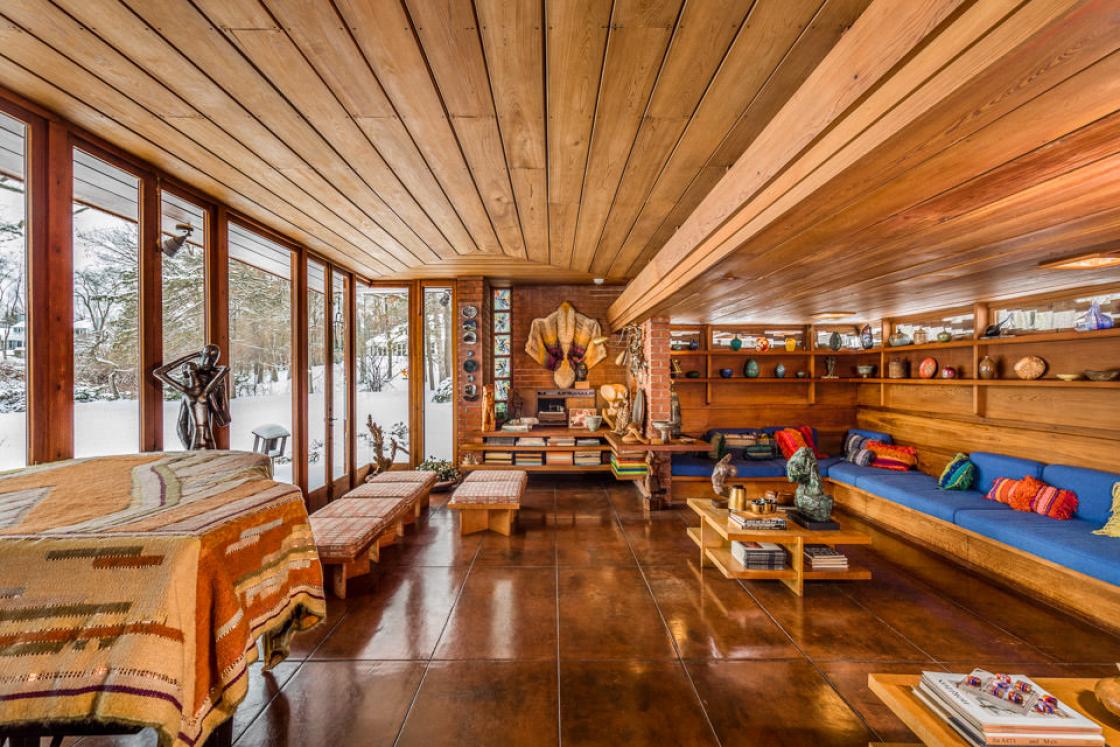 CRANBROOK AND FRANK LLOYD WRIGHT
Frank Lloyd Wright had many connections to Cranbrook, including as a visiting lecturer at the Academy of Art, a colleague of Eliel Saarinen in the international architectural scene, and as the commissioner of works by Cranbrook artists for his building projects.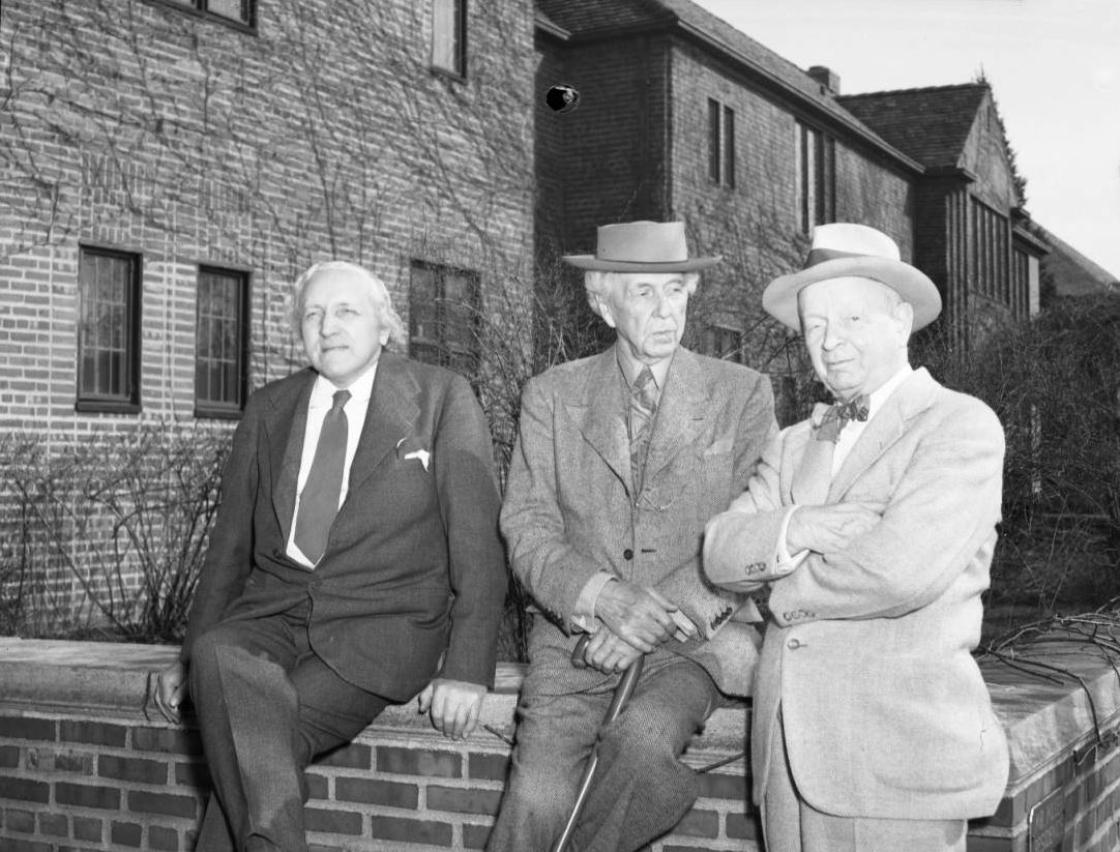 CRANBROOK AND THE SMITHS
Frank Lloyd Wright often told his clients to find property no one wanted, with the idea that such a plot would have some interesting natural feature with which Wright's organic architecture could interact. In the case of the Smith House site, the interest came from the marshland and its enormous oaks. In time, what proved to be equally important for Melvyn and Sara Smith was the site's proximity to Cranbrook and the interaction they would have with Cranbrook's programs and artists.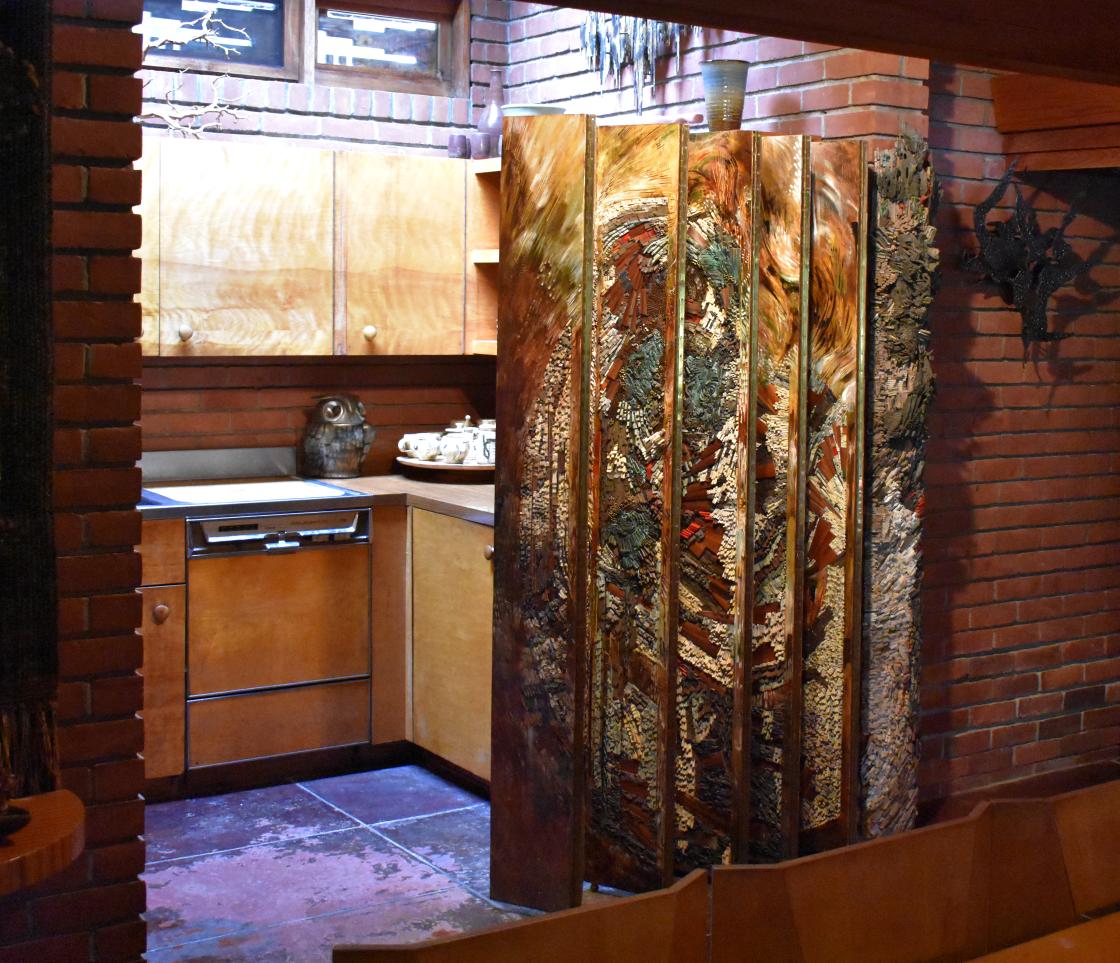 smith house oral history project
As part of the Center for Collections and Research's commitment to preserve the legacy of Smith House for future generations, an oral history project is currently underway to collect stories and learn more about the Smiths, the house, and its contents from the many people involved in its creation.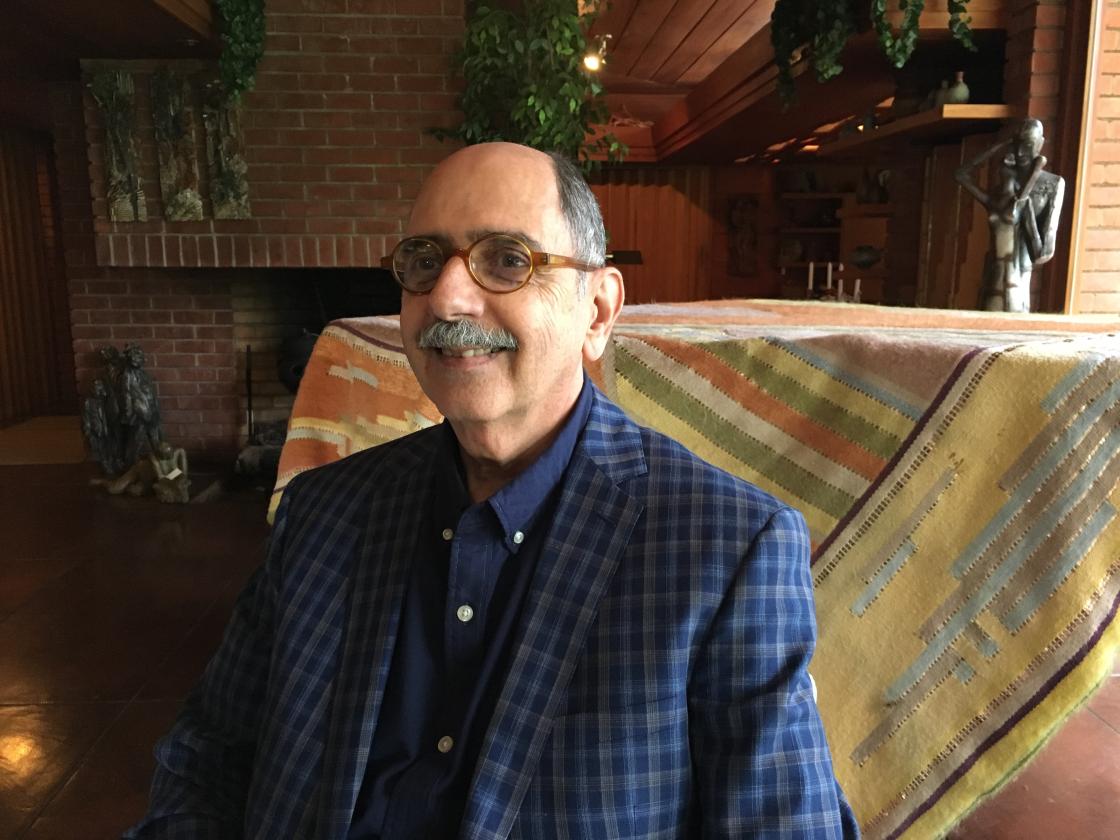 photo credits (FROM TOP TO BOTTOM)
Haefner, James. Interior of Smith House. 2017. Cranbrook Center for Collections and Research, Bloomfield Hills.
Haefner, James. Exterior rear daylight. 2010. Cranbrook Center for Collections and Research, Bloomfield Hills.

Croze, Harvey. Carl Milles, Frank Lloyd Wright, and Eliel Saarinen on the steps of Milles House on Cranbrook's Academy Way. March 1945. Courtesy Cranbrook Archives, Cranbrook Center for Collections and Research, Bloomfield Hills.

Adkisson, Kevin. View of screen separating the dining room and workspace at Smith House. Mixed media screen by Glen Michaels (CAA MFA '58, Painting; CAA, Supervisor of Art for Children, 1959-65), installed after 1959. Photographed October 2017. Courtesy Cranbrook Center for Collections and Research, Bloomfield Hills.

Adkisson, Kevin. Artist Urban Jupena in Smith House. June, 2017. Cranbrook Center for Collections and Research, Bloomfield Hills.