Cranbrook and Frank Lloyd Wright
The most public connection between Frank Lloyd Wright and Cranbrook were the lectures he delivered at the Academy of Art in 1935, 1937, and 1945. Transcripts or recordings of these lectures unfortunately do not survive, but one student recalled Wright's 1945 speech imploring the young artists to "Work, work, work—night and day!"

Wright and Eliel Saarinen, architect and founding President of the Academy, were both international leaders in modern architecture and greatly respected each other's works. In 1931, Saarinen and Wright served as two judges for the Columbus Memorial Lighthouse Competition in Rio de Janeiro—Wright representing North America and Saarinen representing Europe. Saarinen's work of the early 1930s at Kingswood is deeply indebted to Wright's Prairie Style. In 1935, Loja Saarinen would receive a commission from Wright to weave the textiles for the office of Edgar J. Kaufmann, installed in Kaufmann's Pittsburgh department store.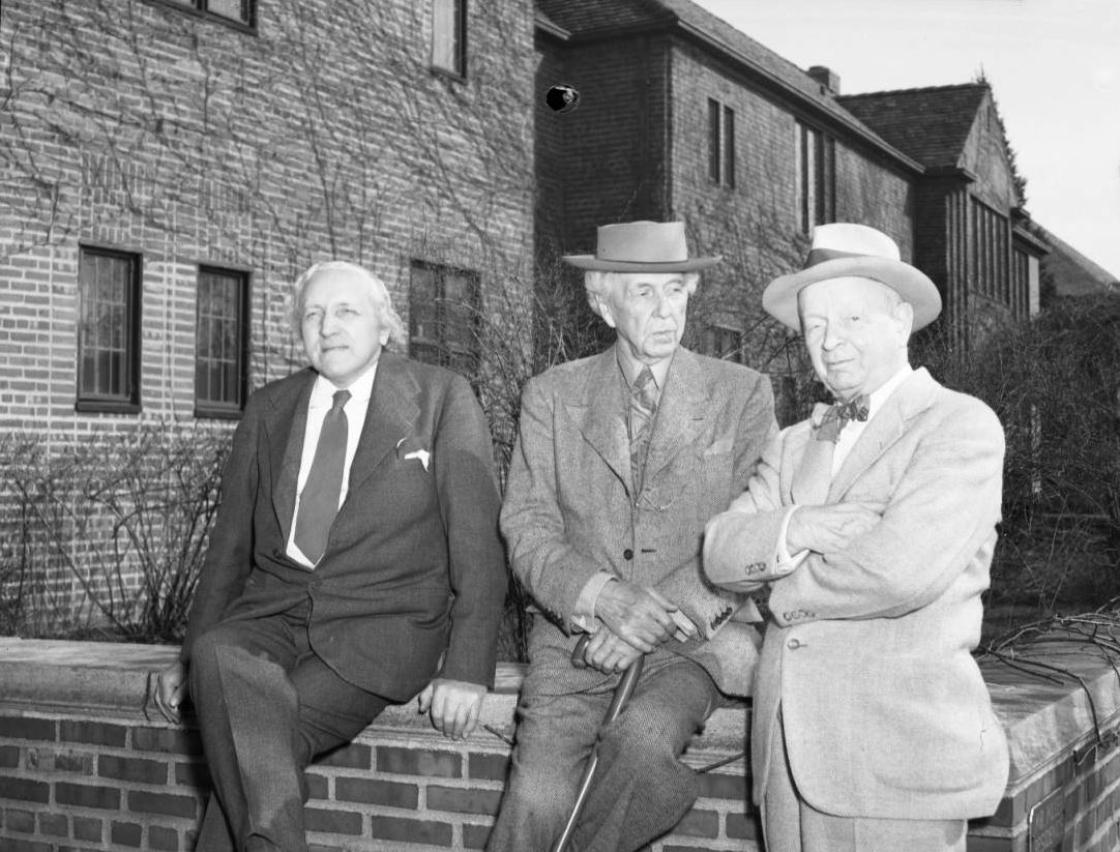 The Academy's Director of the Department of Sculpture from 1931 to 1951, Carl Milles, was also friendly with Wright. Wright wrote in his own autobiography of 1943 that "Carl is a sculptor—probably the greatest" and observed that Milles "was the power behind the throne at Cranbrook." Wright also expressed an interest in having Milles's collection of Greek and Roman sculpture come to Taliesin.
Further Cranbrook connections with Wright include a visit with him in the fall of 1941, when Richard Raseman (the Academy of Art's Executive Secretary from 1932 to 1943) traveled to Wright's winter home and studio, Taliesin West, in Scottsdale, Arizona. In beautiful photographs, now a part of the Cranbrook Archives, he captured the balance Wright achieved between the desert landscape and architecture.

Around the same time, Cranbrook graduate Edna Vogel (CAA MFA '43, Ceramics and Weaving) travelled to Wright's home in Wisconsin to discuss her production of weavings for the Gregor Affleck House, completed in 1941 just north of Cranbrook's campus. Wright was so impressed with Vogel's work that he invited her to stay on at Taliesin as a weaver and ceramicist. She declined, however, and returned to complete her studies at the Academy.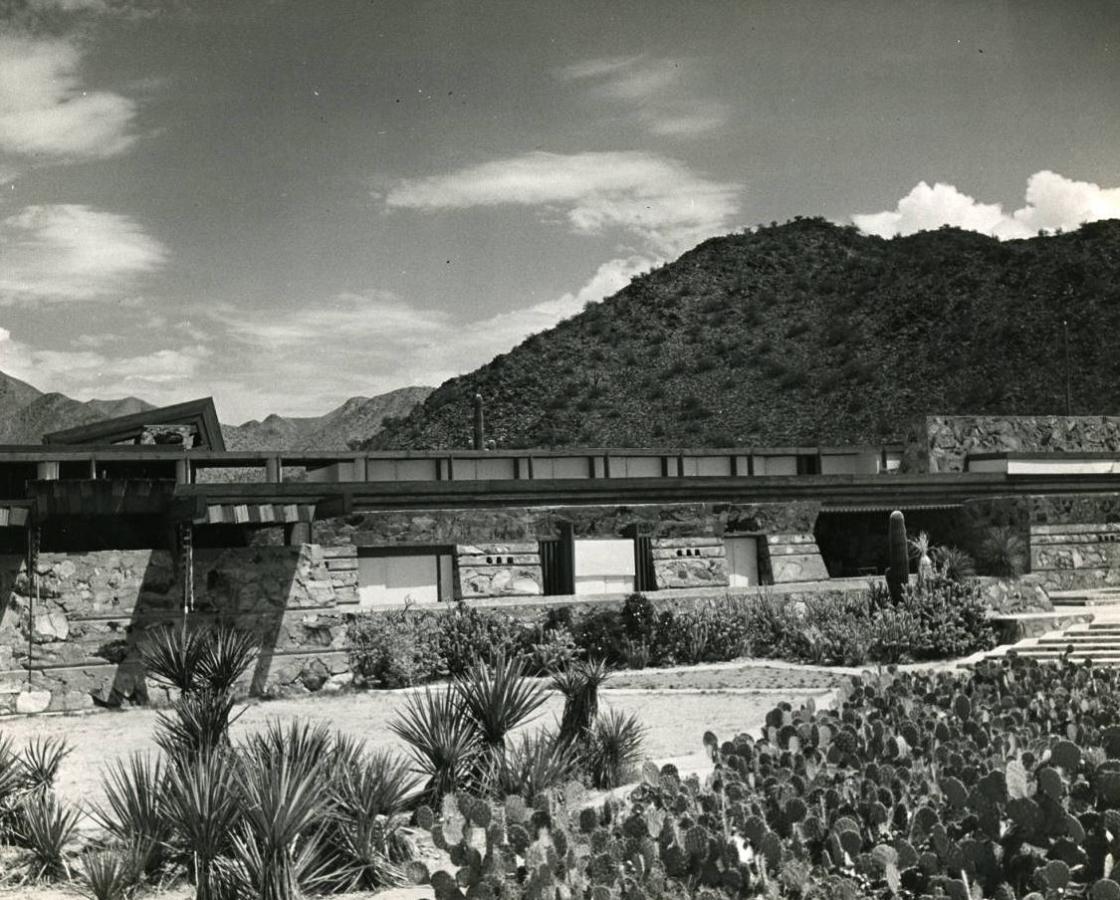 The Afflecks, too, had Cranbrook connections. Gregor Affleck, a chemical engineer, and his wife Elizabeth acquired works by Cranbrook artists and hosted many Cranbrook faculty and students at their nearby Wright home. Elizabeth took ceramic coursework with Maija Grotell during the 1942 academic year, while their son, Gregor Jr., studied painting, design and modeling at the Academy from 1944 to 1945.

After Eliel Saarinen's death in 1950 and Milles's departure in 1951, Wright did not return to Cranbrook's campus. He did, however, accept invitations to lecture in Detroit in 1951, 1953, and 1957, and on each occasion, he visited the Smith House.

Kevin Adkisson, 2016-2018 Collections Fellow
Cranbrook Center for Collections and Research
October 2017
PHOTO CREDITS (FROM TOP TO BOTTOM)
Haefner, James. Interior of Smith House. 2017. Cranbrook Center for Collections and Research, Bloomfield Hills.

Croze, Harvey. Carl Milles, Frank Lloyd Wright, and Eliel Saarinen on the steps of Milles House on Cranbrook's Academy Way. March 1945. Courtesy Cranbrook Archives, Cranbrook Center for Collections and Research, Bloomfield Hills.

Raseman, Richard. View of Fellowship Apartments and Guest Deck at Frank Lloyd Wright's Taliesin West in Scottsdale, Arizona. Fall 1941. Courtesy Cranbrook Archives, Cranbrook Center for Collections and Research, Bloomfield Hills.