Eliel Saarinen (Designer)
Two Tea Urns and Trays, 1934 or earlier
Born 1873, Rantasalmi, Finland; Cranbrook, Resident Architect, 1925-1950; Cranbrook Academy of Art (CAA), President, 1932-1046; CAA Director of Department of Architecture and Urban Design, 1946-1950; died 1950, Bloomfield Hills, Michigan
Manufacturer: International Silver Company, Wilcox Silver Plate Division, Meriden, Connecticut
Silver plate, ebony
Urns: 14 5/8 x 10 7/8 (diameter) inches
Trays: 1/2 x 17 1/2 (diameter) inches [locations unknown as of fall 2003]
Collection of Cranbrook Schools
Kingswood School accession number: KS 1991.23;
Cranbrook School accession number: CS 63
Markings on KS 1991.23: Wilcox S.P. Co. / International S. Co / N5873 / 1 (inscribed in a box) / s (inscribed in a box) / special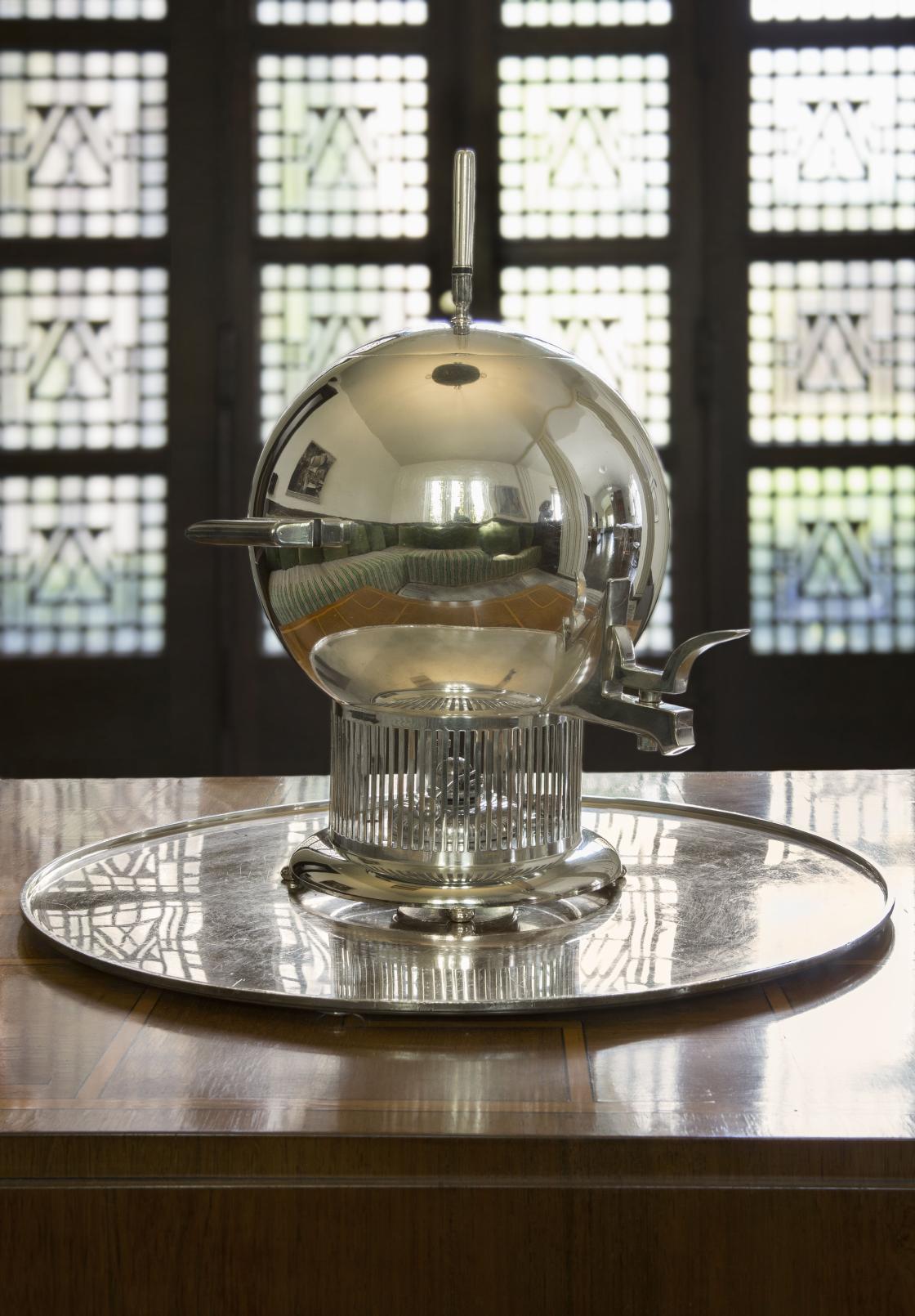 From his broad city plans and architecture to his detailed furniture and silverware designs, Eliel Saarinen sought balance between geometry and nature. His spherical tea urns with flat handles rest on pedestal bases above bun feet and conforming round trays, embodying futuristic design elements that helped define the Machine Age; while their spire finials and flowing linear spouts reference nature.
The urns are unique within a limited series manufactured for use at Cranbrook.  The series includes these two examples, still in the collection of Cranbrook Schools as overseen by Cranbrook Center for Collections and Research. Purchased for Kingswood School (KS 130; reaccessioned KS 1991.23) and Cranbrook School (CS 63) by the Cranbrook Foundation from Eliel Saarinen for $212.16 on February 15, 1938, the silver-plated urns are embellished with ebony inserts on their handles and lid finials to prevent heat transference (the ebony on the finial of CS 63 is missing after an undated repair; while KS 1991.23 retains its spirit burner in the urn's slatted base). A second version of the tea urn, entirely plated in silver, was gifted to Cranbrook Art Museum by George Gough Booth and Ellen Scripps Booth through the Cranbrook Foundation in 1935 (CAM 1935.8A and .B); while a third version, Saarinen's personal urn, matching creamer, and sugar bowl in electro-plated nickel silver, brass, with Bakelite inserts, is now in the collection of The Metropolitan Museum of Art. 
A final version, designed for mass production in silver-plate with wider slats and no bun feet, appeared in Room for a Lady, "Contemporary American Industrial Arts" at The Metropolitan Museum of Art in 1934, and again in the "Exhibition of Home Furnishings" at the Cranbrook Pavilion in 1935. Retailing at $80 for the urn and $30 for the tray, few were manufactured. The set nonetheless appeared in numerous subsequent exhibitions and publications, and inspired many prominent industrial designers.
The Kingswood and Cranbrook tea urns were brought out for traditional school functions. Typically, staff, students, and guests did not help themselves. Instead, a gracious hostess, seated at the head of the table, filled each cup. Photographs in the collections of Cranbrook Archives depict such genteel occasions.
Diane VanderBeke Mager, Program Presenter
Cranbrook Center for Collections and Research
April 2016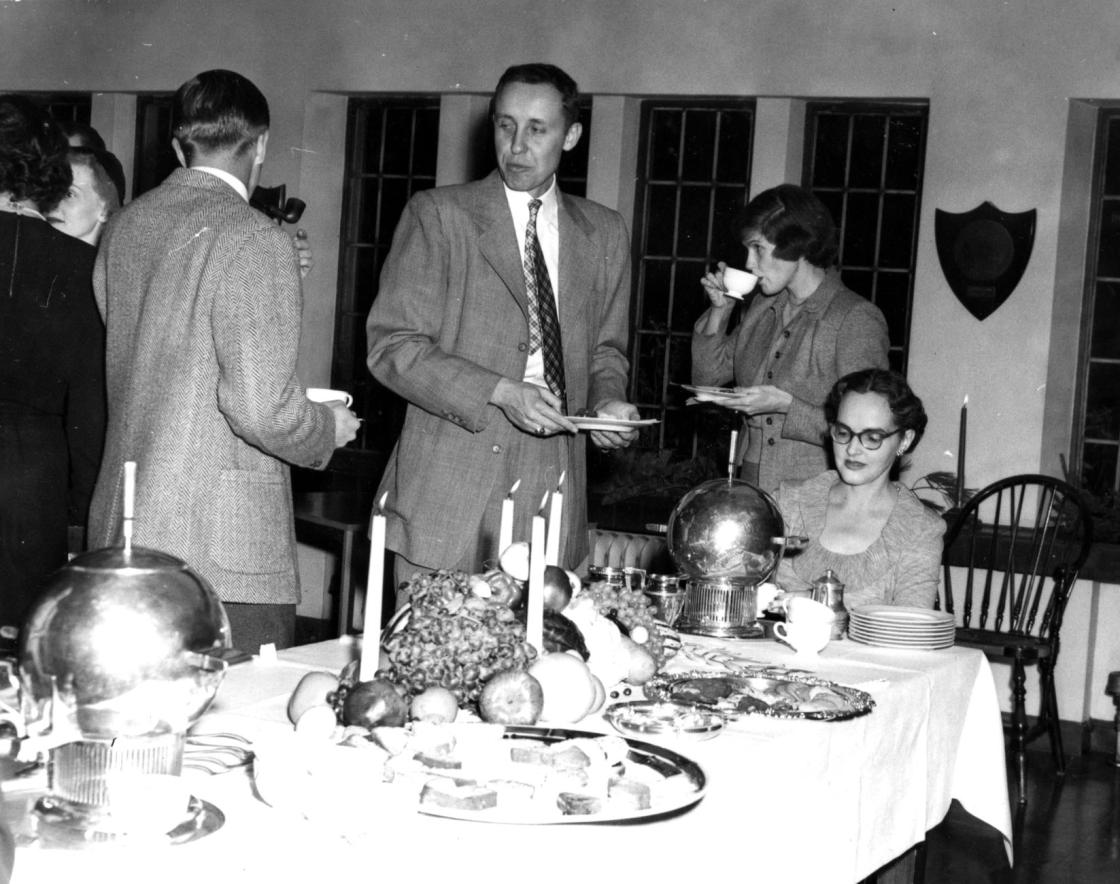 photo credits
Rearick, P.D. Tea Urn at Saarinen House. 2017. Cranbrook Center for Collections and Research, Bloomfield Hills.
Croze, Harvey. Faculty tea party at Cranbrook School North Library, November 1950. Cranbrook Archives, Cranbrook Center for Collections and Research, Bloomfield Hills.
Banner photo by P.D. Rearick, CAA '10