Sadafumi Uchiyama
Born 1955
Sadafumi Uchiyama (Fig. 1) is a landscape architect and the Chief Curator and Director of the International Garden Training Center at the Portland Japanese Garden. His responsibilities in Portland include maintenance of the garden; designing changes and additions to the garden, including those that surround the new Cultural Crossing expansion project and its Cultural Village (Fig. 2); training local staff; and conducting educational programs to promote a better understanding of the Japanese gardens and the culture that inspired them. Prior to his appointment as Garden Curator in 2008, he served as a Vice President on the Garden's Board of Trustees.
The Portland Japanese Garden is "one of the most beautiful and authentic Japanese gardens in the world outside of Japan." 
-His Excellency Nobuo Matsunaga, Former Ambassador of Japan to the United States 1
In 2018, Cranbrook Center for Collections and Research commissioned Uchiyama to design a master plan for the rehabilitation of the Cranbrook Japanese Garden (Fig. 3). The master plan was completed the following fall and unveiled during a public program at Cranbrook on October 13, 2019.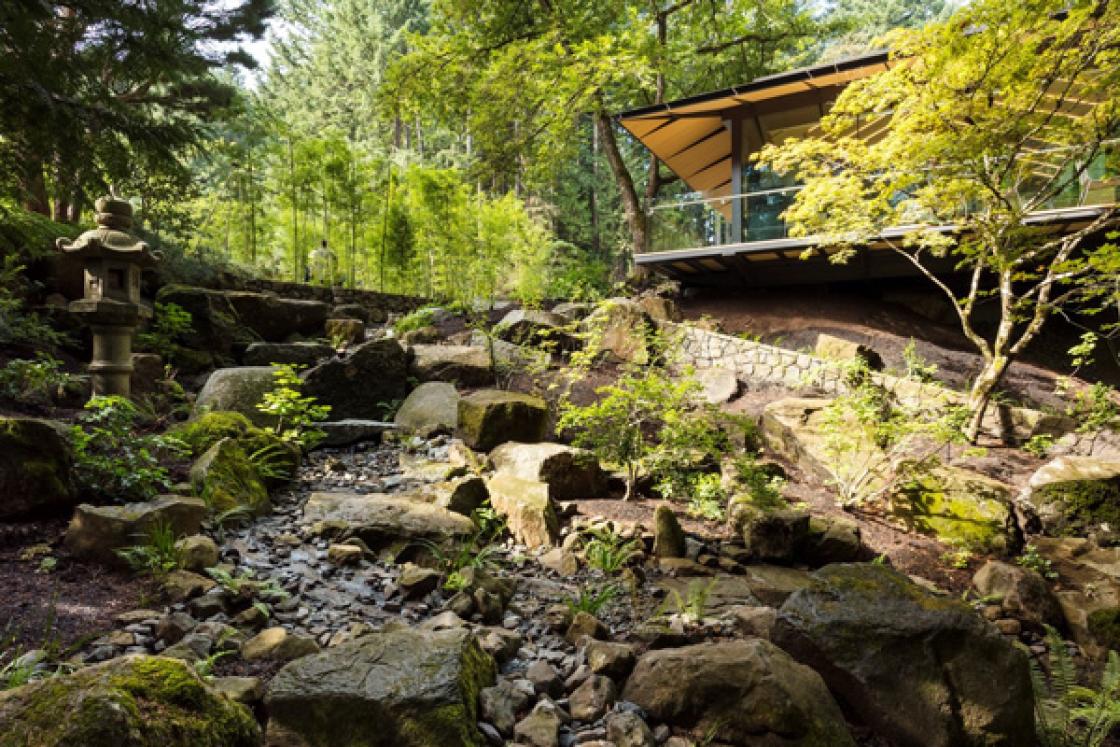 Born in 1955 in Fukuoka Prefecture in southern Japan, Uchiyama grew up in a family of professional gardeners, learning the craft from a very early age. Initially hesitant to follow the family trade, he graduated from high school and went to Tanzania with the Japan Overseas Cooperation Volunteers where he worked on reforestation projects. He then traveled to Yemen with what is now the Japan International Cooperation Agency. He eventually returned to his roots, however, and left Japan in 1988 to study landscape architecture in the United States, earning both Bachelor of Landscape Architecture and Master of Landscape Architecture degrees at the University of Illinois.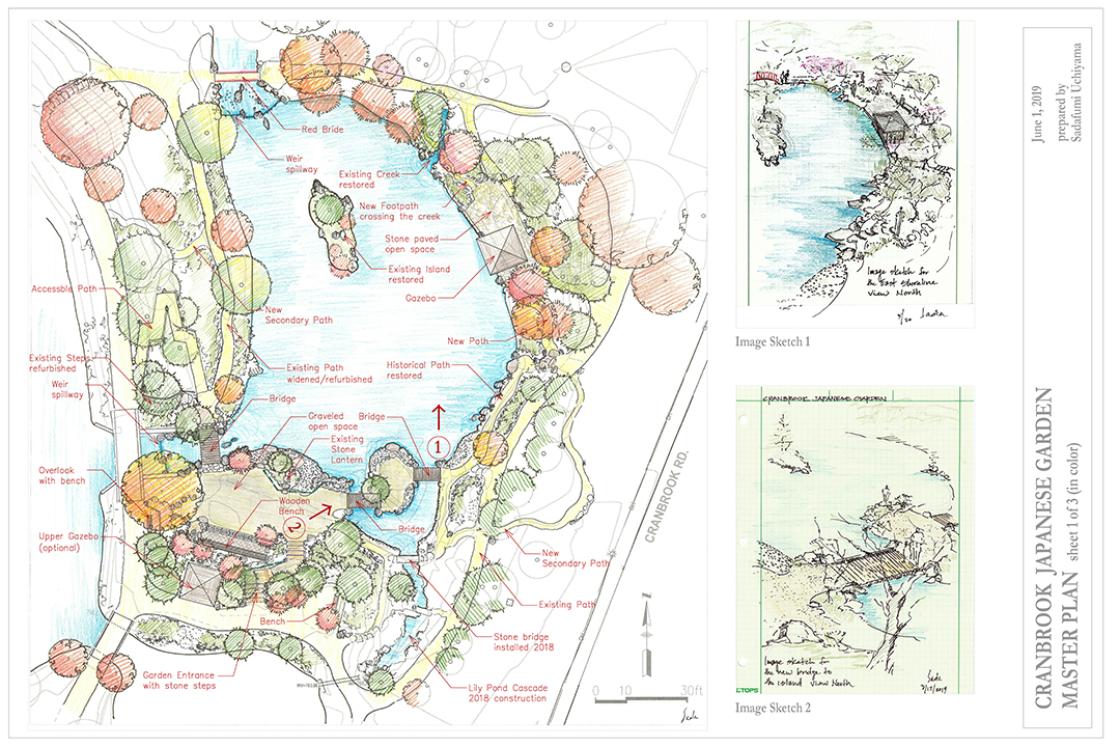 Now a third-generation Japanese gardener and a registered landscape architect in Oregon and California, Uchiyama is devoted to fostering connections among gardens in Japan and worldwide. He served as one of seven founding members and the Secretary of the International Association of Japanese Gardens (IAJG) from 1996 to 2000. Since 2009, he has been involved in the development of the North American Japanese Garden Association (NAJGA) for which he serves as a Charter Member of its board and editorial board and co-organized the Association's international conference in Portland in 2018.
"The Japanese Garden was born some 1,200 years ago, and we've carefully nurtured it for all these centuries. But perhaps Japan just happens to be its origin, and it is really destined to be shared with the world as a whole. So it is important to realize that the Japanese garden is not a garden by and for Japanese people only, but embodies a universality that transcends cultural boundaries." 
-Sadafumi Uchiyama 2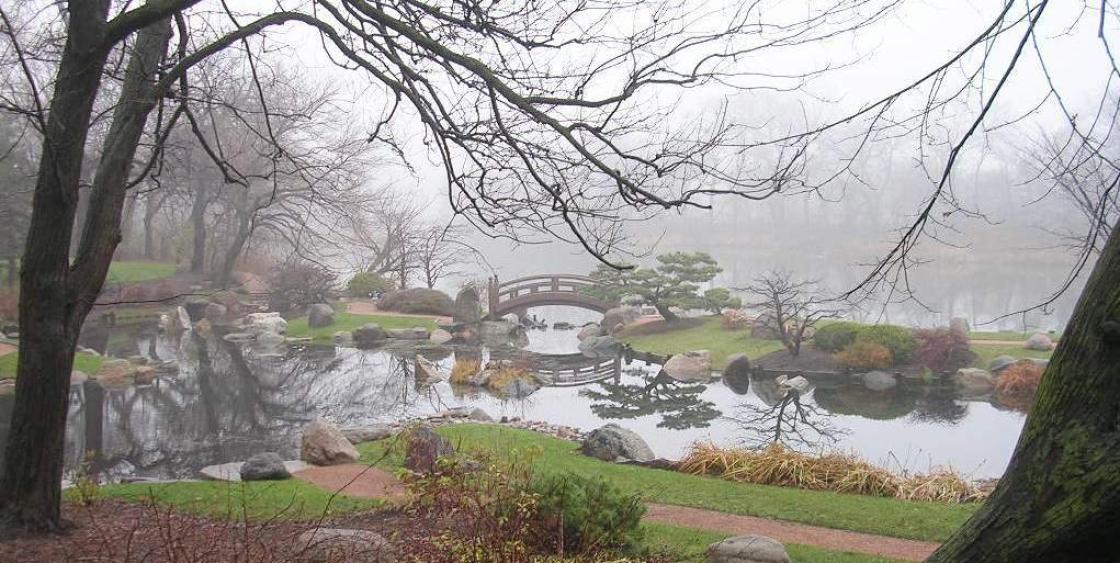 Uchiyama has taught landscape design courses and lectured on Japanese gardening at colleges and public gardens throughout the United States and Japan. His writings have been featured in the Journal of Japanese Gardening, Garden Design, Fine Gardening, Inspired House, Luxe Magazine as well as professional journals in Japan. His representative projects include the renovation of the Osaka Garden, the site of the 1893 Great Columbian Exposition at Jackson Park in Chicago (2000 to date) (Fig. 4), and the Shofu-en of the Denver Botanic Gardens (2001 – 2012). Most recently, he completed the Shoun-Kei Japanese garden at Sarah Duke Gardens at Duke University (2015) and the Rolex Headquarters in Dallas (2015 – 2018) in collaboration with Japanese architect Kengo Kuma, who also designed the Cultural Village as part of the Cultural Crossings project at the Portland Japanese Garden.
In 2018, Sadafumi Uchiyama received the highest award given by the Garden Society of Japan on the occasion of the Society's 100th anniversary. The award, the "Jury Commendation/Exceptional Achievement" or Shinsa-in Tokubetsu-sho, recognizes Uchiyama's designs for large-scale and commercial or public landscapes. Normally bestowed upon Japanese designers living and working in Japan, it was the first year the grand prize was awarded to a Japanese garden designer living and working outside the country.
Sadafumi Uchiyama (Fig. 5) lives in Portland, Oregon, with his wife and son.
Compiled by
Gregory Wittkopp
Director
Cranbrook Center for Collections and Research
December 2019
RELATED LINKS
Japanese Garden History
Japanese Garden Timeline
Japanese Garden Lily Pond Cascade
Japanese Bridge
Japanese Kasuga Lantern
Sadafumi Uchiyama
Visit the Japanese Garden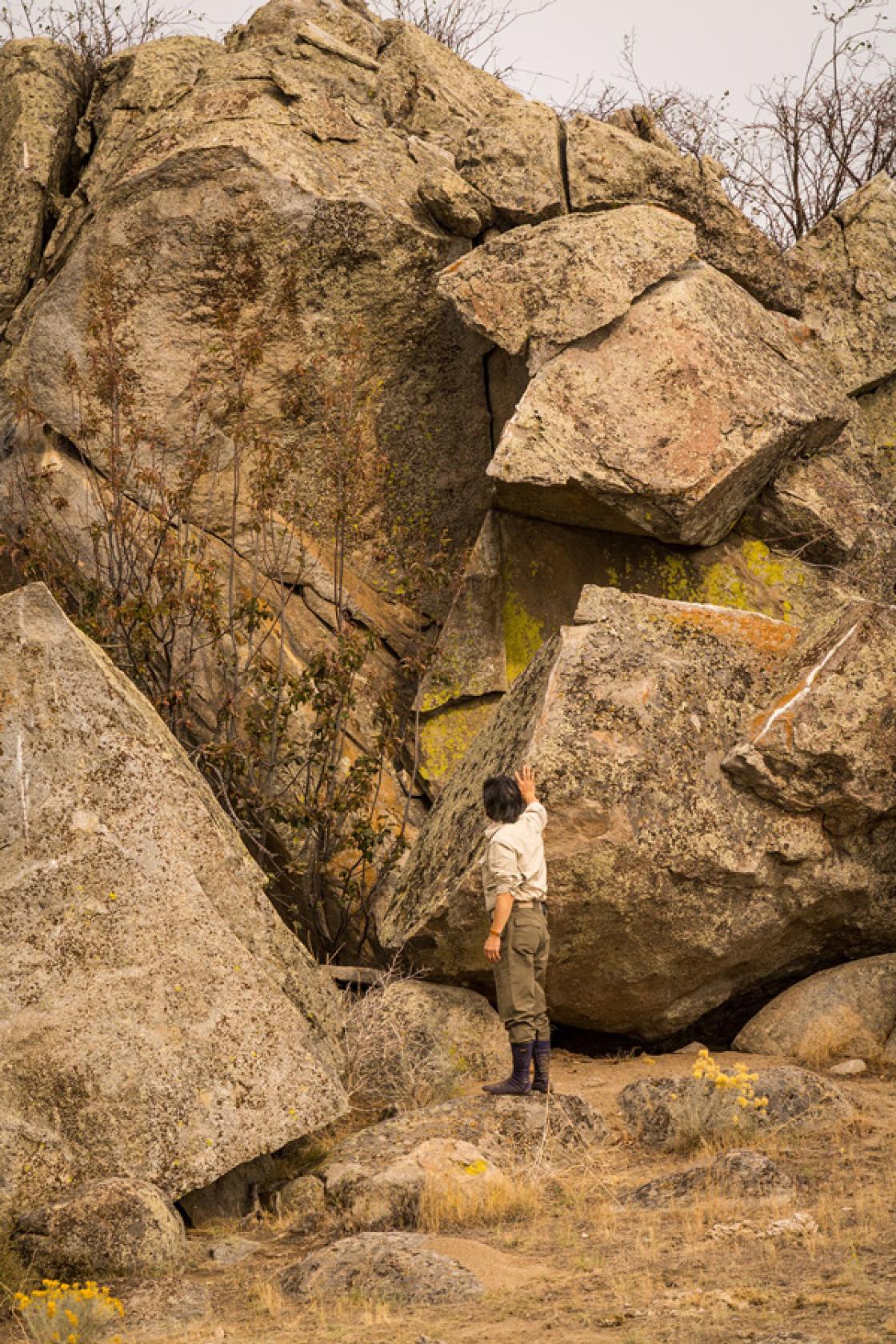 PHOTO CREDITS
Header Image. Sadafumi Uchiyama Designer, 2019 Master Plan (detail), Cranbrook Japanese Garden. Photography Courtesy Cranbrook Center for Collections and Research.
Figure 1. Sadafumi Uchiyama in the Portland Japanese Garden. Photography Courtesy Portland Japanese Garden.
Figure 2. Sadafumi Uchiyama, Designer, Cultural Village Creek, Cultural Crossing Expansion Project, Portland Japanese Garden. Photography Courtesy Sadafumi Uchiyama and Portland Japanese Garden.
Figure 3. Sadafumi Uchiyama, Designer, 2019 Master Plan, Cranbrook Japanese Garden. Photography Courtesy Cranbrook Center for Collections and Research.
Figure 4. Sadafumi Uchiyama, Designer, Restoration Master Plan (2000 to Present), Osaka Garden, Jackson Park, Chicago. Photography Courtesy of Sadafumi Uchiyama.
Figure 5. Sadafumi Uchiyama Rock Hunting. Photography by Bruce Foster; Courtesy of Sadafumi Uchiyama.
SOURCES
1. Patrice Todisco, "Portland Japanese Garden," Landscape Notes, August 18, 2019. 
www.landscapenotes.com/2019/08/18/portland-japanese-garden/
2. In Conversation with Uchiyama Sadafumi: "Conveying the Heart and Soul of the Japanese Garden." Interview conducted by Sasayama Yuko (Program Department, International House of Japan), November 27, 2014. Copyright International House of Japan. An English translation of the interview is available at: www.i-house.or.jp/eng/programs/ihj-world05/.