Sunday, October 13th 3:00pm
Cranbrook Institute of Science Auditorium
39221 Woodward Avenue
Bloomfield Hills
,
MI
48304
クランブルック日本庭園: 未来のビジョン
PRESENTED BY CRANBROOK CENTER FOR COLLECTIONS AND RESEARCH

Registration | 2:30pm-3:00pm
Cranbrook Institute of Science Main Entrance
Presentation of the Cranbrook Japanese Garden Master Plan Proposal | 3:00pm
Welcome and Overview by Gregory Wittkopp, Director, Cranbrook Center for Collections and Research
Remarks by Consul General Tsutomu Nakagawa, Consulate General of Japan in Detroit
Master Plan Presentation by Sadafumi Uchiyama, Garden Curator, Portland Japanese Garden
Master Plan Summary in Japanese by Sadafumi Uchiyama
Reception with Japanese Sweets | 4:00pm-5:00pm
Cranbrook Institute of Science West Entrance Lobby
Japanese Sweets Graciously Provided by Slurping Turtle in Ann Arbor
Cranbrook Japanese Garden Tours | 4:15pm-5:45pm
Shuttle Bus will depart from the West Entrance Lobby every 15 minutes
Last Bus will return to the Institute from the Japanese Garden at 5:45pm 
Free Admission with Advance Registration
Attendance is Limited to 190 People

This Event is Sold Out!
REGISTRATION FOR THIS EVENT IS CLOSED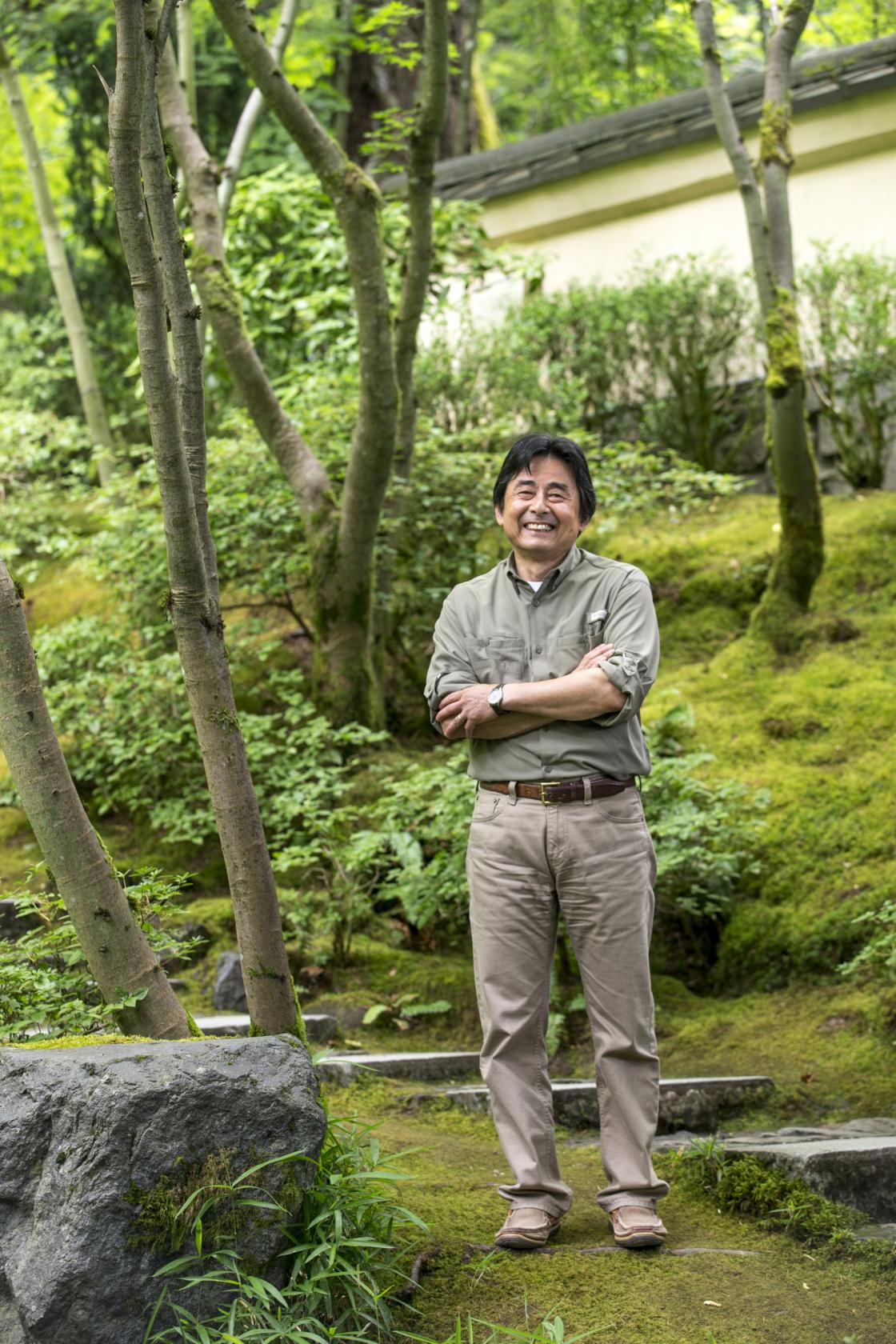 Join the Cranbrook Center for Collections and Research as we explore the history and future of Cranbrook's Japanese Garden and unveil the proposed master plan designed by Sadafumi Uchiyama. In addition to Uchiyama's presentation, the afternoon will include an overview of the history of the garden, including the recent rehabilitation of the Lily Pond Cascade, by Center Director Gregory Wittkopp. The presentations will be followed by tours of the Japanese Garden led by Center staff members.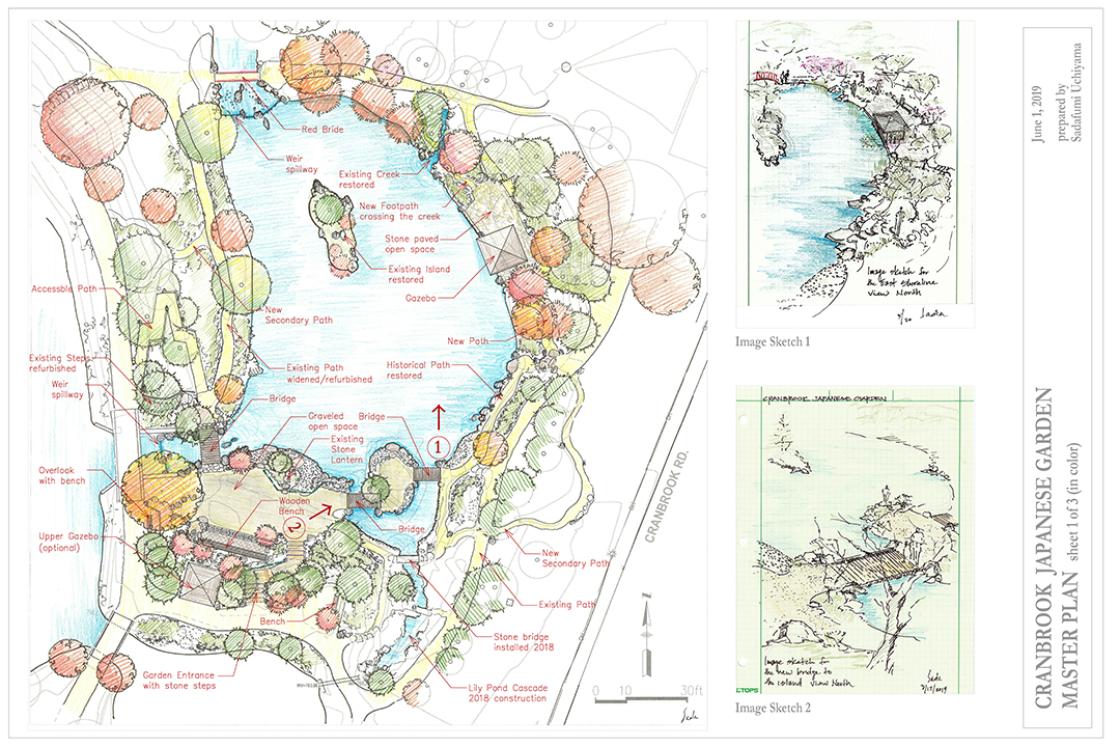 Created in 1915 by Cranbrook founder George Gough Booth and his father Henry Wood Booth, the Japanese-style garden is among the oldest in North America. The garden is centered on the Lily Pond, which is part of the River Rouge watershed, and features an iconic vermillion Japanese-style bridge and the original Kasuga-shape Japanese lantern purchased by the Booths in San Francisco in 1915. Although the garden remains a place of beauty and inspiration, the garden is in need of rehabilitation—an effort being led by the Center for Collections and Research.  

In 2018, Cranbrook Center for Collections and Research commissioned Sadafumi Uchiyama to develop a master plan for the Cranbrook Japanese Garden. The Center's Japanese Garden Advisory Group, which has been leading the effort to rehabilitate the garden, selected Uchiyama with five criteria in mind. These include Uchiyama's extensive experience designing Japanese gardens of national significance; his work on the restoration and revitalization of historic Japanese gardens; his experience designing public gardens, including an understanding of accessibility best practices; his recognition within the Japanese-American community; and—most importantly—his respect for the history and potential of the Cranbrook Japanese Garden.

The development of the master plan was generously sponsored by Jeanne Graham (1939-2019) with additional support from the Clannad Foundation and Karen Hagenlocker.

ABOUT SADAFUMI UCHIYAMA
Sadafumi Uchiyama is the Garden Curator at the Portland Japanese Garden. Prior to his appointment as Garden Curator in 2008, he served as a Vice President on the Garden's Board of Directors.

A third-generation Japanese gardener from southern Japan, Uchiyama is devoted to fostering connections among gardens in Japan and worldwide. He served as one of seven founding members and the Secretary of the International Association of Japanese Gardens (IAJG) from 1996 to 2000. Since 2009, he has been involved in the development of the North American Japanese Garden Association (NAJGA) for which he serves as a Charter Member of its board and editorial board and co-organized the Association's international conference in Portland in 2018.

Uchiyama has taught landscape design courses and lectured on Japanese gardening at colleges and public gardens throughout the United States and Japan. His writings have been featured in the Journal of Japanese Gardening, Garden Design, Fine Gardening, Inspired House, Luxe magazine as well as professional journals in Japan.

Uchiyama is a registered landscape architect in Oregon and California with a BLA and MLA from the University of Illinois. His representative projects include the renovation of the Osaka Garden, the site of the 1893 Great Columbian Exposition at Jackson Park in Chicago (2000 to date), and the Shofu-en of the Denver Botanic Gardens (2001 – 2012). Most recently, he completed the Shoun-Kei Japanese garden at Sarah Duke Gardens at Duke University (2015) and currently is working on the Rolex Headquarters in Dallas in collaboration with Kengo Kuma (2015 to date).

In 2018, Sadafumi Uchiyama received the highest award given by the Garden Society of Japan on the occasion of the Society's 100th anniversary. The award, the "Jury Commendation/Exceptional Achievement" or Shinsa-in Tokubetsu-sho, recognizes Uchiyama's designs for large-scale and commercial or public landscapes. Normally bestowed upon Japanese designers living and working in Japan, it was the first year the grand prize was awarded to a Japanese garden designer living and working outside the country.

ADDITIONAL INFORMATION
Cranbrook Institute of Science is located at 39221 Woodward Avenue in Bloomfield Hills, Michigan. Free parking is available in the Institute's parking deck. 

For more information, please contact Cranbrook Center for Collections and Research at 248.645.3307.

THIS EVENT IS SOLD OUT - JOIN THE WAITING LIST!
Please click the link below to join the waiting list. Seats will be made available to guests on the waiting list on a first-come, first-served basis beginning at 2:45pm.

PHOTO CREDITS (FROM TOP TO BOTTOM)
Lily Pond Cascade, Cranbrook Japanese Garden, October 2018; Photography by Eric Franchy.

Sadafumi Uchiyama; Courtesy Portland Japanese Garden.

Sadafumi Uchiyama, Cranbrook Japanese Garden Master Plan Draft (detail), June 2019; Courtesy Cranbrook Center for Collections and Research.