Carl Milles
1875 - 1955
Carl Milles was a Swedish sculptor who served as Cranbrook's sculptor in residence from 1931 to 1951. The campus features dozens of his works.
Carl Emil Wilhelm Andersson was born June 23, 1875, at Orby Gard Lagga in Knivsta, Sweden. He was the eldest son and second child of Lt. Emil "Mille" Andersson and his wife, Walborg Tissel. Carl derived his professional name from the inversion of his father's nickname "Mille's Carl."Milles lived at a boarding house in Stockholm while attending the Jacobskola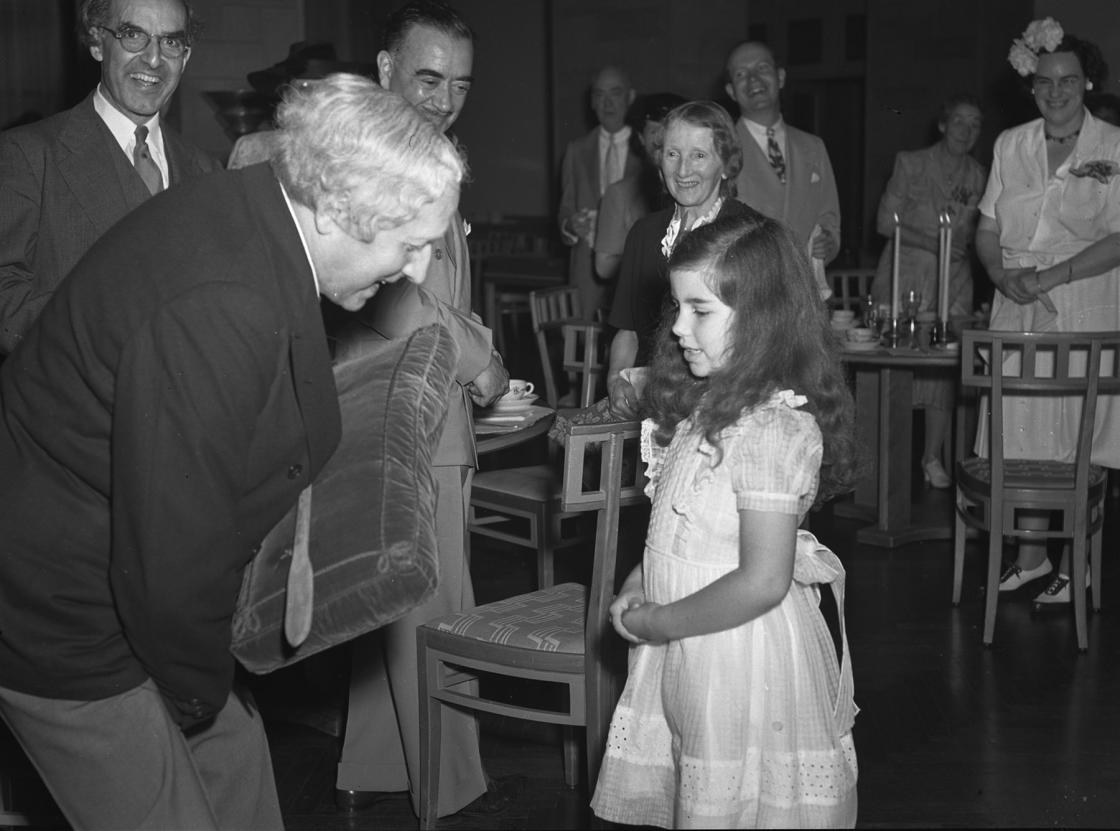 from 1885 to 1892. When he left school, he was apprenticed to a cabinet maker/wood worker and attended night classes at the School of Technology from 1892 to 1895 in woodwork, and later in carving and modeling. After a period of work-study, he attended the technical school full time from 1895 to 1897. In 1897, Milles accepted a job in Santiago, Chile, to help run a school. En route to South America, Milles had a stopover in Paris, France.  Enchanted by the exciting, artistic capital, he changed his plans.
Milles remained in Paris until 1904, attempting to support himself with piecework for other cabinetmakers, including making coffins and carving furniture, while continuing to teach himself modeling and trying to establish a professional reputation as a sculptor. In 1899, he exhibited an original sculpture at the prestigious "Salon" in Paris, the official art exhibition of the Academie des Beaux-Arts.  Milles continued to exhibit there each year until 1906.
In 1902, Milles's maquette—a small, rough, three-dimensional plan for a sculpture—for the proposed Sten Sture Monument at Sweden's Uppsala University received fourth prize. A popular vote by the students, however, awarded it first prize and it was Milles's design that was eventually selected, establishing his reputation in Sweden. Disagreements and lack of funds delayed the completion of the monument until 1925. Between 1903 and 1904, he traveled in various parts of Western Europe and in 1905 Milles married Olga Granner (1874-1967), a portrait artist he met when both were studying in Paris. From 1906-1908 he suffered a cycle of ill health and short recoveries. In spite of these setbacks, in 1908, Milles and Olga began to build Millesgården, their home on the cliff of Herserud high above Lake Vartan on the island of Lidingo, near Stockholm.
In 1914, a major group of his works at The Baltic Exposition in Malmö, Sweden, garnered favorable attention from European critics; however, World War I interfered with further building his reputation on the continent. Feeling that his earlier works did not meet his new standards, Milles destroyed most of the work in his Millesgården studio in 1917. By 1920, he had become Professor of Modeling at the Royal Academy of Art, Stockholm. His newest works were given a prominent place at the Tercentenary Exhibition, Stockholm, in 1923. A large fountain project at Holmberg was completed in the same year. The occasion of his 50th birthday was celebrated in the Swedish press: he had become the pre-eminent sculptor in Sweden. However, his increasing simplification of form and daring with subject matter also brought with it increasing adverse criticism in his home country.
An exhibition at London's Tate Gallery in 1926 was his first exhibition within the English-speaking world. In 1931, after two trips to the United States, Milles decided to accept the invitation of George Booth to live and work under the auspices of the Cranbrook Foundation. He worked as head of the Department of Sculpture, Cranbrook Academy of Art, from 1931 to 1951. His first comprehensive showing was at the City Art Museum of St. Louis, Missouri, followed by exhibitions in Detroit, Cleveland, and Brooklyn. By 1932, he and Olga had settled permanently at Cranbrook and, in 1934, the Cranbrook Foundation acquired a comprehensive collection of his work. In 1935, he received an Honorary Doctor of Humane Letters from Yale University, New Haven, Connecticut.
Milles continued to win awards, high praise, and many large—typically fountain arrangements—commissions. In 1945, he and Olga became United States citizens.
After World War II, between 1947 and 1950, he and Olga visited and worked in Sweden, and he further developed Millesgården. In 1950 the American Academy in Rome invited him to use their facilities, where he worked almost full-time after his retirement from Cranbrook in 1952. He died at Millesgården on September 19, 1955.
Adapted from Cranbrook Archives Finding Aid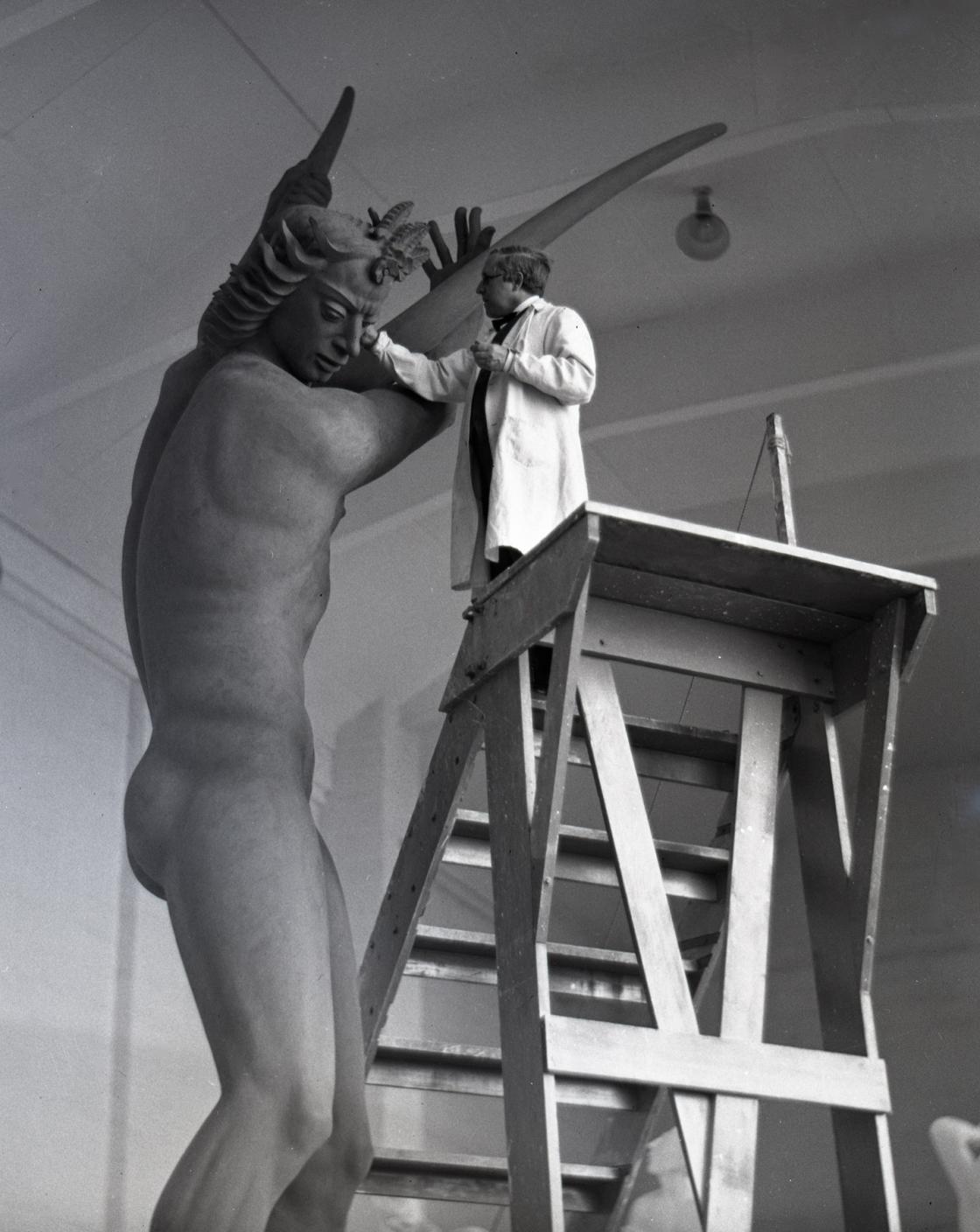 Leslie Mio, Associate Registrar
Cranbrook Center for Collections and Research
May 2017
Sources
Carl Milles Papers, Cranbrook Archives, Bloomfield Hills, Michigan.
Carl Milles from Wikipedia, the free encyclopedia.
Sweden. Map.
photo credits
Croze, Harvey. Melinda Booth presenting Carl Milles with a sculpting tool at his 70th birthday celebration. June, 1945. Cranbrook Archives, Cranbrook Center for Collections and Research, Bloomfield Hills.
Askew, Richard G. Carl Milles in his studio at Cranbrook Academy of Art, sculpting the figure of Orpheus for the Orpheus Fountain. The sculpture is located front of the Concert Hall in Stockholm. 1934. Cranbrook Archives, Cranbrook Center for Collections and Research, Bloomfield Hills.
Banner photo by P.D. Rearick, CAA '10.