The Archives Reading Room remains closed to the public. 
Archivists are available to respond to research requests and fulfill duplication orders. Please fill out the form below or email archives@cranbrook.edu. Please expect longer than usual response times due to limited staff access to the Archives.
Research Services
Cranbrook Archives welcomes the use of our collections by any member of the Cranbrook community, as well as external researchers and scholars. Due to storage capacity, many of our collections are stored off-site so it is preferable that you make an appointment in advance to ensure that the materials you want to use are available for you upon your arrival. Due to the nature of our unique collections, they must be viewed in our Reading Room only.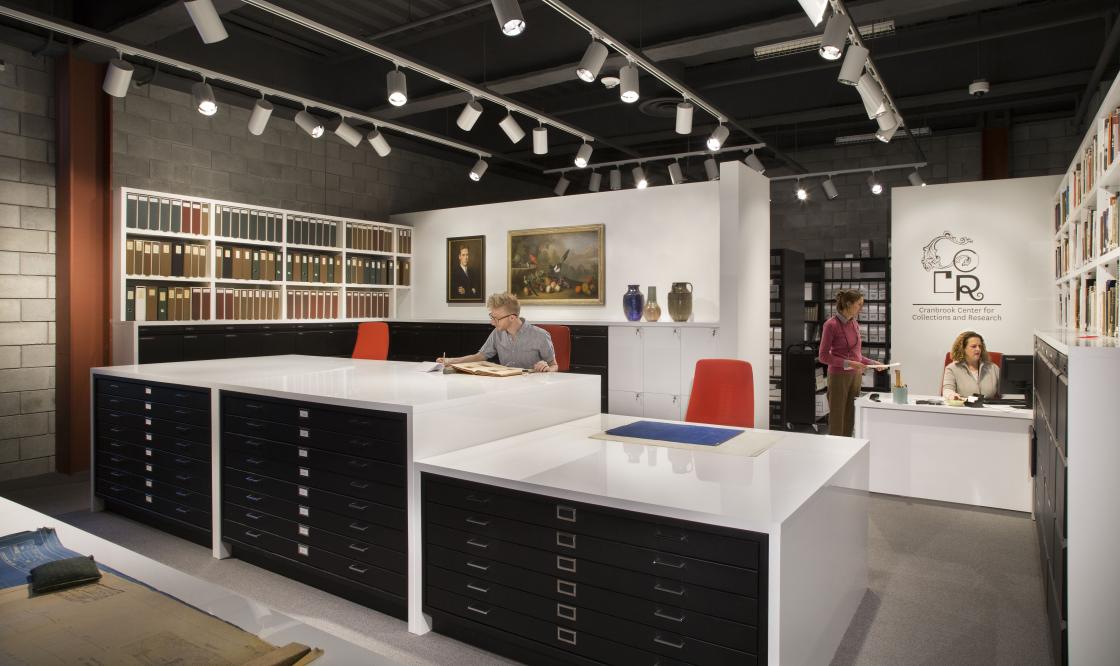 DUPLICATION OF MATERIALS
The Archives staff will assist you with duplication of materials, depending on their physical condition. We also take into consideration donor agreements and copyright law. To ensure the safety and security of our collections, and to provide consistent service, digitization of any and all archival material will be undertaken by Archives staff according to best practices. 

The Archives provides a representative sample of our collections via our Digital Image Database.  To inquire about high resolution copies or to purchase photographic reproductions, please contact us via email at archives@cranbrook.edu. 
For more information, including permissions and appropriate fees, please reference the Duplication and Research Services form and the Use Fees Schedule.
READING ROOM USE
Archives staff will be available to assist you throughout your research experience. It is our responsibility to protect and preserve the materials in our care and, as such, the following safeguards must be adhered to:
All coats, briefcases, book or computer bags, books, newspapers, and other personal belongings must be stored in the lockers. Laptops may be used instead of paper and pencil.
Cell phone use is PROHIBITED in the Reading Room; please turn your phone off or set it to vibrate.
Food and drink are not allowed in the Reading Room. 
When using boxed collections, please remove only one folder from a box at a time. Do not mark up any materials or write notes on top of original documents/photographs.
READING ROOM HOURS
Open Tuesday through Friday, 11AM to 5PM
Closed annually in observance of the following holidays: Martin Luther King Jr. Day, Memorial Day, July 4th, Labor Day, Thanksgiving Day, Day after Thanksgiving, Christmas (December 24 and December 25), and New Year's (December 31 and January 1)
Please fill out the form below to submit a research request or to schedule an appoint to visit Cranbrook Archives. 
Banner photo by P.D. Rearick, CAA '10
Header photo courtesy of Cranbrook Archives, Cranbrook Center for Collections and Research, Bloomfield Hills.