Day Away: Frank Lloyd Wright: The Usonian Homes of Metro Detroit
ELEVENTH DAY AWAY GUIDED BUS AND WALKING TOUR
Presented by the Cranbrook Center for Collections and Research
In conjunction with the Docomomo US Tour Day 2017 and the Docomomo US/MI Frank Lloyd Wright 150 Michigan Tour Weekend
Saturday, October 7, 2017, 9:30am — 5:00pm
(Registration and coffee starts at 8:45am)
Day begins at Cranbrook House
Private lunch at Cork Wine Pub in Pleasant Ridge
$145 (includes a $50 tax-deductible donation benefitting the Cranbrook Center)

SOLD OUT!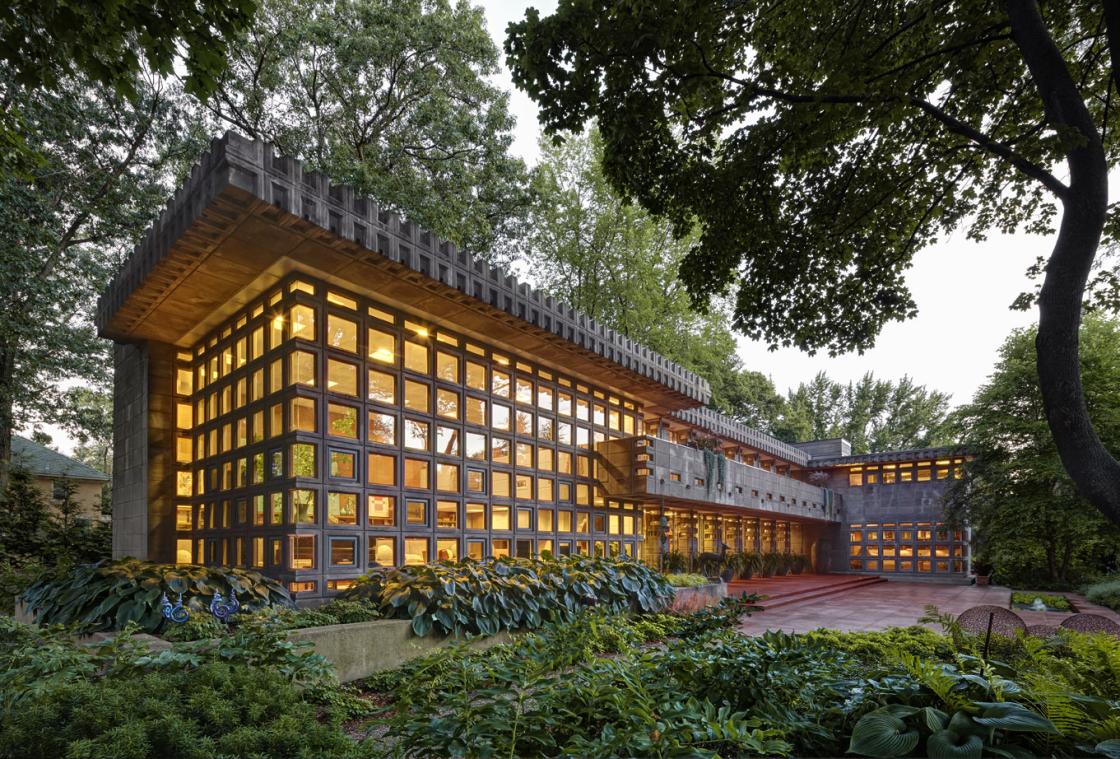 GUEST EXPERTS
Kevin Adkisson, Collections Fellow, Cranbrook Center for Collections and Research
Dr. Dale Allen Gyure, Professor of Architecture, Lawrence Technological University
Dorie Shwedel, Family Member, Frank Lloyd Wright Smith House
Dale Morgan and Norman Silk, Owners, Frank Lloyd Wright Turkel House
HOSTED BY 
Greg Wittkopp, Cranbrook Center for Collections and Research
Join the Cranbrook Center for Collections and Research as we embark on our eleventh Day Away, a series that explores Cranbrook connections off campus. Presented in conjunction with both the Docomomo US Tour Day 2017 and the Docomomo—US/MI Frank Lloyd Wright 150 Michigan Tour Weekend, this Day Away celebrates the 150th anniversary of Wright's birth year and explores the architect's and his client's connections with Cranbrook. Wright built three homes in Wayne and Oakland Counties, each in what he called the Usonian style (meaning "of the United States"), and this Day Away will explore all three projects in detail.
Tour Description
The day begins with an introduction and coffee at Cranbrook House, where we'll board the bus to start our tours of the first Wright sites.
Half of the group will head to the 1941 home of Mr. and Mrs. Gregor Affleck. Lofted above a steeply sloping site, this house typifies the Usonian homes of Wright's later career: harmonious with their site, affordable, and arranged for informal living. Like most of his Usonian houses, the Affleck House is constructed of brick, cypress, glass, and concrete, and is divided into a public wing (with living, dining, and working areas) and a private wing (for bedrooms). Today, the home is a teaching resource owned by Lawrence Technological University.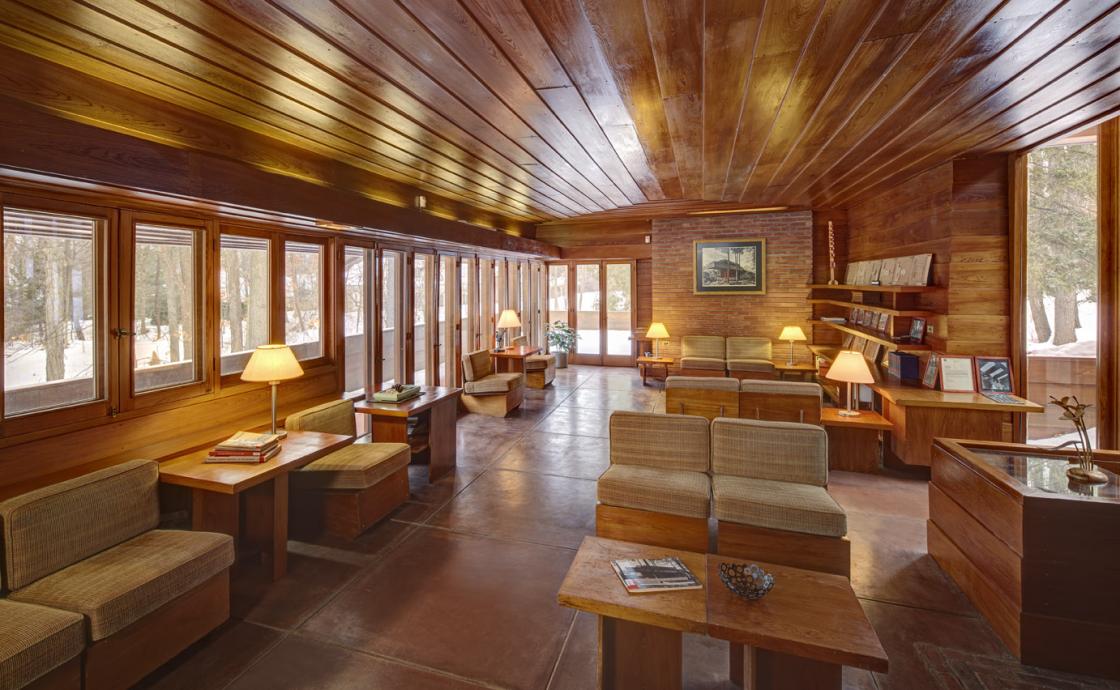 The other half of the group will start with the Smith House, designed in 1946 for school teachers Melvyn Maxwell and Sara Stein Smith. Owing to their very modest budget, the house was built with Mr. Smith serving as the contractor and with labor from family friends and part-time help. Its completion in 1950 was a combination of the Smith's boundless energy, dedication, and good fortune. In their decades living in the house, the Smith's filled it with art by Cranbrook Academy graduates and others. Maintained today by the family in partnership with the Cranbrook Center for Collections and Research, this Usonian home is unique in that it remains largely as Sara Smith left it in when she moved out of the house in 1991—full of the Smiths' lively collections and endearing personality.
The groups will then swap places, after which we'll head to Cork Wine Pub for a relaxing lunch. Located on Woodward Avenue in Pleasant Ridge, Cork opened in 2010 and serves Michigan sourced, farm-fresh dishes paired in a charming restaurant attached to a carefully-curated wine shop. We will be treated to three courses and a glass of wine, beer, or cocktail in the cozy dining room of this owner-operated restaurant.
After lunch, we'll tour Wright's last and largest commission in the area, the Detroit home of Dorothy Turkel. Commissioned in 1955 and completed in 1958, this was the architect's first two-story Usonian house. Constructed using what Wright called the "Usonian Automatic" method, the house is built of molded concrete block. An outgrowth of his 1920s Los Angeles "textile block" houses, the Turkel House blends architecture, engineering, and landscape into a sympathetic whole. This Palmer Woods home has been lovingly stabilized and restored by Dale Morgan and Norman Silk, who also own Blossoms in Birmingham and Midtown Detroit.
After our tour of the Turkel House, we'll head back to Cranbrook, arriving by 5:00pm.
Additional Information and Reservations
The cost of this all-inclusive guided tour is $145 per person, which includes a $50 tax-deductible gift to the Cranbrook Center for Collections and Research. Guests may arrive at Cranbrook House for registration and coffee between 8:45 and 9:15am before we board the bus for our departure at 9:30am, sharp. The bus will return to Cranbrook by 5:00pm. Free parking is available in the Cranbrook House parking lot.
To purchase your seat, please call the Center at 248.645.3307 or register online through the link below. Tickets are non-refundable, but may be transferred by the purchaser to another guest. Don't delay—the tour is limited to 50 guests and all of the past Day Away programs have sold out, often within a couple of days of the announcement!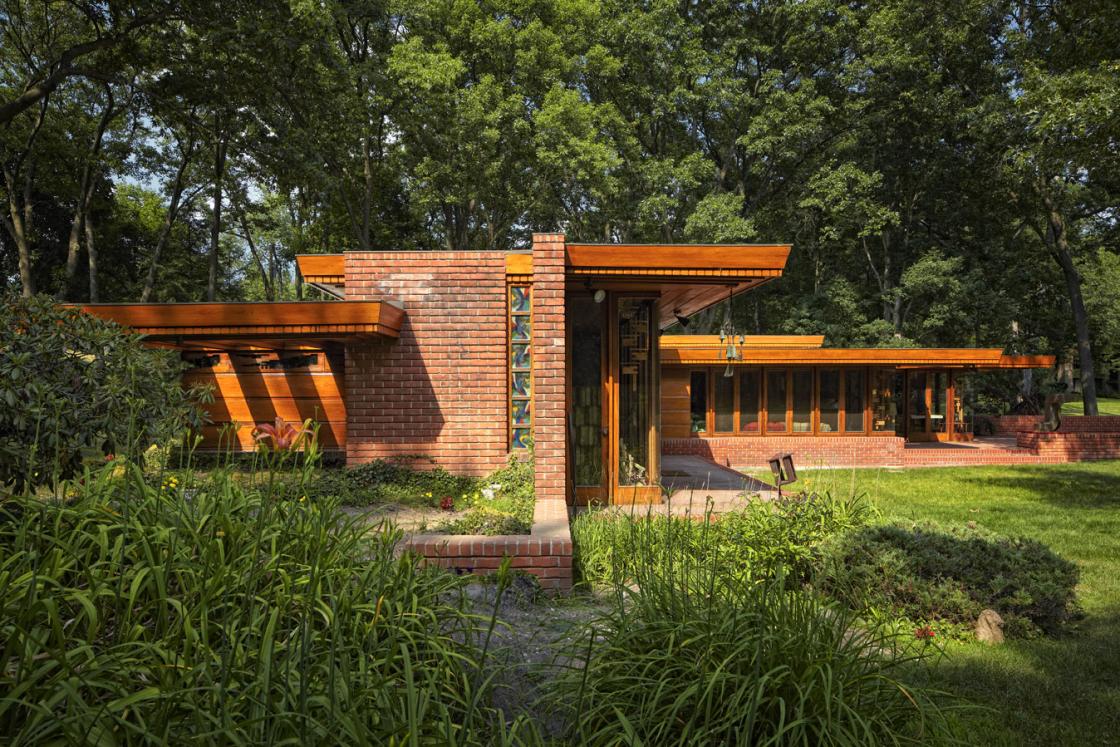 Please note that this tour will include walking tours of the three houses, none of which are wheelchair-accessible. The tour will take place rain or shine. Please wear comfortable shoes.
Cranbrook House
380 Lone Pine Road
Bloomfield Hills, MI 48304
About Docomomo US/MI Frank Lloyd Wright 150 Michigan Tour Weekend
The Cranbrook Center for Collections and Research Day Away tour on Saturday, October 7, is part of a three-day weekend of tours and programs sponsored by Docomomo US/MI marking the 150th anniversary of Frank Lloyd Wright's birth year.
Friday, October 6: Frank Lloyd Wright in Ann Arbor
On Friday evening, A2 Modern will host a reception and tour of the Frank Lloyd Wright Palmer House in Ann Arbor. For more information and ticket information, please visit the A2 Modern website, www.a2modern.org, after September 1.
Sunday, October 8: Frank Lloyd Wright in Okemos
On Sunday, October 8, from 1-4pm, the four homes Frank Lloyd Wright designed for clients in Okemos, Michigan, will be part of a tour sponsored by the Historical Society of Greater Lansing. Wright designed thirty-three homes in Michigan between 1940 and 1950. This is the first time all four of the Okemos homes, designed in Wright's "Usonian" style, will be open to the public at one time. Included on the tour are the Erling and Katherine Brauner and the James and Dolores Edwards houses on Arrowhead Drive, the Goetsch-Winckler House on Hulett Road, and the Donald and Mary Lou Schaberg House on Wrightwind Drive.
Prior to the tour, Michigan State University Art History Professor Susan J. Bandes will present a free lecture on the homes that Wright designed in Okemos, including several that were not built, and the continued importance of Frank Lloyd Wright. The lecture will take place at 12pm in Room 118 of the Psychology Building on the MSU campus in East Lansing. Dr. Bandes, the former director of the Kresge Art Museum, is an expert on Modernism and the author of Mid-Michigan Modern: From Frank Lloyd Wright to Googie (2016, MSU Press).
The Okemos home tour is self-directed and no children under 12 will be permitted in the homes. Tickets are $25 and will be available online beginning Monday, September 18, at www.lansinghistory.org, and also will be sold on Sunday, October 8, at the lecture. Dr. Bandes's book also will be available for purchase at the lecture and on the tour.
About Docomomo—US
Docomomo US is the United States chapter of Docomomo International, a non-profit organization dedicated to the documentation and conservation of buildings, sites and neighborhoods of the modern movement for nearly 25 years. Founded in the United States in 1995, Docomomo US is a non-profit organization led by a national board of directors and staff that represent a union of regional chapters that share its members' knowledge of and enthusiasm for modern architecture and design.
Docomomo US is dedicated to the preservation of modern architecture, landscape, and design. Through advocacy, education, and documentation, they provide leadership and knowledge by demonstrating the importance of modern design principles including the social context, technical merits, aesthetics, and settings of these important pieces of American history.
About Docomomo—US Tour Day
The Docomomo US national Tour Day is an annual celebration of modern architecture and design. Held on or near the first Saturday in October, Tour Day invites the public and like-minded organizations to celebrate modern architecture and design by participating in or hosting a tour. The 2017 theme SHELTER looks to build upon Docomomo US's advocacy theme and invites people to explore modern shelter found in their cities, towns, and neighborhoods.
About Docomomo US/MI
The Docomomo US network is organized in regional Chapters and Friend Organizations throughout the United States. Chapters sponsor educational programs, tours, and research and advocate for threatened sites. Activities of the Michigan Chapter include survey and registry work done in conjunction with the Michigan Modern project of the State Historic Preservation Office; submission of registry entries for the Dodge Fountain in Detroit as well as Temple Emanuel by Erich Mendelsohn and the List House by Richard Neutra in Grand Rapids; co-sponsoring the 2016 Docomomo US Symposium in Detroit; advocating for the preservation of Michigan's modern monuments such as the Northland Mall in Southfield; and organizing lectures and tours across the state including the Frank Lloyd Wright 150 Michigan Tour Weekend.
image credits
Haefner, James. Affleck House. September 2014. Copyright James Haefner and courtesy Lawrence Technological University and the Michigan Historic Preservation Office.
Haefner, James. Turkel House. August 2015. Copyright James Haefner and courtesy Dale Morgan and Norman Silk.
Haefner, James. Affleck House. March 2014. Copyright James Haefner and courtesy Lawrence Technological University and the Michigan Historic Preservation Office.
Haefner, James. Smith House. July 2011. Copyright James Haefner and courtesy Cranbrook Center for Collections and Research.