Cranbrook house carved overmantel
Carved Overmantel
1918
Johann (John) Kirchmayer, German, 1860 - 1930
wood
Bequest of George Gough Booth and Ellen Scripps Booth to the Cranbrook Foundation
CEC 1991.2
The overmantel in Cranbrook House Library contains carvings of the types of craftspeople who worked on Cranbrook House.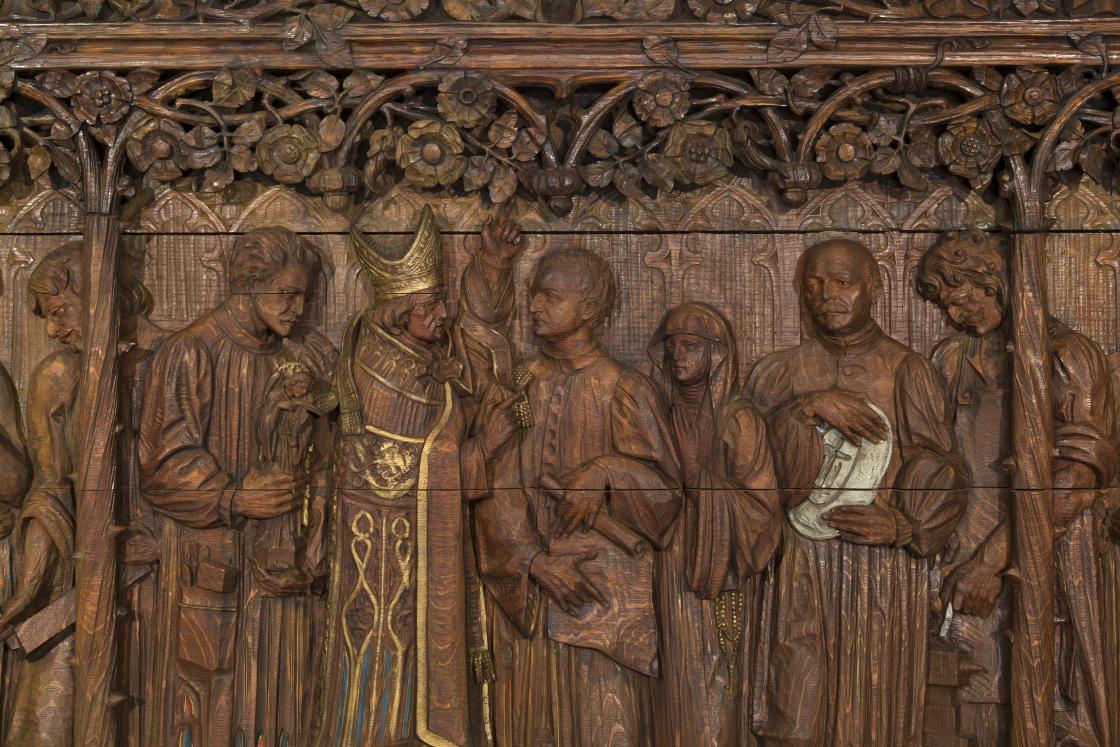 Relief carving represents the following (from left to right): Jeweler; Potter; Weaver; Glass blower; Woodworker or carpenter; Sculptor; Bishop; Architect; Nun; Silversmith; Metalsmith or ironworker; Stained glass maker; Bookbinder; Painter; Stonemason.
Inscribed above the main panel, in Old English-style lettering, is a quote from English Poet Walter Savage Landor's epitaph for himself, "Nature I loved and next to nature art." Below the main panel is a frieze showing Crusaders and Saracens, no longer fighting, but each carrying new ideas home that would have a lasting effect on eastern and western art. The letters A, B, and C represent the newspaper profession, of which George G. Booth was active.
An album of George G. Booth's sketches and designs contains his rough pen and ink suggestions for the overmantel panel, which Johann "John" Kirchmayer developed and carved.
Kirchmayer sometimes used actual people as models for his figures, so some of the figures in the panel are portraits of the actual craftspeople who worked on the house. The sculptor is Kirchmayer himself. The architect is "the architect of Detroit" Albert Kahn, who designed Cranbrook House. The silversmith is Arthur J. Stone, known for his hand wrought ecclesiastical commissions, presentation pieces, and domestic tableware. The metalsmith is Frank Koralewsky, master metalsmith celebrated for his figural motifs in locks, hardware, screens, and gates. The stained glass maker is Nicola D'Ascenzo, stained glass artist, muralist, painter, who also created the "Life of Christ Window (East Window)" at Christ Church Cranbrook. In addition, there is a bishop situated at the center of the group, because George Booth believed religion was the greatest source of inspiration for artists.
Adapted from object record; updated by Leslie S. Mio, Assistant Registrar, December 2016
Sources
CEC 1991.2 Object record. Cranbrook Center for Collections and Research, Bloomfield Hills, Michigan.
Booth, Helen Ward. Cranbrook House Docent Script, Cultural Properties Vertical Files, Cranbrook Center for Collections and Research.
Nicola D'Ascenzo from Wikipedia, the free encyclopedia. 
Arthur J. Stone from Wikipedia, the free encyclopedia. 
"Lock, 1911 (1926.521)." Art Institute of Chicago. Website.