Volunteer Opportunities
The Cranbrook Center for Collections and Research offers many opportunities for volunteers who are passionate about history and design and would like to assist us in preserving Cranbrook's collections, or help us tell the many stories of Cranbrook to our visitors. Examples of some opportunities available would be to assist Archives staff in processing and cataloging collections, assist Center staff on tours, or assist Center staff at one of our many events. The Center welcomes anyone interested in volunteering, as well as college students completing coursework in history, library science, museum studies, or related subjects who need work experience or practicum hours.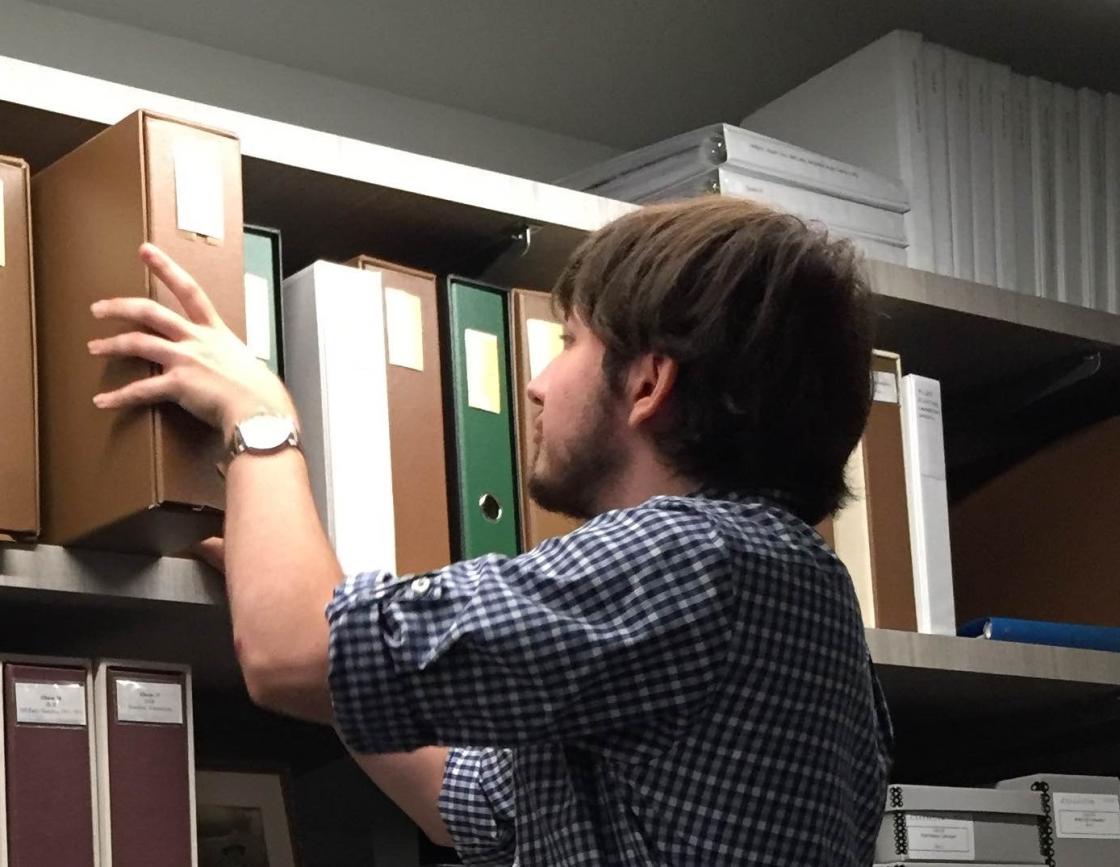 Archives
Do you have a passion for history and research? Would you enjoy the chance to work behind-the-scenes at Cranbrook and make new personal discoveries about its people and history?

The Archives staff welcomes volunteers to help process and maintain our vast collections. Indexing, sorting, rehousing, and creating inventories are some of the tasks available to able and willing helpers.

Volunteers need to:
Be able to lift 20-30 pound boxes
Possess computer skills (Word, Excel, and Photoshop preferred)
Have a familiarity with Cranbrook's campus
Be able to work a minimum four-hour shift at a time
Be detail-oriented and dependable
Submit to a criminal background check
Graduate students in the archival/museum field are encouraged to apply.
If you are interested in volunteering your time in the Cranbrook Archives, please call Gregory Wittkopp at 248.645.3315.
Center
The Cranbrook Center for Collections and Research hosts many visitors from near and far throughout the year, although our May through October tour season is especially busy. Volunteers are always welcome to assist our Program Presenters as they show our visitors Cranbrook's world-renowned campus and historic homes, or help our Center staff welcome guests and patrons to our programs and events.

Volunteers need to:
Be familiar with Cranbrook's campus and history
Be able to stand or walk for long periods of time
Be articulate and hospitable
Be responsible and reliable
Have a positive and flexible attitude
Be enthusiastic about Cranbrook's campus and collections
Submit to a criminal background check
Maintain email and internet access
If you are interested in volunteering your time at the Center, please call 248.645.3307. 
Banner photo by Colton Graub, CS '13
Page photo courtesy of Cranbrook Archives