Cranbrook and the Smiths
Both teachers in the Detroit Public Schools, the Smiths had the summers off. Sara Smith worked for thirteen years with children at the Cranbrook Summer Theater School, earning extra income over the holiday, while Melvyn worked on the house. Further, Sara was long associated with the St. Dunstan's Theatre Guild, which operates on Cranbrook's campus. She served many roles, deftly moving among actress, writer, drama teacher, director, and producer.

While their own son, Robert, attended public schools, the Smiths' daughter-in-law Anne Fuchs was a 1965 Kingswood graduate and later taught at Brookside for nine years. The Smiths' grandchildren, Jennifer and Michael, also attended Cranbrook Schools before moving to Santa Barbara, where they graduated from high school.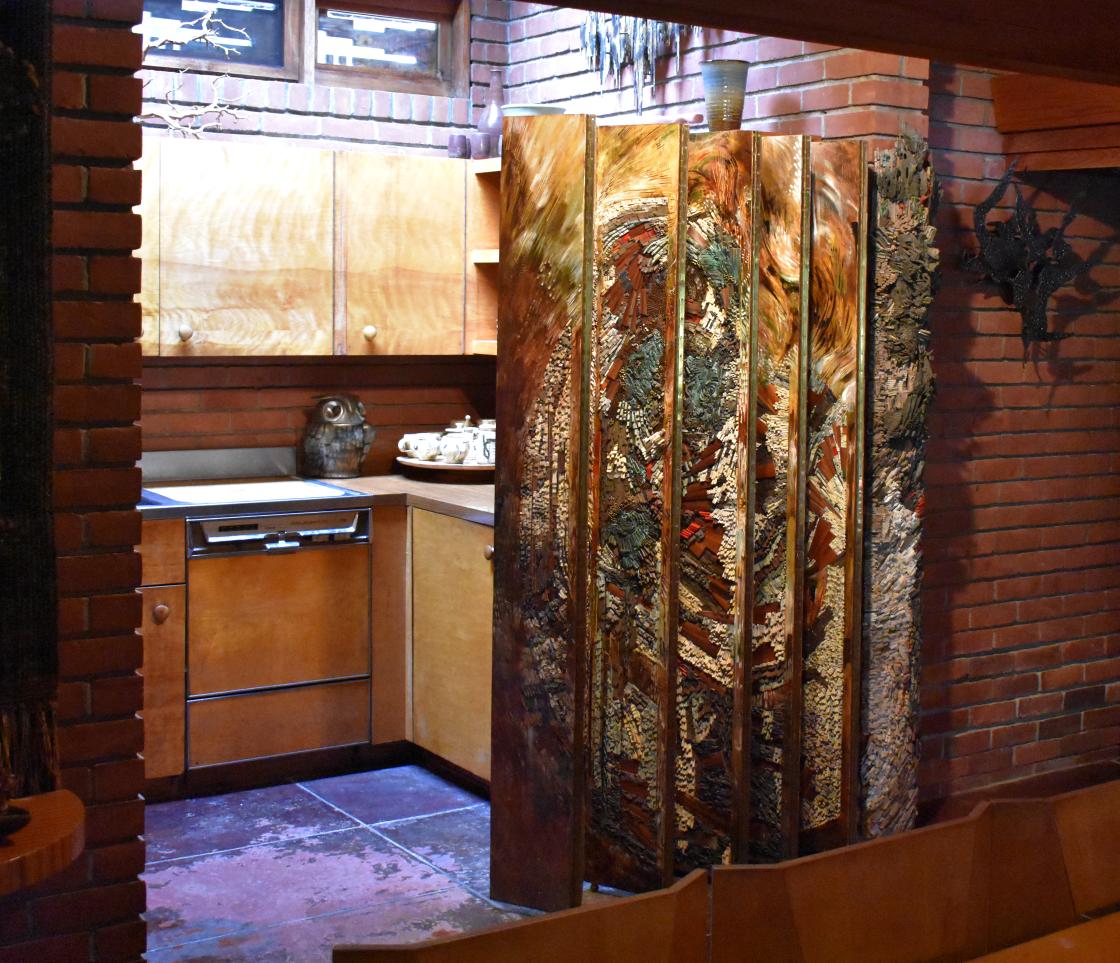 THE CRANBROOK ARTISTS
After completing the house in 1950, Melvyn Smith sought to collect art in order to enhance the architecture, in much the same manner as he had observed at Wright's home in Wisconsin, Taliesin. His collecting interests—ceramics, wooden objects, sculpture, weavings, and functional objects—were aligned with the arts at which Cranbrook Academy of Art has always excelled. Sara estimated that three-quarters of their collection were Cranbrook-affiliated works—often times learning only later that an artist they admired had been a Cranbrook student.
The Smiths were constant figures at Cranbrook Academy of Art and Art Museum events and exhibitions. Many students had heard of the Smiths before they ever met them, knowing that the Smiths were active supporters of student and alumni artists. Selling work to the Smiths was accompanied by the excitement of knowing the piece would be displayed within a Frank Lloyd Wright structure. The Smiths purchased work both from exhibitions and by striking up friendships with students, who would then suggest pieces they might be interested in acquiring.

The Smiths also purchased pieces from local galleries and shows, including the Yaw Gallery, the Robert Kidd Gallery, and America House in Birmingham, the Detroit Artists' Market, and from the annual Somerset Mall show—all places saturated with Cranbrook alumni work.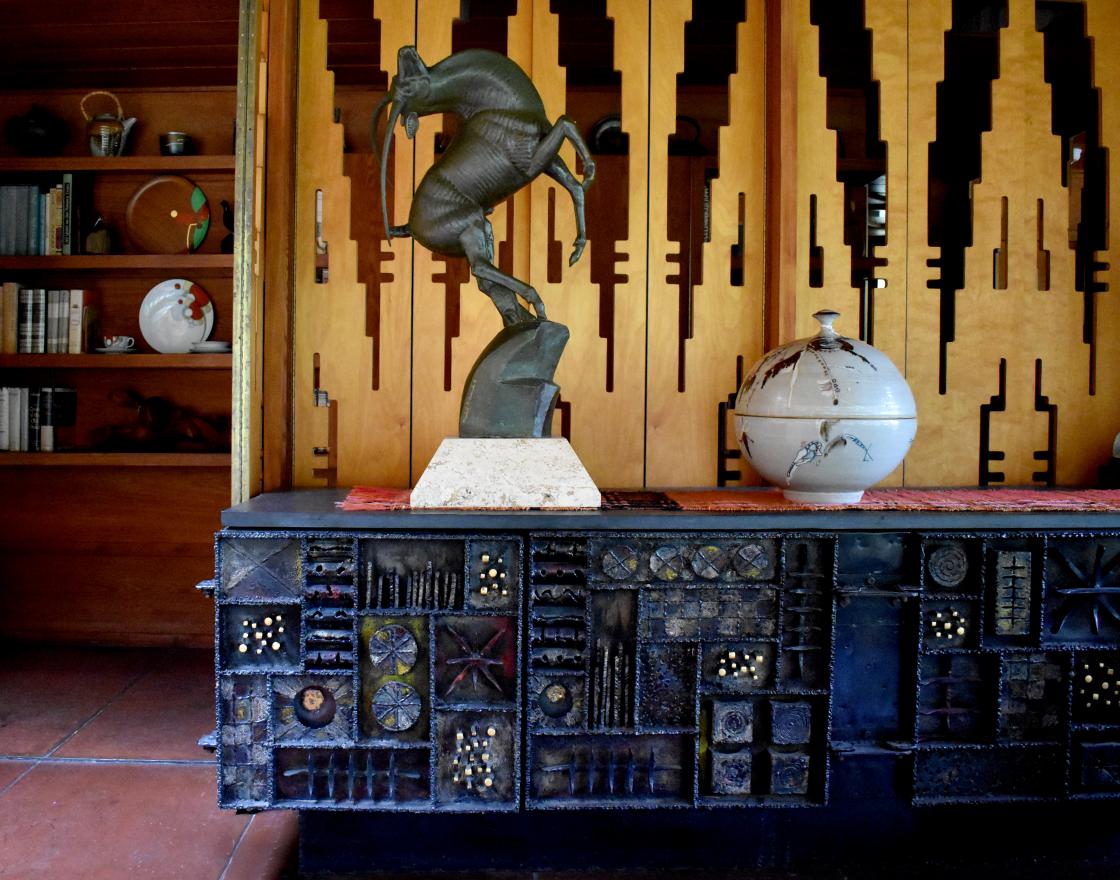 Their collection became a reflection of Cranbrook artists active in the second half of the twentieth century, including Paul Evans, Maija Grotell, Marshall Fredericks, Glen Michaels, Urban Jupena, John Glick, James Surls, and Harry Bertoia. They also bought is an outdoor sculpture by Academy graduate Gary Kulak, who is currently serving as Head of the Department of Fine Arts at Cranbrook Kingswood Upper School.

The Smiths particularly loved being a part of the early careers of so many artists, and being able to help them succeed. In addition to purchasing works and hosting exhibits in the house, the Smiths shared their home and collection on numerous tours for many different Cranbrook constituencies—students from Brookside, Academy students, as well as visiting artists and architects to Cranbrook who would drop by the Smith House. As former Academy President Roy Slade recalled of his visits to the house, "Melvyn took you around the grounds, he was like a conductor, orchestrating all the elements…As we circled the house, he pointed out details, harmonies and placements with enthusiasm and expertise…fully feeling the totality of the integration of architecture and nature as they're expressed in this house and in these surroundings."

Kevin Adkisson, 2016-2018 Collections Fellow
Cranbrook Center for Collections and Research
October 2017​
PHOTO CREDITS (FROM TOP TO BOTTOM)
Haefner, James. Interior of Smith House. 2017. Cranbrook Center for Collections and Research, Bloomfield Hills.

Adkisson, Kevin. View of screen separating the dining room and workspace at Smith House. Mixed media screen by Glen Michaels (CAA MFA '58, Painting; CAA, Supervisor of Art for Children, 1959-65), installed after 1959. Photographed October 2017. Courtesy Cranbrook Center for Collections and Research, Bloomfield Hills.

Adkisson, Kevin. View of garden room at Smith House. Leaping Gazelle by Marshall Fredericks (CAA Sculpture '33; CS, Instructor, 1933; CAA, Instructor, Ceramics and Modeling, 1934-38; CAA, Instructor, Sculpture, 1938-42), atop a sideboard by Paul Evans. Photographed October 2017. Courtesy Cranbrook Center for Collections and Research, Bloomfield Hills.