Behind-the-Scenes Tour
KINGSWOOD SCHOOL AND WEAVING SHOWCASE
Sunday, October 30, 2022
11:00am – 12:15pm SOLD OUT
11:30am – 12:45pm SOLD OUT
1:00pm – 2:15pm SOLD OUT
1:30pm – 2:45pm SOLD OUT
2:00pm – 3:15pm SOLD OUT
2:30pm – 3:45pm SOLD OUT
3:00pm – 4:15pm SOLD OUT

$35 per person
Limited to 24 guests per tour
Tour begins at
Kingswood School Cranbrook
39221 Woodward Avenue
Bloomfield Hills, MI 48304

Presented by Cranbrook Center for Collections and Research
Tour Leaders:
Kevin Adkisson, Curator, Cranbrook Center for Collections and Research

Nina Blomfield, 2021-2023 Decorative Arts Trust Marie Zimmermann Collections Fellow, Cranbrook Center for Collections and Research

Textile Artist:
Paula Stebbins Becker, Independent Weaver, Cranbrook Academy of Art Graduate ('93)
Simone Rosseau, Designer and Weaver, Cranbrook Schools Graduate ('16)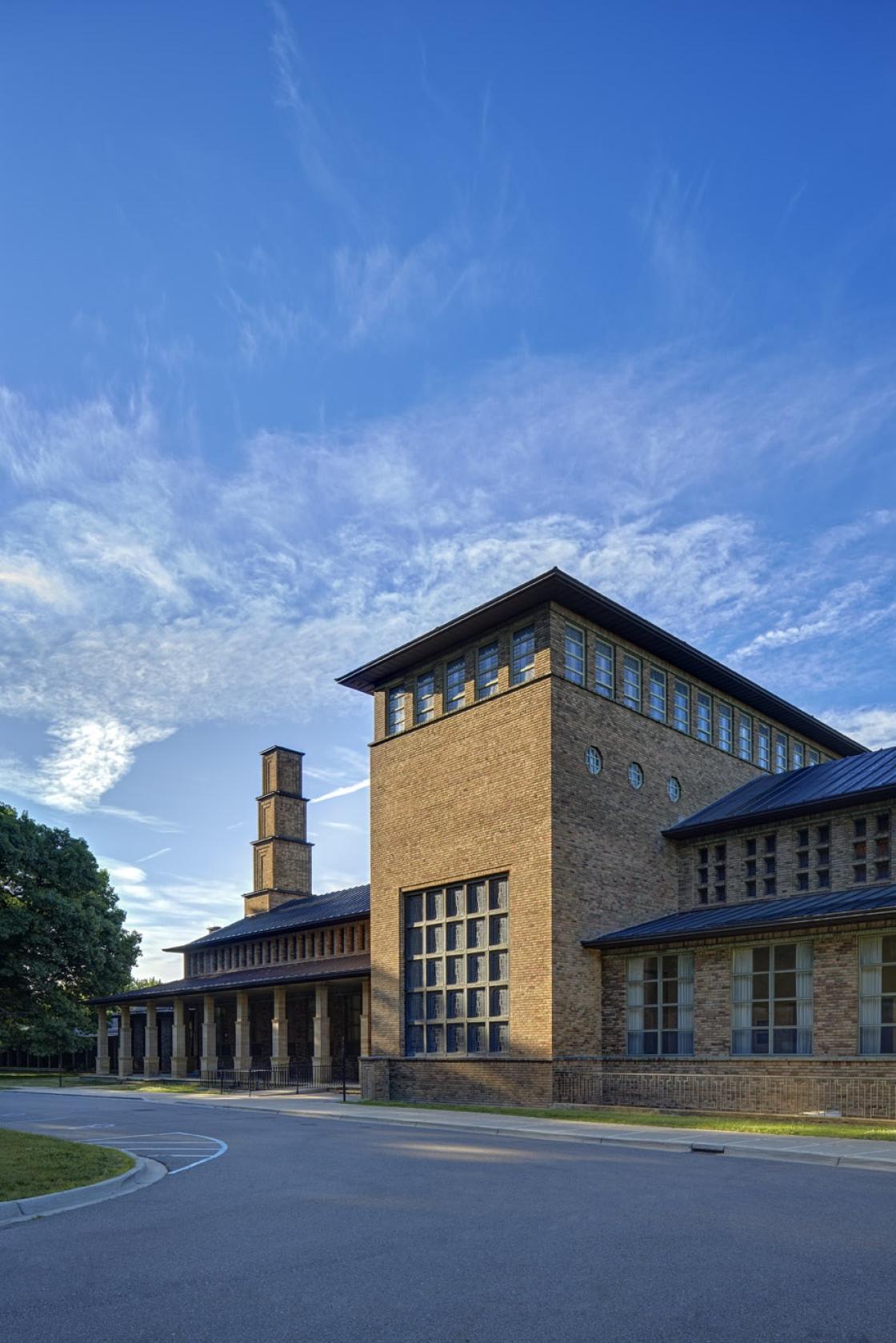 Come along as we open the doors to historic Kingswood, part of Cranbrook's esteemed preparatory school, for special art and architecture tours! Inspired by the reweaving of a historic Studio Loja Saarinen textile for Saarinen House on an original Cranbrook Loom, these tours will take you through the magnificent Kingswood School building and conclude with a conversation and demonstration with weaver Paula Stebbins Becker (CAA '93). 

Considered the American masterpiece of Finnish American architect Eliel Saarinen, Kingswood School presented a fresh new model for modern academic architecture when it opened in the fall of 1931. The entire Saarinen family was involved in the design of the school: Eliel served as architect; Loja led the design and production of handwoven rugs, window treatments, and upholstery; their daughter Pipsan Saarinen Swanson coordinated paint colors, decorative stenciling, and hand-painted ornament; and their son Eero Saarinen designed furniture and sculptural fittings throughout the building. 

Originally a school for girls, the building is now part of the coeducational Cranbrook Kingswood Upper School, and rarely opened for public tours. The care of Kingswood's rich collection of historic furnishings and works of art (the Cultural Properties Collection, Kingswood School) is entrusted to the Center for Collections and Research.  
A highlight of the tour will be your visit to the Kingswood Weaving Studio—home of the nation's largest high school weaving department. It is in this magnificent space—using one of the original Cranbrook Looms, which were designed in the 1930s by Loja Saarinen—that Paula Stebbins Becker has been weaving a reproduction of the Saarinen House Second Floor Hallway Seating Alcove Curtain. Visitors will have an opportunity to discuss the project with Becker and learn about the weaving process and the yarns and techniques employed to recreate this historic treasure. The weaving project has been funded by grants from Finlandia Foundation National, the National Trust for Historic Preservation from the Cynthia Woods Mitchell Fund, and patrons of the Center's May 2022 fundraiser, A House Party at Cranbrook Celebration Loja Saarinen.
Led by your Center guides, the tour will explore the exemplary architecture of the building, its collection of fine custom furniture and fixtures, and unique works of art.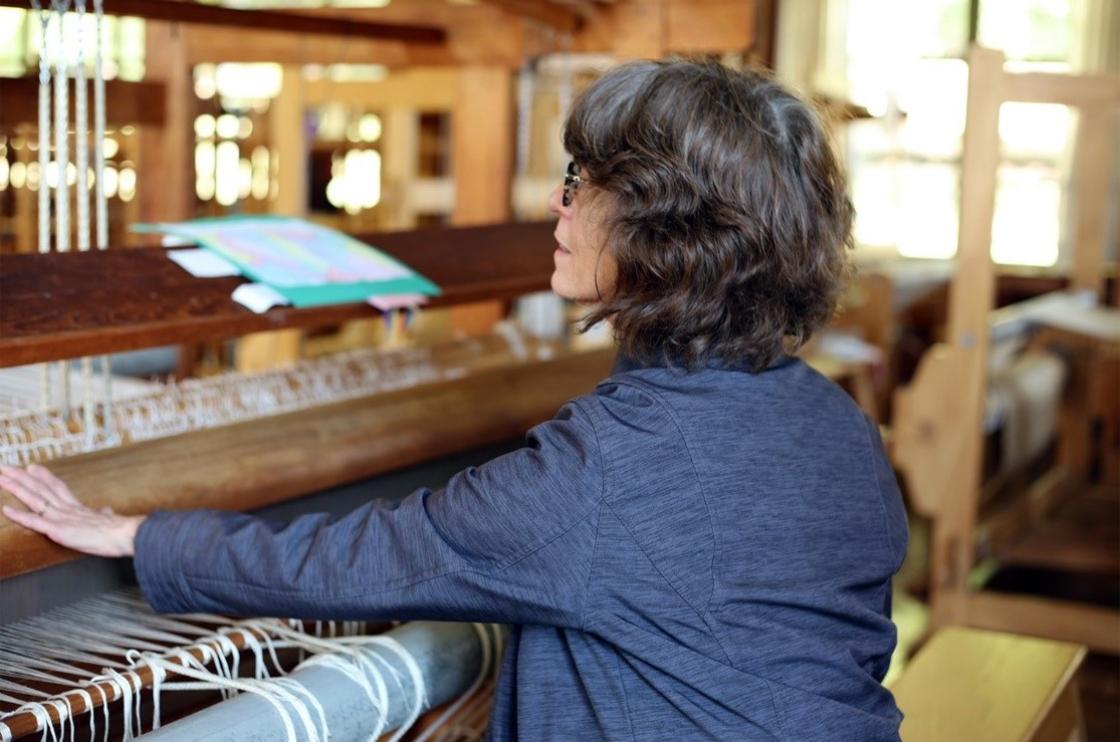 SELECTED HIGHLIGHTS OF THE TOUR
Pewabic Pottery Tilework
Kingswood boasts multiple fireplaces, floors and paneling, and other elements from the studio of Mary Chase Perry Stratton, founder of Detroit's Pewabic Pottery. These installations are among Cranbrook's most impressive tile displays. 
Furniture 
At just twenty years old, Eero Saarinen was entrusted with the design of some two-dozen types of furniture for use at Kingswood. The tour will discuss how this young designer worked across many styles for the building, and how it influenced his later career as an architect. 

Archival Treasures
For this Behind-the-Scenes Tour, special documents from the Archives will be on display. From historic photographs and architectural drawings to early yearbooks (with student-made handwoven covers), uniforms, and Kitty Kingswood mascots, objects in the Center's collections will help to tell the remarkable story of the design and life of Kingswood School.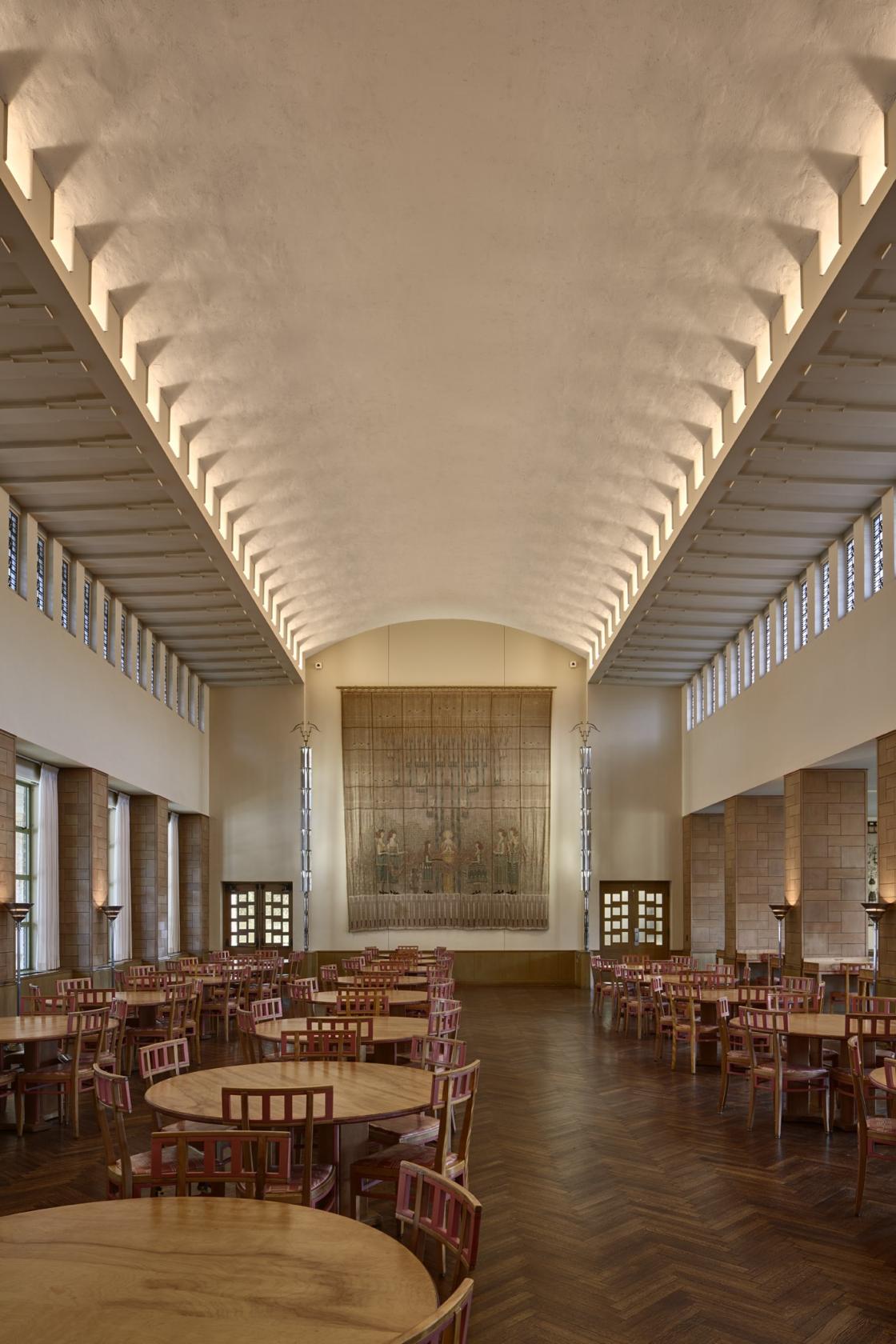 ADDITIONAL INFORMATION
WHEN YOU ARRIVE 
Free parking is available at Kingswood School. Enter Cranbrook's campus at 39221 Woodward Avenue, Bloomfield Hills, Michigan 48304. Kingswood's parking lot is at the first left off of the Woodward Access Road/Tamarack Way. Park in the available spots, and then proceed on foot to the school building. 
Check-in will be at a clearly marked table outside of the building. You do not need to print your ticket. 
TOUR LENGTH
The tours are approximately 75 minutes in length and include stairs. Tours take place rain or shine. 
PHOTOGRAPHY
Photography is permitted for personal use only. No special equipment or tripods may be brought on the tour. Kingswood is an active boarding school; photography of Cranbrook staff and students who may be present in the building is not permitted. 
CHILDREN
For the safety and comfort of all visitors, children younger than eight years old, including infants and toddlers, are discouraged on this tour.
COATS AND BAGS
Only small wallets and handheld cameras are permitted on the tours. Please leave all backpacks, purses, camera bags, camera equipment, and other cumbersome items in vehicles. This policy was created for the security and protection of Kingswood and its collection of fine and decorative art.
REFUND POLICY
Tickets are non-refundable. Your ticket may be transferred to another participant for the tour on the same day and time as the original ticket.
SERVICE ANIMAL POLICY
Cranbrook Center for Collections and Research is glad to accommodate visitors accompanied by service animals, as defined by the Americans with Disabilities Act (ADA), on tours of Saarinen House, Smith House, and the Cranbrook campus, including Kingswood School. Under the ADA, a "service animal" is defined as a dog that has been individually trained to do work or perform tasks for an individual with a disability.  The task(s) performed by the dog must be directly related to the person's disability.  Regretfully, we cannot accommodate visitors accompanied by emotional support animals or pets.
Visitors who will be accompanied by service animals are welcome to call the Center at 248-645-3307 in advance of their scheduled tour so that we may address any questions or concerns.
ACKNOWLEDGMENT OF RISK
An inherent risk of exposure to COVID-19 exists in any public place where people are present. COVID-19 is a contagious disease that can lead to severe illness and death. According to the Centers for Disease Control and Prevention, guests with underlying medical conditions are especially vulnerable. By visiting a Center-managed site, you voluntarily assume all risks related to COVID-19 exposure.
PHOTO CREDITS
Header image: Stairwell just off of Kingswood's Green Lobby, 2015; Photography by James Haefner, Courtesy James Haefner. Kingswood Auditorium, 2017; Photography by James Haefner, Courtesy James Haefner. Kingswood exterior, 2017; Photography by James Haefner, Courtesy James Haefner.
Kingswood Central Tower, 2017; Photography by James Haefner, Courtesy James Haefner.
Stairwell just off of Kingswood's Green Lobby, 2015; Photography by James Haefner, Courtesy James Haefner.
Headshot: Paula Stebbins Becker CAA '93 seated at a Cranbrook Loom.
Kingswood Dining Hall with the Festival of the May Queen Tapestry on the Far Wall, 2015; Photography by James Haefner, Courtesy James Haefner.