Edible Landscapes Dinner in the Cranbrook Campus Dining Hall
AN EVENING EXPLORING "ALL THINGS BRITISH" AT CRANBROOK
Sunday, March 15th, 2020 | 5:00pm - 8:45pm
Cranbrook Campus Page Hall and Dining Hall
550 Lone Pine Rd
Bloomfield Hills, MI 48304
A Farm-to-Table Dining and Behind-the-Scenes Cranbrook History Experience
Featuring Chef Kate Williams of Lady of the House
PRESENTED BY THE CRANBROOK CENTER FOR COLLECTIONS AND RESEARCH
$225 per person (includes a $75 tax-deductible donation to the Cranbrook Center for Collections and Research)
Proceeds benefit the preservation, collections management, and interpretation efforts of the Cranbrook Center for Collections and Research.
THIS EVENT IS SOLD OUT
George Booth most certainly was an Anglophile. From the name he selected for his estate in Bloomfield Hills—Cranbrook is the name of the village in Kent, England, where his father was born to a coppersmith and the daughter of the local brewer—to the Tudor Revival architecture of Brookside School and Cranbrook House, no one would deny that Booth favored England and all things English.  But Cranbrook's British heritage goes even deeper.  Ellen Scripps Booth's family also heralds from England, where her father was born and her great-grandfather was a famous London publisher.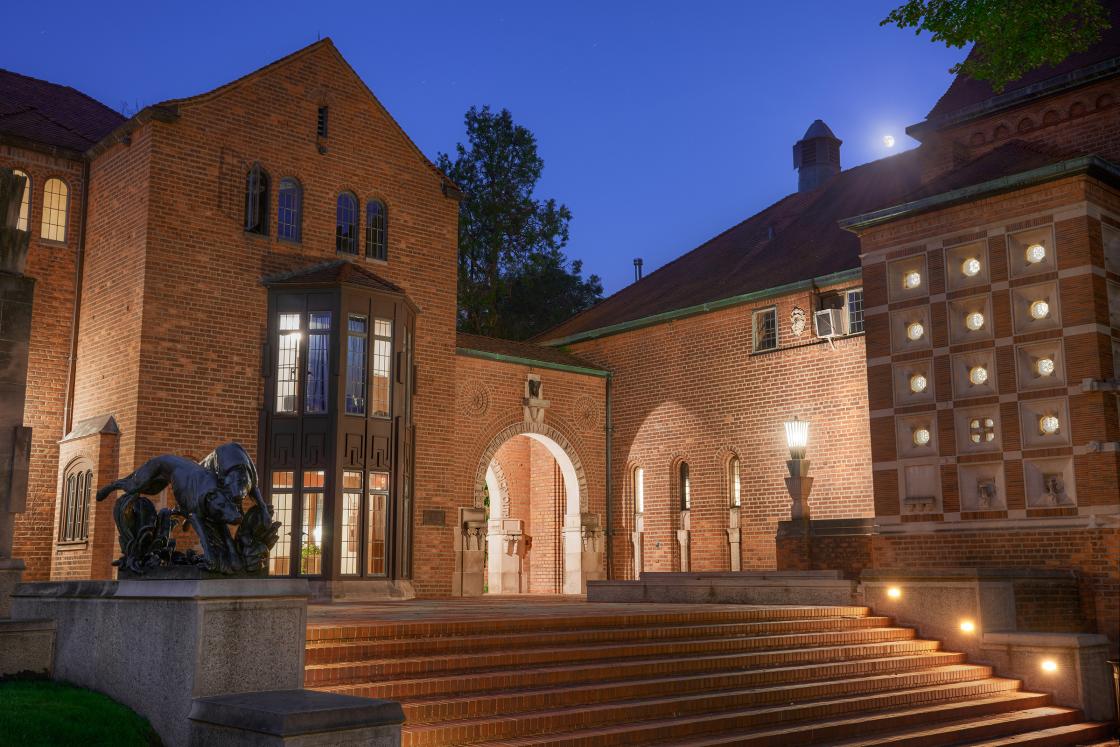 For the sixth Edible Landscapes Dinner, the Center is partnering with Chef Kate Williams of Lady of the House restaurant in Detroit's Corktown for an evening of storytelling and a five-course dinner with wine pairings that will take its inspiration from Cranbrook's many connections to the British Isles. The setting for the evening will be Cranbrook Campus and the buildings that Eliel Saarinen designed for the original Cranbrook School for Boys—themselves a romanticized reflection of the English Gothic through the lens of the British Arts & Crafts Movement.

The evening will begin with appetizers and cocktails in Page Hall, which will provide a dramatic setting for a few short stories about the study hall's artworks and their British connections.  From there we will continue through the hallways of the Boys' Dormitory to what is arguably Cranbrook's most magnificent space, the Cranbrook Campus Dining Hall.  This soaring space—with one long table running down the center—is where Chef Kate Williams will demonstrate the creative possibilities of cuisine that she describes as "English and Irish by way of Detroit."  The evening will end with an opportunity to view the rarely-seen murals in the Lower Dining Hall by the English-American artist Katherine McEwen, who also painted the frescoes in Christ Church Cranbrook.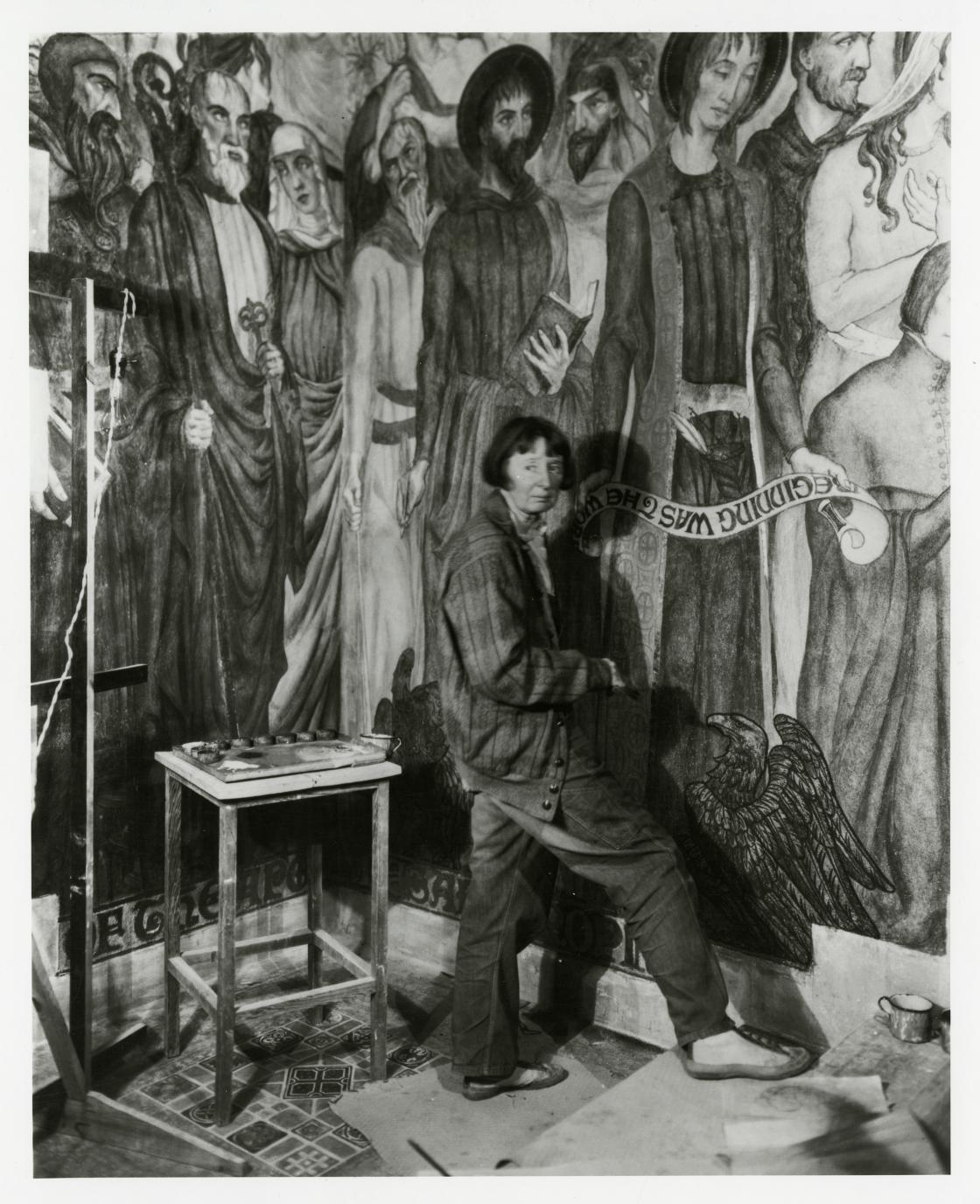 This not-to-be-missed, grand dinner, which is strictly limited to 90 guests, is hosted by Gregory Wittkopp, Director of the Cranbrook Center for Collections and Research, and will feature Cranbrook storyteller extraordinaire, the Center's Curatorial Associate Kevin Adkisson.
5:00 pm | Registration in Page Hall
5:15 pm | Signature Cocktail and Appetizers with Tales of Cranbrook's English Heritage
6:15 pm | Three-course Dinner and Dessert in the Dining Hall
8:30 pm | Sendoff Viewing of the Murals in the Lower Dining Hall

Parking in the Cranbrook Schools Performing Arts Center (PAC) Parking Lot
550 Lone Pine Road (at the corner of Orchard Ridge Road)
Bloomfield Hills, Michigan 48304
CHEF KATE WILLIAMS AND LADY OF THE HOUSE
Chef Kate Williams is the Executive Chef and Owner of Lady of the House, Karl's, and Candy Bar. A Detroit native, Williams grew up surrounded by a large Irish Catholic family where food and drink were the main event. After graduating from the French Culinary Institute in New York City, Williams spent time in Chicago where she served as Sous Chef to Wolfgang Puck. She then returned to Detroit for roles as Executive Chef at Detroit's Republic Tavern and Rodin restaurants. Williams also cooked in Copenhagen at the famed Relae restaurant. It was during her time there that Williams found her style of cooking—Nordic food with a little romance.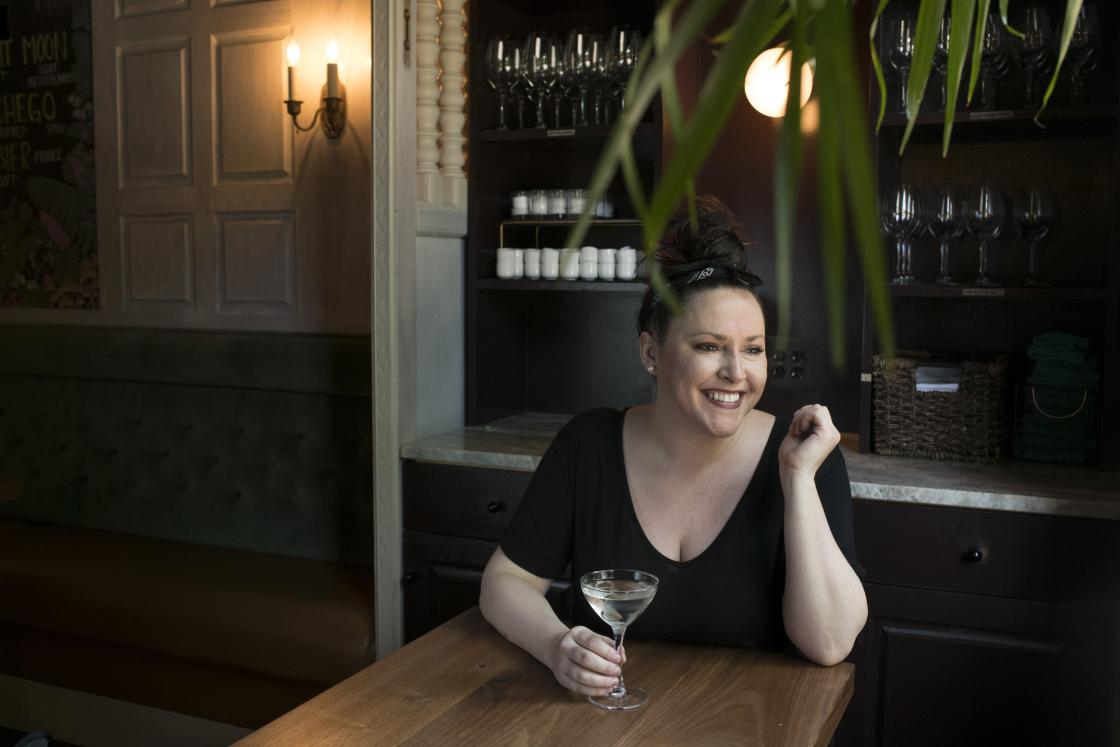 In September 2017, Williams opened her first restaurant, Lady of the House, in Detroit's Corktown district. In its first year, Lady of the House was named James Beard Foundation semi-finalist for "Best New Restaurant, 2017," and GQ "Best New Restaurant in America, 2018." In May 2018 Williams received the honor of Food & Wine "Best New Chef 2018." 
Williams's second restaurant, Karl's, opened in August 2019 within The Siren Hotel in downtown Detroit. Karl's takes inspiration from Chef Williams's great-great-grandparents Anton and Elizabeth Karl, and the bakery they once owned on the East Side of Detroit. Offering all-day dining for breakfast, lunch, and dinner, the menu at Karl's is composed of quintessential luncheonette classics with a strong focus on technique and ingredients. 
THIS EVENT IS SOLD OUT
ADDITIONAL DINNER INFORMATION
Tickets for this all-inclusive dining experience (appetizers and cocktails, three dinner courses, dessert, and carefully-paired wines) are $225 per person and include a $75 tax-deductible donation to Cranbrook Center for Collections and Research. Tickets may be purchased online or by calling Alissa Seelmann-Rutkofske, Administrative Assistant for the Center, at 248.645.3307. Guests are encouraged to register early as Edible Landscapes Dinners sell out quickly. We will gladly keep guests together that wish to dine with each other and accommodate dietary restrictions, provided we are notified at the time of registration.
Center staff will be available to guide guests from the Cranbrook Schools Performing Arts Center (PAC) Parking Lot to Page Hall. This a leisurely five to ten-minute walk, the equivalent of two city blocks. For information about Accessible Parking options, please call Alissa Seelmann-Rutkofske at 248.645.3307. 
PHOTO CREDITS
Banner Image: Dinner Service at Lady of the House, Detroit. Photo by Christian Harder, 2019.
Cranbrook School Dining Hall Set for Dinner, October 1936. Courtesy Cranbrook Archives.
Cranbrook Campus Dormitory. Photo by Colton Graub, CS '13. Courtesy Cranbrook Center for Collections and Research.

Katherine McEwen Working on the Fresco in the Sanctuary of Christ Church Cranbrook, 1927. Courtesy Cranbrook Archives.

Chef and Founder of Lady of the House Kate Williams. Photo by Brittany Greeson, 2019.