Friday, November 9th

9:00am

-

5:00pm
Christ Church Cranbrook
470 Church Road
Bloomfield Hills
,
MI
48304
Cranbrook's Religious History: The Art and Architecture of Five Metropolitan Detroit Churches
THIRTEENTH DAY AWAY GUIDED BUS AND WALKING TOUR PRESENTED BY CRANBROOK CENTER FOR COLLECTIONS AND RESEARCH IN CONJUNCTION WITH CHRIST CHURCH CRANBROOK AND ITS 90TH ANNIVERSARY CELEBRATIONS
Day begins at Christ Church Cranbrook
Registration and Coffee starts at 8:30am
Materials from Cranbrook Archives available to explore from 8:30am — 9:00am
Tour begins promptly at 9:00am
Private Lunch at Republic Tavern in Detroit
$145 (includes a $50 tax-deductible donation benefitting the Cranbrook Center)
Tour is Limited to 50 Guests
Registration is required by Wednesday, November 7, 2018
GUEST EXPERTS
Kevin Adkisson, Collections Fellow, Cranbrook Center for Collections and Research
The Rev. Canon Dr. William J. Danaher, Christ Church Cranbrook
Rev. D. Lee Andrzejewski, Historic Trinity Lutheran Church
Rev. Dr. Evan Gaertner, Our Shepherd Lutheran Church
John Wohl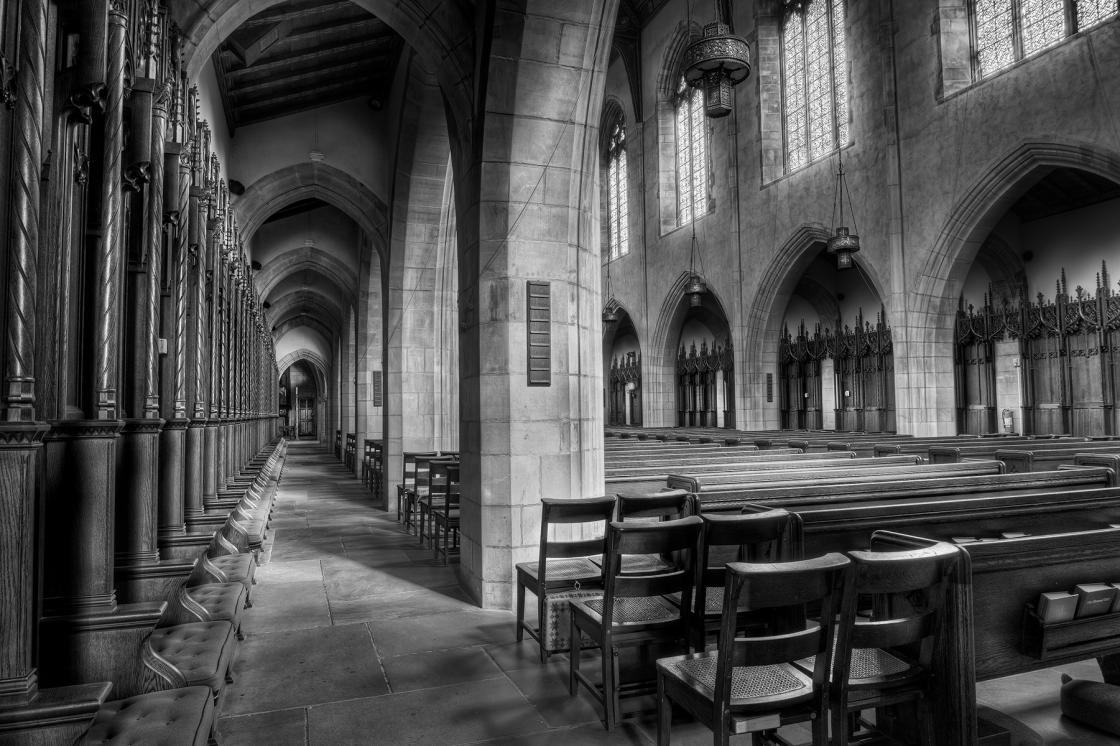 HOSTED BY
Gregory Wittkopp, Director, Cranbrook Center for Collections and Research
Join the Cranbrook Center for Collections and Research as we embark on our thirteenth Day Away, a series that explores Cranbrook connections off campus. Presented in conjunction with Christ Church Cranbrook and celebrating its 90th anniversary, the Center's fall trip explores five churches and their significant architects, artists, and craftsmen, as well as important ministers, congregations, and patrons in Bloomfield Hills, Detroit, and Birmingham.
Christ Church Cranbrook
The day begins at Christ Church Cranbrook with a behind-the-scenes tour of the church, exploring the theological mission of its founders George and Ellen Booth as well as hearing about the church's current state of affairs under Rector William Danaher. We will explore the art and architecture of the sanctuary, chapels, library and Guild Hall.
Designed by Oscar Murray of Bertram Grosvenor Goodhue Associates and consecrated on September 29, 1928, Christ Church Cranbrook is considered one of the most important achievements of the American Arts and Crafts Movement. Originally part of the Cranbrook Educational Community, the church became a freestanding congregation in the Episcopal Diocese of Michigan in 1973. The Gothic Revival church is rich in architectural detail and full of historic paintings, tapestries, and other appointments by world-renowned artists and craftsmen including work by woodcarver John Kirchmayer and silversmith Arthur Nevill, stained glass designs by G. Owen Bonawit, sculptures on the exterior buttresses by Lee Lawrie, and a large fresco at the front of the church by Katherine McEwen.
Arrive early to explore materials brought over from Cranbrook Archives, including construction photographs and drawings relating to not only Christ Church Cranbrook, but two churches that we will explore later in the day, Trinity Episcopal Church and Our Shepherd Lutheran Church.
After our tour, we will then board the bus and head into Detroit, making our first stop at Trinity Episcopal Church.
Trinity Episcopal Church 
James Scripps, a founder of the Detroit News and father of Cranbrook founder Ellen Scripps Booth, served as the driving force behind the 1893 church building. Inspired by visits to English churches, Scripps wished to produce an authentic copy of a fourteenth-century English Gothic church. Extensively-researched forms taken from English parish churches were employed by architects Mason and Rice (also the architects of George and Ellen Booth's Detroit home near the church on Trumbull Avenue). Built of local limestone, the exterior of the massive masonry structure features over 200 carvings, including grotesques and gargoyles that serve as water drains. Inside, the original oak-timbered ceiling and imported windows, including stained glass by Tiffany and LaFarge, continue the medieval mood. It was at the parish out of which Trinity Episcopal Church evolved, Epiphany Reformed Episcopal, that George and Ellen Booth first met and were married. Today, the church is known as Spirit of Hope Church and is part of the Detroit Cooperative Parish.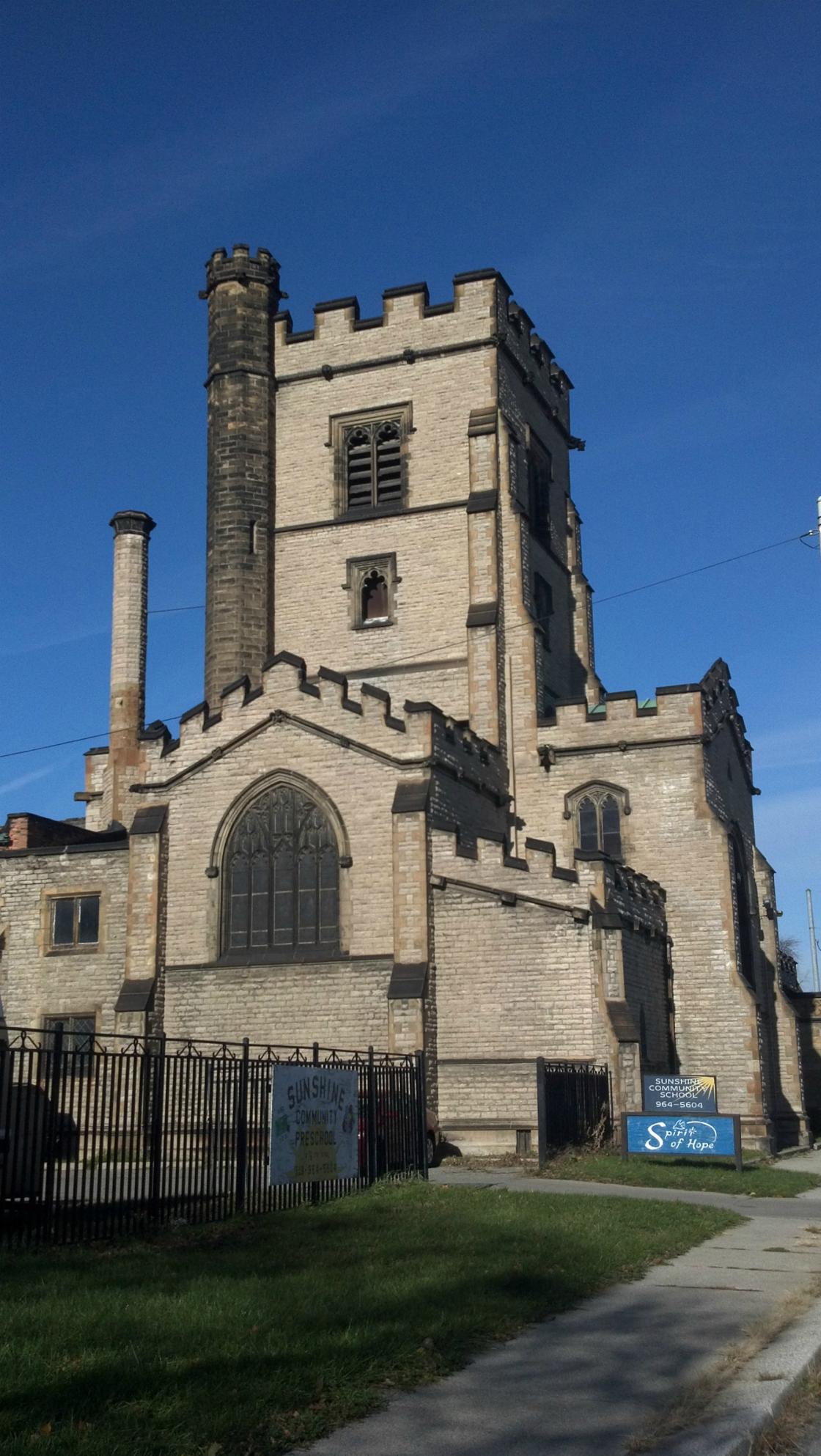 St. Florian Roman Catholic Church
Built to serve the growing Polish community employed at the Hamtramck auto plants, the original 1908 brick church (still standing) was expanded by Ralph Adams Cram in 1928. Cram, well known for his dedication to the Gothic style was earlier in partnership with Bertram Goodhue, whom George Booth hired for Christ Church Cranbrook. In Hamtramck, Cram's red brick and limestone Gothic design, with its imposing façade, was lauded in the architectural press at the time for its inventiveness on the tight urban site. Most impressive is its central pointed arch that forms a deep recess toward the rose window.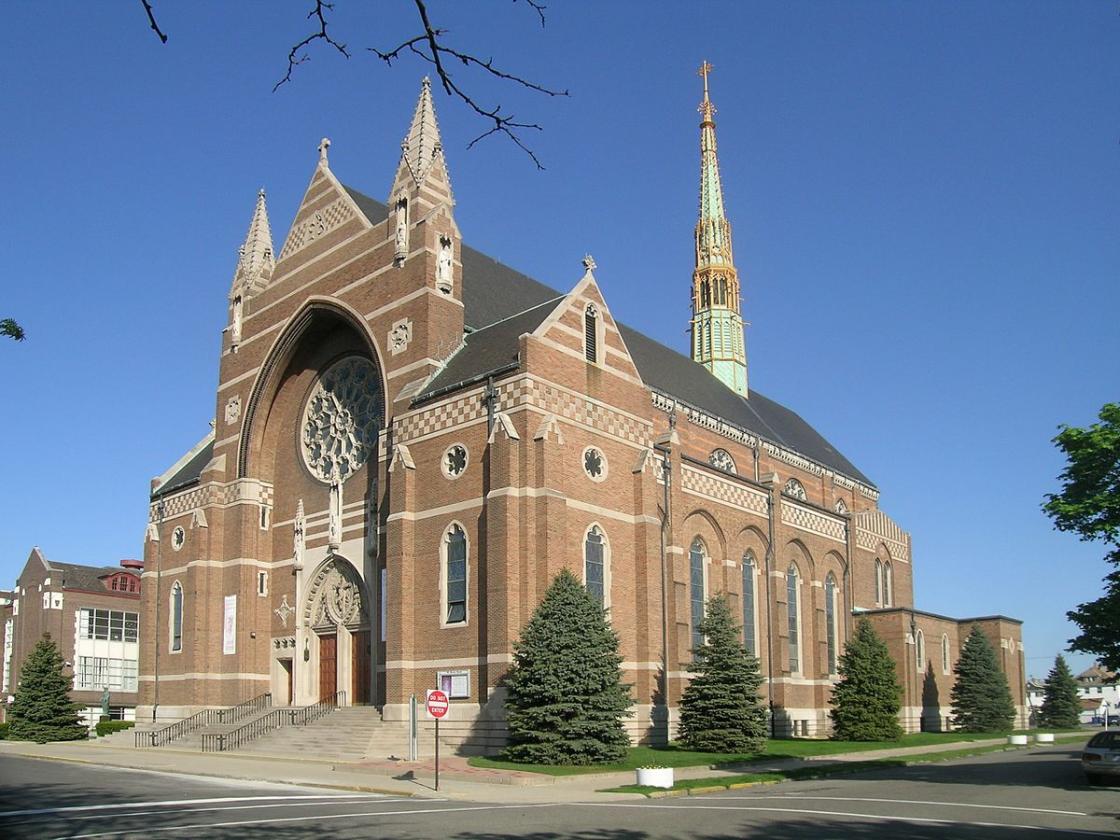 Republic Tavern, Detroit
Just because we are visiting five religious structures does not mean that we cannot indulge in a memorable lunch and a glass of wine or beer. Republic is located in the renovated Grand Army of the Republic building, a gorgeous example of Richardsonian Romanesque architecture built at the end of the 19th century. The restaurant delivers a modern take on an old world tavern experience with an emphasis on nose-to-tail dining and ethically-sourced ingredients. Working closely with local farmers and artisans, Executive Chef Matthew Currie allows the menu to ebb and flow with Michigan's seasons. The Day Away registration fee includes a three-course lunch served with a glass of wine or craft beer.
Historic Trinity Lutheran Church
Built on a tight, trapezoidal site, architect William Hunter's 1931 "mother church" for the Detroit-area Missouri Synod Lutheran churches deftly melds the Arts & Crafts, Art Deco, and Gothic styles. Its interior features a riot of color in painted decoration alongside art glass windows by Willets Studios and Detroit Stained Glass Works. As at Christ Church Cranbrook, Pewabic Pottery provided floor tiles and John Kirchmeyer completed elaborate wood carving throughout the church.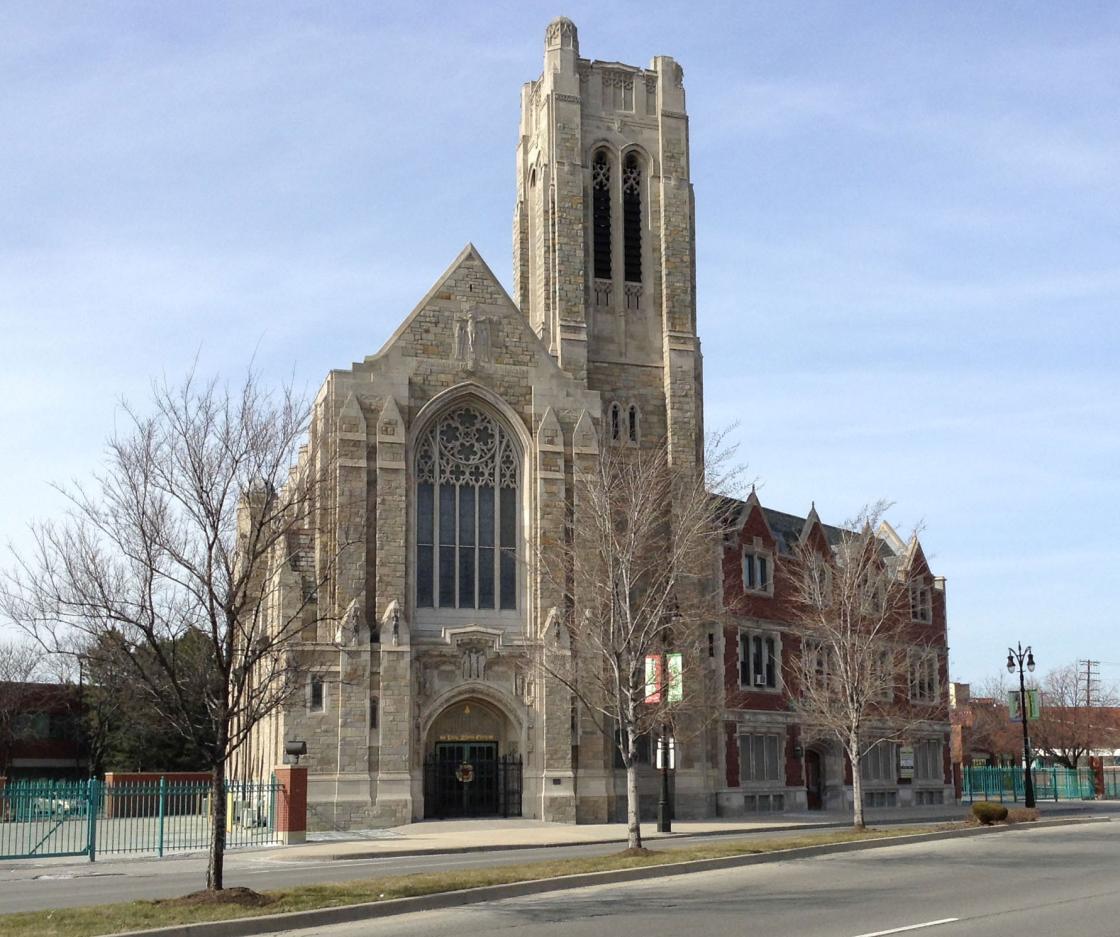 Our Shepherd Lutheran Church
Our last stop is a modernist church completed in 1966 by architect (and then-President of Cranbrook Academy of Art) Glen Paulsen. Having worked alongside both Eliel and Eero Saarinen, the Saarinen influence on Paulsen can be seen in his design's use of diffuse natural light and balanced asymmetry. As part of the design for this large shed-roof church of hand-formed brick, Paulsen worked with Cranbrook Metalsmith Artist-in-Residence Richard Thomas to produce the ecclesiastical silver and metalwork. We will also see the magnificent stained-glass windows by Loire Studios that were installed in consultation with Paulsen.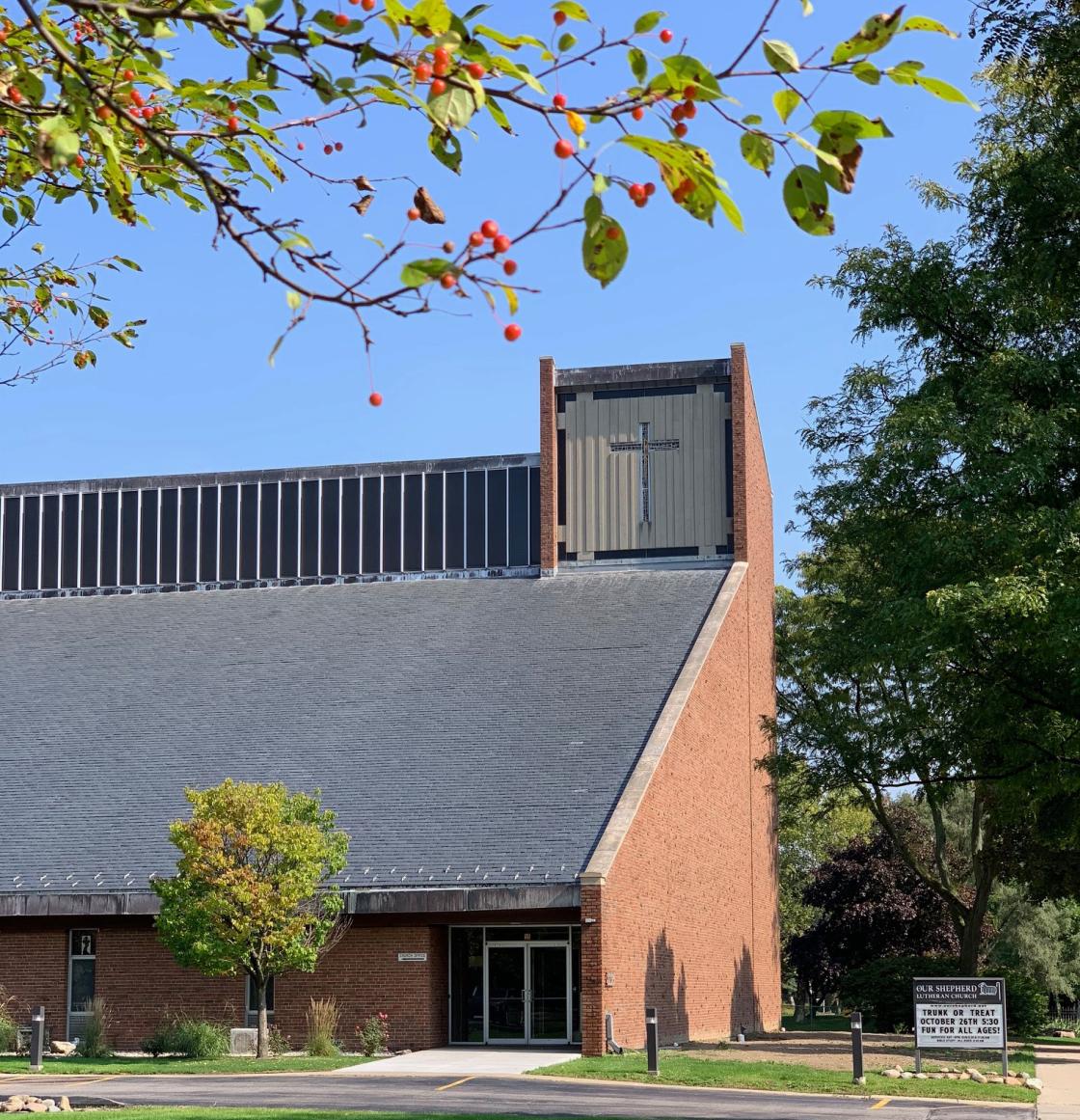 ADDITIONAL INFORMATION AND RESERVATIONS
The cost of this all-inclusive, guided tour is $145 per person, which includes a $50 tax-deductible gift to the Cranbrook Center for Collections and Research. Guests may arrive at Christ Church Cranbrook for registration and coffee between 8:30am and 9:00am. The day's tours and presentations start promptly at 9:00am. The bus will return to Cranbrook by 5:30pm. Free parking is available in the church parking lot south of Lone Pine Road off Church Road.
Tickets are non-refundable, but may be transferred by the purchaser to another guest. But don't delay—the tour is limited to 50 guests and all of the past Day Away programs have sold out, often within days of the announcement.
Please note that this tour will include walking through the five churches, including stairs. The tour is designed for lifelong learners and is not intended for children under the age of fourteen. The tour will take place rain or shine. Please wear comfortable shoes.
PHOTO CREDITS (FROM TOP TO BOTTOM)
Christ Church Cranbrook interior. Photography by Colton Graub, CS '13. Courtesy of Cranbrook Center for Collections and Research.

Christ Church Cranbrook, Kevin Adkisson photographer.

Trinity Episcopal Church (Spirit of Hope Church), housesofworship.wordpress.com photograph.

St. Florian Roman Catholic Church, Andrew Jameson photographer.

Historic Trinity Lutheran Church, Lyndsey Martin photographer.

Our Shepherd Lutheran Church, Kevin Adkisson photographer.