Sunday, June 9th

6:00pm

-

9:30pm
Cranbrook House Library
380 Lone Pine Road
Bloomfield Hills
,
MI
48304
CENTER CONCERT AND SUMMER SOIREE
Frozen Music/Liquid Architecture: The Muse Ensemble Performs Bach (for Frank Lloyd Wright) and Melartin and Sibelius (for Eliel Saarinen)
6:00pm | Complimentary Champagne Reception with Finnish Savory Appetizers
6:45pm | Concert with Cash Bar during Intermission
8:30pm | Complimentary Afterglow with the Musicians featuring German Wines and Desserts

Featuring the Muse Ensemble
Kyoko Kashiwagi, Violin
Eva Stern, Viola
Katri Ervamaa, Cello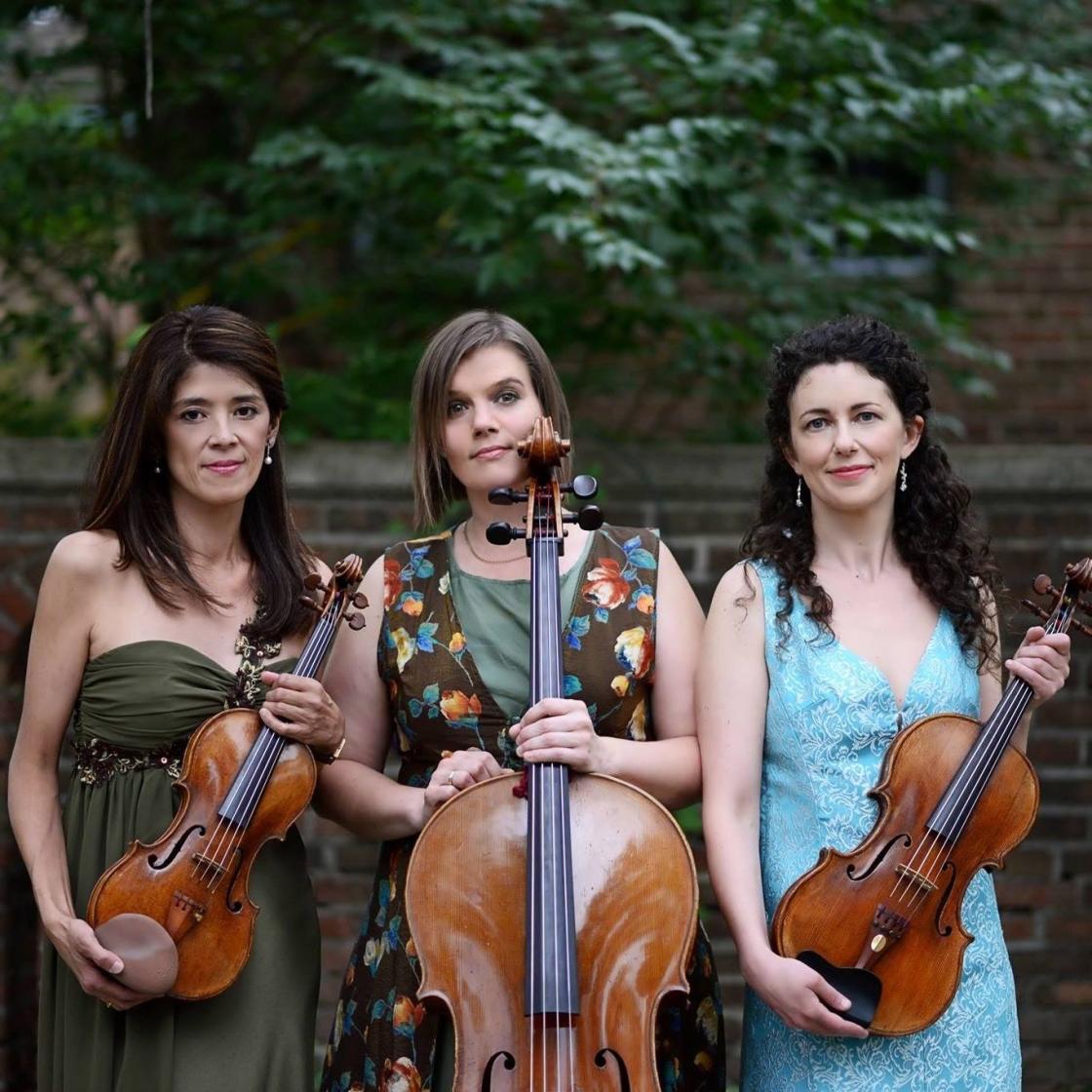 Concert Program
Welcome and Introductions, Gregory Wittkopp, Director, Cranbrook Center for Collections and Research
Johann Sebastian Bach (German, 1685 – 1750), Goldberg Variations for String Trio (45 minutes)
Intermission
Erkki Melartin (Finnish, 1875 – 1937), String Trio, Op. 133 (17 minutes)
Jean Sibelius (Finnish, 1865 – 1957), String Trio in G Minor (7 minutes)

Finnish Treats and German Sweets
Catered by Kathleen O'Neil of the Canapé Cart

General Admission Tickets
$125 per person (includes a $25 tax-deductible donation to the Center)

Cranbrook Insiders Tickets
$95 per person for Cranbrook Schools alumni/students/parents, Cranbrook Academy of Art students/alumni, Cranbrook Art Museum ArtMembers, Cranbrook House & Gardens Auxiliary members, Cranbrook Institute of Science members, and Cranbrook faculty/staff (discounted rate does not include a tax-deductible donation - please call 248.645.3307 to register with this special offer)

Seating is limited. Registration is required by Monday, June 3, 2019.

For reservations, please click the "REGISTER FOR THIS EVENT" button below or call 248.645.3307.
ABOUT THE PROGRAM
"Music is liquid architecture; architecture is frozen music." Although the phrase was coined 200 years ago by the German Romantic writer Johann Wolfgang von Goethe, its sentiment resonates with many modern and contemporary architects. From Frank Lloyd Wright, who wrote in 1934 that "architecture is a kind of music," to the late Zaha Hadid, whose J.S. Bach Chamber Music Hall in Manchester, England, has been described as "frozen music," Goethe's words express both the structural and poetic relationship between music and architecture—the theme of the Center's summer concert. The program includes the work of two composers who famously inspired two of Cranbrook's legendary architects, Eliel Saarinen (Jean Sibelius) and Frank Lloyd Wright (J.S. Bach). The program also highlights the work of the lesser-known Finnish composer Erkki Melartin, who was a contemporary of Sibelius and Saarinen.

The Goldberg Variations (BWV 988) was written by Johann Sebastian Bach for harpsichord and first published in 1741. Celebrated for its architectural structure and formal beauty, the composition's thirty-two pieces are built upon the same thirty-two-note ground bass and an implied harmony, the rhythm of which is maintained throughout the work. This set of the famous variations was transcribed for string trio by Dimitry Sitkovetsky.

Believed to have been written by Erkki Melartin in 1926 and 1927, the same time that Eliel Saarinen was beginning his collaboration with George Booth at Cranbrook, the String Trio, Op. 133 had its premiere in Helsinki in April 1927. Although Melartin lived in the shadow of Jean Sibelius, he managed to keep free from the influence of Sibelius. Melartin's symphonic style, in fact, is more often compared with Sibelius's antithesis, Gustaf Mahler.

Dating to 1893-1894, Jean Sibelius's String Trio in G Minor (JS 210) is a work of the Finnish composer's mature chamber music period. Although it was never finished, the first and only completed movement, Lento, has come to be known as his String Trio. The score had its North American premier in 2004 when the Muse Ensemble performed it at Cranbrook Art Museum as part of Cranbrook's centennial celebrations. Jean Sibelius (1865-1957) and Eliel Saarinen (1873-1950) were contemporaries and friends and together shaped the National Romantic Movement in their native country of Finland.

ABOUT THE MUSE ENSEMBLE
Formed in 2003, the Muse Ensemble brought together three active performers based in Southeast Michigan. After a hiatus, they are excited to reunite for concerts in the 2018 – 2019 season. The Muse Ensemble has performed extensively throughout Michigan and Ohio at venues including the Detroit Institute of Arts, Cranbrook Art Museum, Art Reach of Mid Michigan, Chelsea Musical Celebrations, Eastern Michigan University, the University of Michigan, and Detroit's Scarab Club, among others. The three members have extensive experience as solo, chamber, and orchestral musicians, and have performed all over the world in these capacities. With a broad range of musical tastes, they perform both the standard string trio repertoire as well as works of lesser-known (and worth knowing!) composers. The group frequently collaborates with guest artists, expanding their repertoire to string quartets and other mixed chamber music. 

ABOUT THE ARTISTS
Kyoko Kashiwagi was born in Zurich, Switzerland, and studied violin at the Tokyo National University of Fine Arts and Music with Koichiro Harada of the Tokyo String Quartet. Kashiwagi moved to New York City where she continued her studies at the Juilliard School with Dorothy DeLay, Masako Kawasaki, Joseph Fuchs, and the members of the Juilliard String Quartet. She formed Amernet String Quartet and extensively studied string quartet repertoire with the members of the Lasalle Quartet and Tokyo String Quartet at College Conservatory of Music in Cincinnati. She led the group to win the Fishoff Chamber Music Competition, Tokyo International Music Competition, and the Banff International String Quartet Competition. She has appeared at numerous music festivals and concert halls in the United States such as the Aspen Music Festival, Tanglewood Music Festival, Lincoln Center's Mostly Mozart Festival, the Ravinia Music Festival, and the Newport Music Festival. She has toured throughout United States, both performing and giving masterclasses. Kashiwagi plays on a violin made by Giovanni Batista Ruggeri from Cremona, Italy. 

Violist Eva Stern has diverse experience as both a performer and teacher. She has served on the faculties of Eastern Michigan University, Bowling Green State University, Virginia Commonwealth University, and Longwood College. She has been a member of the Chautauqua Symphony since 2000. Previously, she was a member of the St. Louis Symphony, Richmond Symphony, and Louisville Orchestra, and plays as a substitute musician with the Detroit Symphony Orchestra. Also in demand as a chamber musician, she has appeared with numerous ensembles including the Chautauqua String Quartet, Michigan Chamber Players, Chamber Music Ann Arbor, Chamber Music at the Scarab Club, and the American Romanian Festival. Stern is featured on a recording of works for viola, clarinet, and piano released by Fleur de Son Classics. She has been praised for having "a rich, juicy tone and an agile technique" (Ann Arbor Observer, Allmusic.com). She holds a Master of Music degree from the Eastman School of Music and an undergraduate degree from Purchase College, State University of New York. She plays on a viola made in 1850 by the English maker George Craske. In addition to her work as a violist, Stern is a Pilates teacher and movement educator with a specialty in working with musicians. You can learn more about her at www.evasternmoves.com. 

Finnish-born cellist Katri Ervamaa, DMA, is a multifaceted performer who loves chamber music, new music and creative improvisation, and especially creative collaborations across genres and art forms. She has performed and given master classes throughout North America, Europe, and Taiwan. Dr. Ervamaa is a founding member and past president of Brave New Works new music ensemble (bravenewworks.org), the Muse Ensemble, the newly founded Järnefelt Piano Trio, and E3Q, an improvisation-based, genre-defying trio of cello, trumpet, and percussion. She appears on Envoy Recordings, Block M Records, and AMP Records labels. Most recently she appeared in the documentary "Mestiza Music," produced by WFYI-Indinapolis, on 60 PBS stations nationwide; in Suomi Finland 100 concerts with the Järnefelt Trio; and the Brave New Works record "The Outer Bar: Music of Mead and Morris." In addition to her lively performance career, Dr. Ervamaa is on faculty at the University of Michigan's Residential College, where she is the Head of the Music Program. She plays on a 1868 HC Silvestre cello. You can find her online at www.katrimusic.com. 

PHOTO CREDITS
The Muse Ensemble with (from left to right) Eva Stern (Viola), Katri Ervamaa (Cello), and Kyoko Kashiwagi (Violin). Photographed in the Saarinen House Living Room by Jennifer Ilene with permission from Cranbrook Center for Collections and Research. 

The Muse Ensemble with (from left to right) Kyoko Kashiwagi (Violin); Katri Ervamaa (Cello), and Eva Stern (Viola). Photographed in the Saarinen House Courtyard by Jennifer Ilene with permission from Cranbrook Center for Collections and Research.