Bloomfield Hills
,
MI
48304
Bus Departs from Cranbrook House Parking Lot
Tea Ceremonies Conducted in the Frank Lloyd Wright Smith House

$35/person (Adults, Seniors, and Students)
Each Tea Ceremony is limited to 20 Guests

Presented by Cranbrook Center for Collections and Research in collaboration with Tea Master Tomoyo Koehler and the Local Omotesenke School of Chanoyu.

Join Cranbrook Center for Collections and Research as we explore four traditional Japanese arts, celebrating the ongoing revitalization of the Cranbrook Japanese Garden—and the long connection between Frank Lloyd Wright and Japan.  
THIS EVENT IS SOLD OUT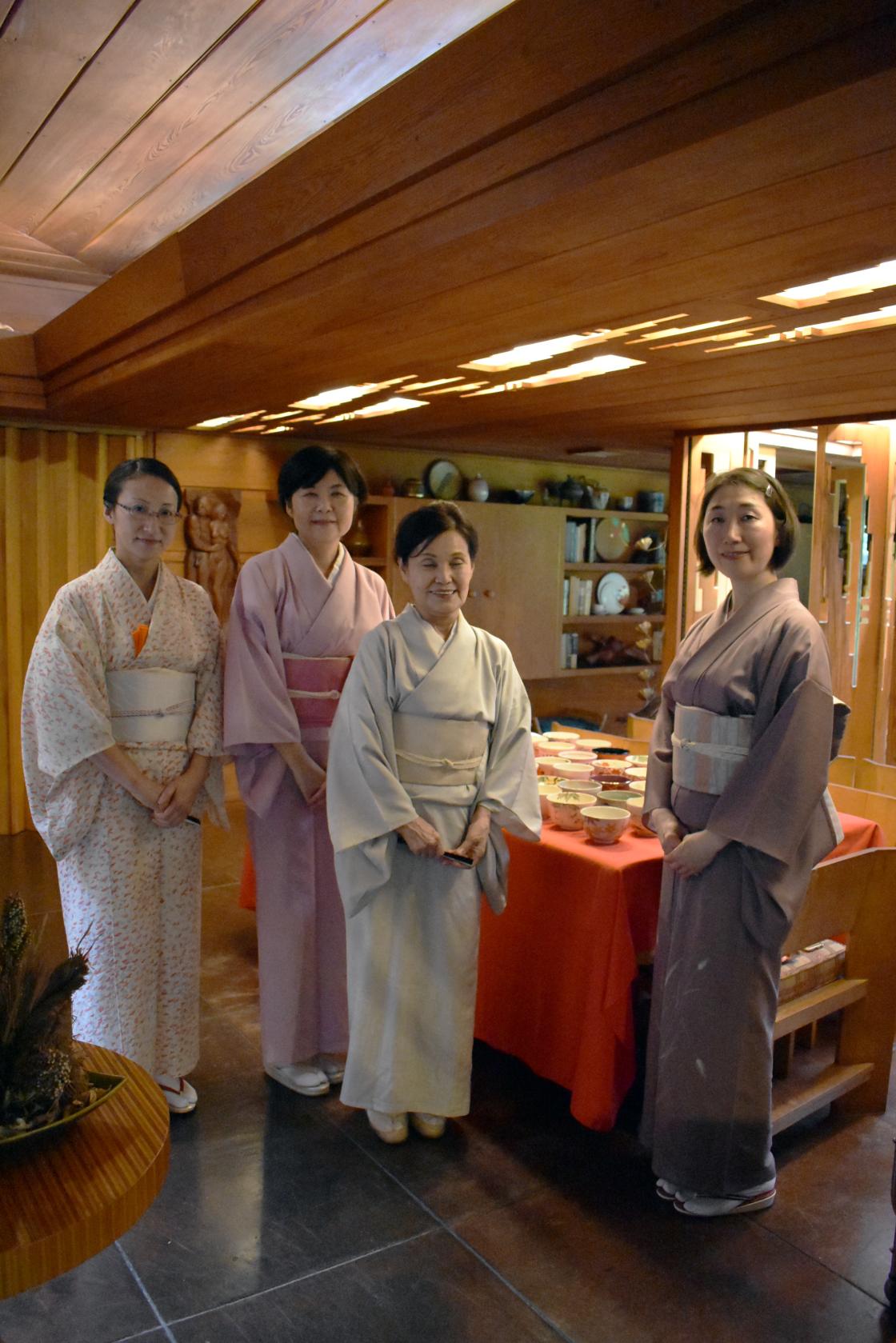 The Japanese tea ceremony, chanoyu (literally "hot water for tea"), is a ritualized, secular practice of hosting and serving guests a bowl of tea. The act of preparing and drinking matcha, the powdered green tea, is a choreographed art requiring years of study to master. The centuries-old ceremony is intimate, usually in a quiet setting, surrounded by a garden where one can focus on the functional objects used in the ceremony and the nature around them.
For the ceremonies in Cranbrook's Frank Lloyd Wright-designed Smith House, guests will be seated on the sheltered banquette in the living room with a view of the pond and trees providing a serene, natural background. Following the demonstrations, the tea practitioners, in elegant kimono, will prepare and serve the ceremonial tea and traditional wagashi sweets. Narration introducing the ceremony and commentary on the intricacies of its many steps will accompany the presentation. The tea ceremony does not include a tour of Smith House.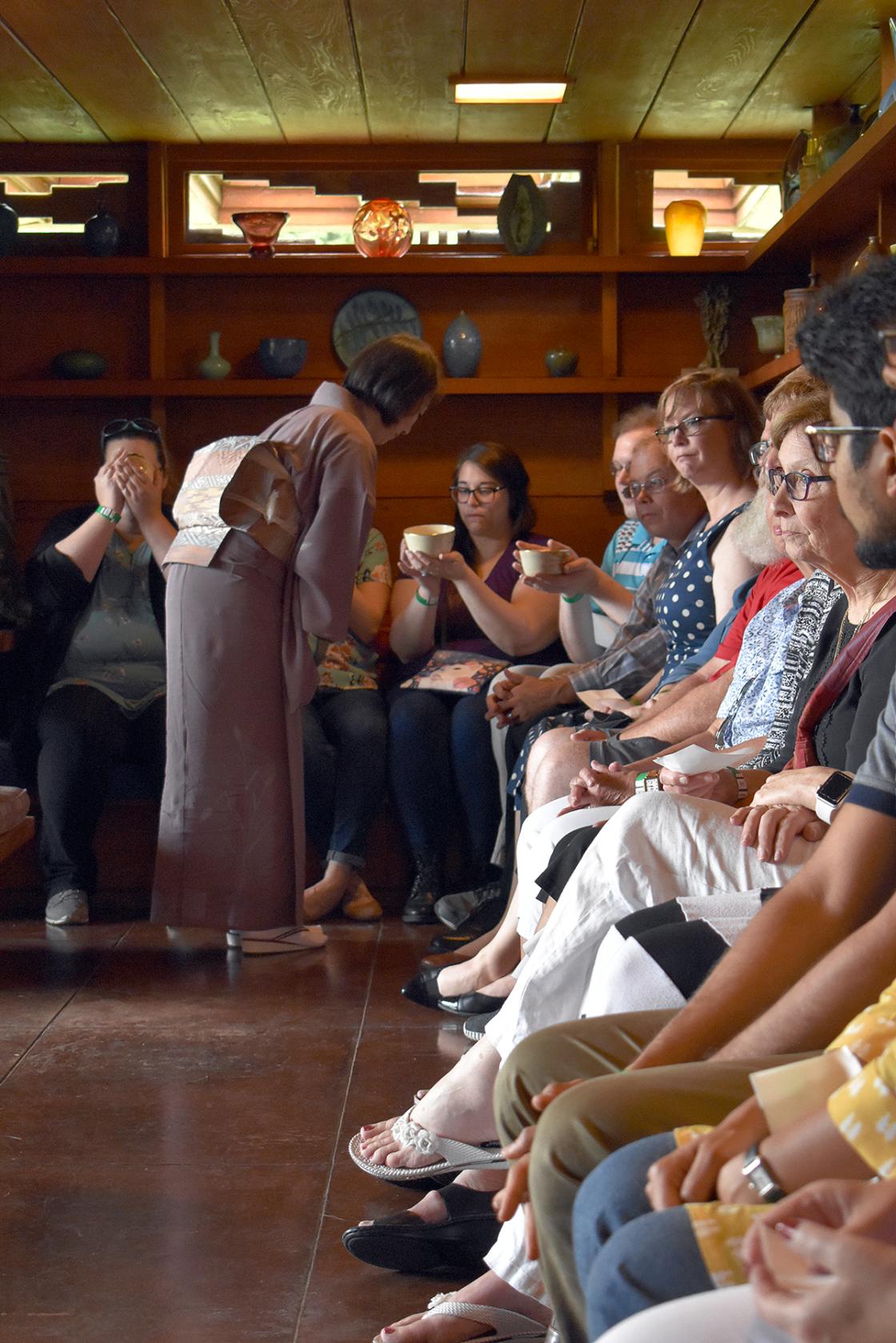 CRANBROOK JAPANESE GARDEN
For more information on the Cranbrook Japanese Garden, including the recent rehabilitation of the Lily Pond Cascade, please visit the Center for Collections and Research Japanese Garden website: center.cranbrook.edu/visit/japanese-garden.
ADDITIONAL INFORMATION
The chanoyu tea ceremonies take place in the Frank Lloyd Wright-designed Smith House, located a mile from Cranbrook's campus.  Participants will ride together on a Cranbrook school bus.  The buses depart from the Cranbrook House parking lot, located at 380 Lone Pine Road, Bloomfield Hills, MI 48304.  Participants should arrive at least 15 minutes before their tour time to check-in. Participants may wait in the bus, which will be in the parking lot; accessible restrooms will be available in the Cranbrook House gatehouse. At Smith House, participants will be required to remove their shoes and wear slippers to protect the original floors in the house.

ADMISSION
$35/person for each Tea Ceremony (Adults, Seniors, and Students)

REGISTRATION
Advance registration is required as participation is limited.  Tickets are non-refundable (but may be transferred to another participant).  For more information, please contact Cranbrook Center for Collections and Research.  Our Administrative Assistant, Alissa Seelmann-Rutkofske, may be reached at 248.645.3307 or center@cranbrook.edu (Tuesday through Friday, 9:00am to 5:00pm).
Wagashi / 和菓子: The Art of Japanese Sweets
Tuesday, March 3, 2020 | 10:00am – 12:00pm
Presented in collaboration with GEN-J: Grassroots Exchange Network Japan
Cranbrook House Library
 
Ikebana / 生け花: The Art of Japanese Floral Arrangement
Tuesday, April 7, 2020 | 1:00pm – 2:30pm
Presented in collaboration with Ikebana International, Detroit Chapter 85, and organized by Lauren Paul, President, Detroit Chapter 85
Cranbrook House Library
Shodo / 書道: The Art of Japanese Calligraphy
Tuesday, April 21, 2020 | 1:00pm – 2:30pm
Presented by Shodo Expert Kyoko Fujii
Accompanied by Koto Musician Yuko Asano
Cranbrook House Library
Photo Credits
Banner (from left to right): Chou you no sekku Chrysanthemum Design of Nerikiri sweets by Toshiko Sugii Steffes. Photography from Toshiko Sugii Steffes Instagram; Basket Arrangement from Ikebana International Detroit Chapter 85. Photography by Beverly Benson Wolf, BB Wolf Fine Art Photography, Copyright 2020 Ikebana International Detroit Chapter 85; Kyoko Fujii during a Demonstration at the Detroit Institute of Arts, March 2019. Photography Courtesy of Kyoko Fujii; Tea bowl and Whisk with Chrysanthemum Blossom. Photography by Steph Carter licensed under CC BY-ND 2.0.

Japanese Tea Gardens and Tea Houses: From Japan to Frank Lloyd Wright and Today, August 2018. Photography by Kevin Adkisson.