Saturday, November 27th

11:00am

-

12:00pm
Bloomfield Township
,
MI
48302
SMITH HOUSE TOUR FEES 
Adults: $35
Full-time Students with ID: $20
Tours Meet at Smith House on Ponvalley Road.
Reserved Tickets Required.
ABOUT SMITH HOUSE
School teachers Sara Stein Smith and Melvyn Maxwell Smith, undeterred by their modest salaries and guided by a shared love of architecture, met Frank Lloyd Wright at the architect's home, Taliesin, in 1941 and commissioned a custom home. Located in Bloomfield Township, a mile from the Cranbrook campus, Smith is an excellent example of Wright's Usonian ideal, which aimed to build quality houses for the American middle class. The lovingly restored home, which Wright called "My Little Gem" during a 1951 visit, features an L-shaped floor plan and horizontal, cantilevered roof planes. The Smiths' unique collection of fine and decorative art remains intact in the home, with many pieces by Cranbrook Academy of Art students and alumni. This tour offers a complete view of this special home, its landscape, and the story of a couple whose vision and determination allowed them to achieve their dream.
Cranbrook Center for Collections and Research is responsible for stewarding Smith House and its collections and opening its doors to visitors from around the world. The house was donated to Cranbrook Educational Community in 2017 by The Towbes Foundation with support from Anne Smith Towbes and the late Michael Towbes.
Advance ticket sales for each weekend close Friday at 10:00am Eastern Time.
Spend the day in Bloomfield Hills and plan a visit to Smith House and Saarinen House, located on the Cranbrook campus just a few blocks away. Saarinen House tours take place at 3:00pm following all Smith House tours. Also in Bloomfield Hills is the Frank Lloyd Wright-designed Affleck House, which is owned by Lawrence Technological University. Tours of the Affleck House are available on the third Saturday of most months.
ADDITIONAL INFORMATION
When You Arrive
The tour begins at Smith House: 5045 Ponvalley Road, Bloomfield Township, Michigan 48302.
A Collections Interpreter (Cranbrook staff guide) will direct you where to park when you arrive. Please be respectful of the landscaping and our neighbors. Please arrive between 12:45pm and 12:55pm. Do not park on the street.
You do not need to print your ticket. You will be asked to provide your name to the Collections Interpreter to verify your ticket.
SAFETY DURING YOUR VISIT
Don't feel well? Stay home. Visitors showing signs of illness will be asked to return at a later date.
Wear a mask.  Face masks must be worn by all visitors inside Cranbrook buildings, at all times. Your guide will also be wearing a mask.   
Stay 3 to 6 feet apart. Physical distancing is required and will be enforced. Households may remain together. 
Be aware of space and people around you. Please be aware of the number of people in each space before entering.
Keep your hands clean. Hand-sanitizer will be available.
Leave all large bags in your vehicle.
Be smart, stay safe. An inherent risk of exposure to COVID-19 exists in any public place where people are present. Please observe the precautions above!
Tour Group Size
Tours scheduled through August 29, 2021, currently are limited to 8 guests, with the possibility of increasing tour sizes based on statewide progress combating the COVID-19 pandemic.  If tour sizes are increased, the information will be noted on the main Smith House page. Please note: Tour sizes are subject to increase based on CDC guidelines and Cranbrook policies. For any concerns about the size of your tour, please contact the Center closer to your tour date.
Tour Length
Smith House Tours are approximately 60 minutes in length. Tours take place rain or shine.
Photography
Photography is permitted for personal use only. No special equipment or tripods may be brought on the tour.
Shoes
To protect the historic integrity of Smith House, you will be asked to wear disposable over-shoe slippers that will be provided.
Children
For the safety and comfort of all visitors, children younger than eight years old, including infants and toddlers, are discouraged on this tour.
Accessibility
Due to the historical status and intimate nature of the house, many rooms and passageways are very narrow and therefore the house is not wheelchair accessible. All tours are walking tours and guests must be able to walk and stand throughout most of the tour. 
Coats and Bags
Only small wallets and handheld cameras are permitted on the tours. Please leave all backpacks, purses, camera bags, camera equipment, and other cumbersome items in vehicles. This policy was created for the security and protection of Smith House and its collection of fine and decorative art.
Weather Concerns
Smith House has no air conditioning and can be warm. Please note that tours will be cancelled if the Cranbrook Campus is closed for weather-related emergencies. Visit cranbrook.edu or call Cranbrook Security at 248.645.3170 for campus closure information.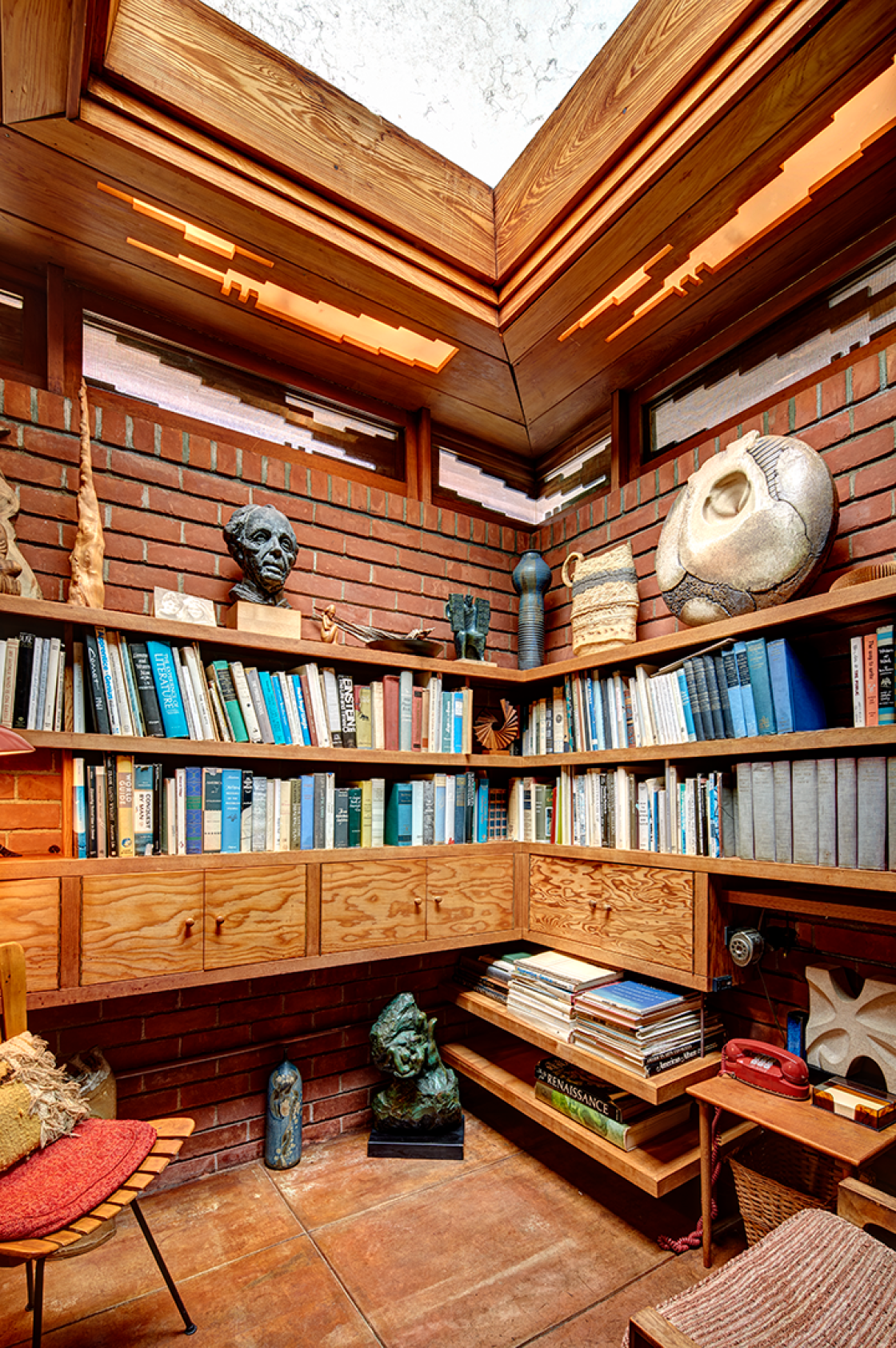 Restrooms
There are no public restroom facilities at the Smith House; you are welcome to use the facilities at Cranbrook Art Museum before driving to Smith House on Ponvalley Road for your tour. The Museum opens at noon and closes at 5:00pm, and is located ten minutes from Smith House at 39221 Woodward Avenue, Bloomfield Hills, MI 48304. Other than restroom access, tickets to Smith House do not include admission to Cranbrook Art Museum.

Refund Policy
Tickets are non-refundable. However, with at least three days advance notice, your ticket may be transferred to another tour date during the same tour season, based on availability. Your ticket may be transferred to another participant for the tour on the same day as the original ticket. If your tour is canceled by Cranbrook because of weather or the COVID-19 pandemic, you will be offered the opportunity to reschedule your tour for a later date, convert the cost of your ticket into a donation to Cranbrook Center for Collections and Research, or request a refund.
ACKNOWLEDGMENT OF RISK
An inherent risk of exposure to COVID-19 exists in any public place where people are present. COVID-19 is a contagious disease that can lead to severe illness and death. According to the Centers for Disease Control and Prevention, guests with underlying medical conditions are especially vulnerable. By visiting a Center-managed site, you voluntarily assume all risks related to COVID-19 exposure.

Because of the dynamic nature of COVID-19, tour dates and hours of operation are subject to change. Please consult our website or email center@cranbrook.edu for the latest details before each visit.
PRIVATE TOURS
A limited number of Private Tours of Smith House are available May through October, with at least three weeks advance notice.
Private Tour Fees*
*There is a Minimum Private Tour Group Fee of $150
Adults and Seniors: $50
Full-time Students with ID: $25 
To inquire about the availability of a Private Tour, please call 248.645.3307 and leave a voicemail or email center@cranbrook.edu.
PHOTO CREDITS
Exterior photography by James Haefner. Courtesy of Cranbrook Center for Collections and Research.
Interior photography by Brett Mountain. Courtesy of Cranbrook Center for Collections and Research.
Registration for this event has closed.