History of American Architecture: Building Types Lecture Series
Six Monday Evenings, February 11, 2019 – March 18, 2019 | 6:30pm

PLEASE NOTE: This six-week lecture series originally was scheduled to start on Monday, January 28, 2019. The new dates are Monday, February 11, 2019 through Monday, March 18, 2019. We apologize for any inconvenience this may cause.

Cranbrook Art Museum deSalle Auditorium
39221 Woodward Avenue, Bloomfield Hills, MI 48304
(Park at the Art Museum and enter through the Academy Library)

Lecturer: Kevin Adkisson, Cranbrook Center for Collections and Research
$65 for Adults; $25 for Full-time Students with ID 
Enroll online through the form below or by calling the Center at 248.645.3307
Advance registration required (Fee includes all six lectures)

Free for Cranbrook Academy of Art and Cranbrook Schools Students (Cranbrook students must register by sending an email from their Cranbrook address to center@cranbrook.edu)

This Lecture Series is eligible for American Institute of Architects Continuing Education Credits (AIA/CES).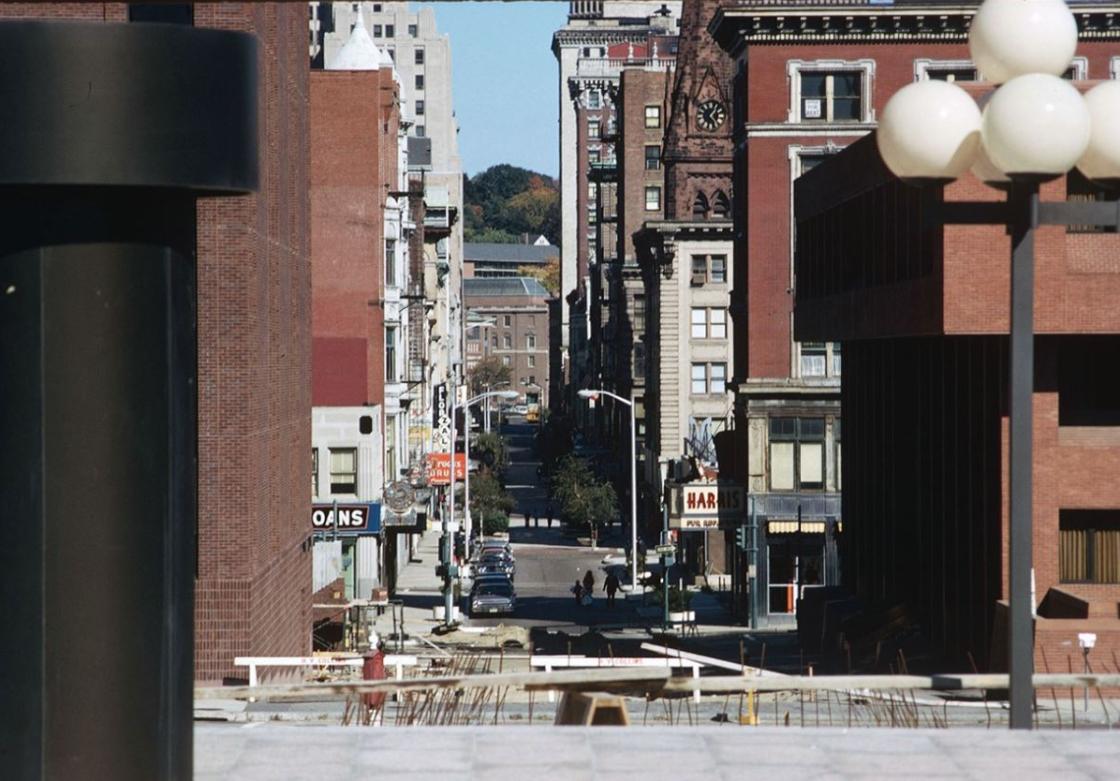 PRESENTED BY CRANBROOK CENTER FOR COLLECTIONS AND RESEARCH
Join the Cranbrook Center for Collections and Research Collections Fellow Kevin Adkisson for this six-week lecture series surveying the history of six building typologies in American architecture. By examining the intersection of design with social, political, and economic forces, this series will introduce ways of seeing and understanding our built environment.

The 75-minute, image-based lectures will survey four centuries of American architecture, focusing on the arc of modernism from the late 19th century to the present day. By examining the evolution of six building types, attendees will come to more fully understand and analyze the built landscape we live in every day. All levels of architecture knowledge are welcome.

Lectures will introduce major themes and theories that have shaped American architecture, along with significant individual projects and their architects. The course will analyze both the icons of architecture history and introduce you to less familiar people and places who have shaped American history.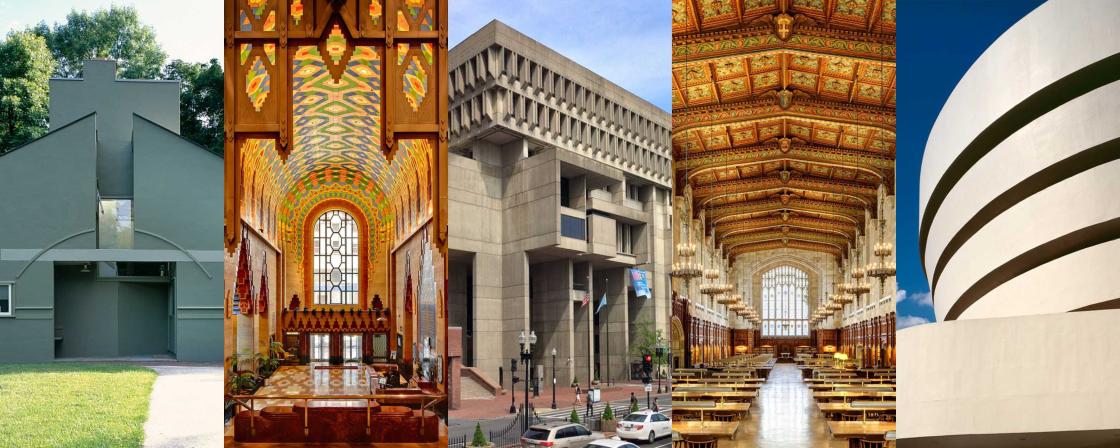 WEEKLY TOPICS
The American House
The City & Suburb
Government & Public Buildings
Schools & Universities
Industry & Commerce
Museums, Theaters, & Entertainment

Each week's lecture will start with a brief overview of the building typology, and then focus on its development since the late 19th century. The lecture series begins with an examination of domestic architecture and the long American obsession with the single-family dwelling—from the legacy of regional colonial influences through to the McMansions of the late 20th century. At the scale of the city, the course will trace Enlightenment-influenced planning of early cities to the international boom of Garden Suburbs in the 1910s, and the eventual impact of suburbs on the urban renewal schemes that decimated Detroit and many great American downtowns. Later weeks will outline the history of public buildings, from Washington to city halls; the intersection of educational theories and architecture at colleges and universities; a history of industrial innovations, shopping architecture, and the commercial vernacular; and, finally, a look at places and palaces of entertainment and leisure.
ABOUT KEVIN ADKISSON
Since the summer of 2016, Kevin Adkisson has served as the Center's Collections Fellow, assisting with preservation, interpretation, and programming across the many buildings and treasures of Cranbrook. A native of north Georgia, Adkisson has his BA in Architecture from Yale. In addition to architecture design studios and courses in the history of architecture, he took coursework on American decorative arts and worked for four years at the Yale University Art Gallery's Furniture Study. Adkisson was also the founder of the Architecture Appreciation Club for Underappreciated Architecture, a walking-tour based group aimed at increasing the understanding of architecture among a broad audience of undergraduates. Adkisson is completing his MA from the University of Delaware's Winterthur Program in American Material Culture, with a thesis examining the role of postmodernism in shopping mall architecture.

Adkisson previously worked for Robert A.M. Stern Architects (RAMSA) in New York as a research and writing associate. At RAMSA, he assisted design teams in researching historical reference imagery to be used in the design of the firm's signature modern-traditionalist aesthetic. He also assisted in image research for Stern's books, Paradise Planned: The Garden Suburb and the Modern City (2013) and Pedagogy and Place: 100 Years of Architecture Education at Yale (2016).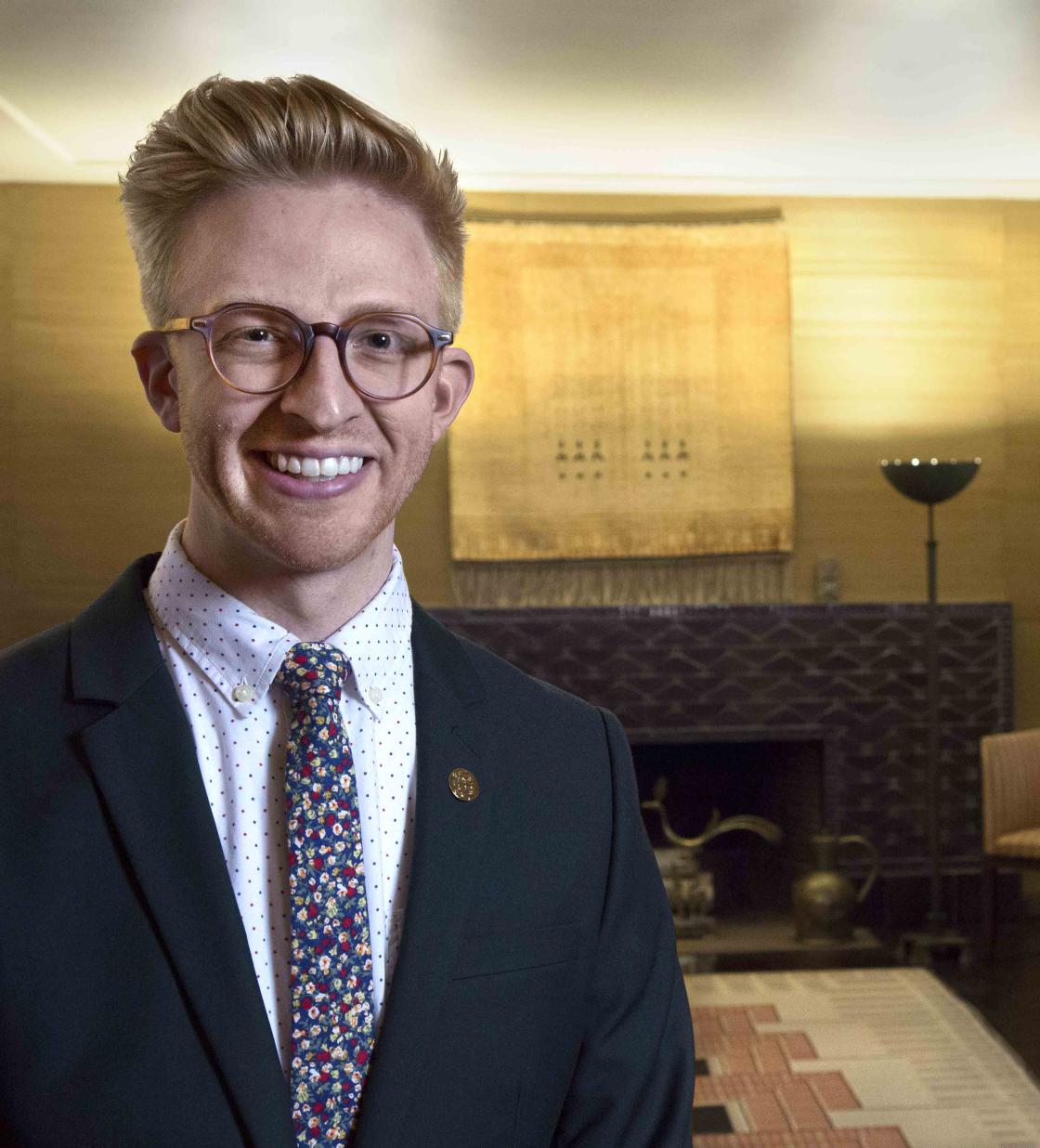 ADDITIONAL INFORMATION
The History of American Architecture Lecture Series is presented by the Cranbrook Center for Collections and Research. The fee includes admission to all six lectures. Although the lectures build on each other, attendance at all six lectures is not required. Regretfully, discounted tickets cannot be sold to individual lectures and admission cannot be transferred to other people.

All lectures will be held in Cranbrook Art Museum's deSalle Auditorium. Please enter through the Cranbrook Academy of Art Library, located under the Cranbrook Art Museum Peristyle, opposite the Museum entrance. Parking is available in the Art Museum main lot, on the east side of the Museum. For more information, please contact the Cranbrook Center for Collections and Research at 248.645.3307.

This lecture series is eligible for American Institute of Architects Continuing Education credits (AIA/CES). Each lecture is one learning unit (LUs), for a total of six LUs. AIA/CES Self Report Forms are available online through the AIA National website. Please call the Center or your local AIA chapter for more information.

PHOTO CREDITS (FROM TOP TO BOTTOM)
Ford Motor Company Highland Park Plant (Albert Kahn, 1910, Highland Park, Michigan), O. P. Black, draftsman. 1924. Collection of Cranbrook Art Museum, Gift of the Estate of John Bloom. 

Left to Right: Vanna Venturi House (Robert Venturi, 1964, Philadelphia, Pennsylvania), Carol Highsmith, photographer. Library of Congress; Guardian Building (Wirt Rowland of Smith, Hinchman & Grylls, 1929, Detroit, Michigan), James Haefner, photographer. © James Haefner; Boston City Hall (Kallmann, McKinnell & Knowles, 1968, Boston, Massachusetts), Gunnar Klack, photographer. Flickr; University of Michigan Law Library (York and Sawyer, 1931, Ann Arbor, Michigan), James Haefner, photographer. © James Haefner; Guggenheim Museum (Frank Lloyd Wright, 1959, New York, New York), David Heald, photographer. © The Solomon R. Guggenheim Foundation, New York.

Kevin Adkisson Staff Photo by P.D. Rearick, CAA '10.