Saarinen House: Presidents/Residents, 1946—1994 was on view in the Saarinen House second floor Son's Bedroom and first floor studio from April 29 through November 25, 2018. The exhibition featured original and reproduction works of art from each president, alongside display stands highlighting biographical information and historic photographs from Cranbrook Archives.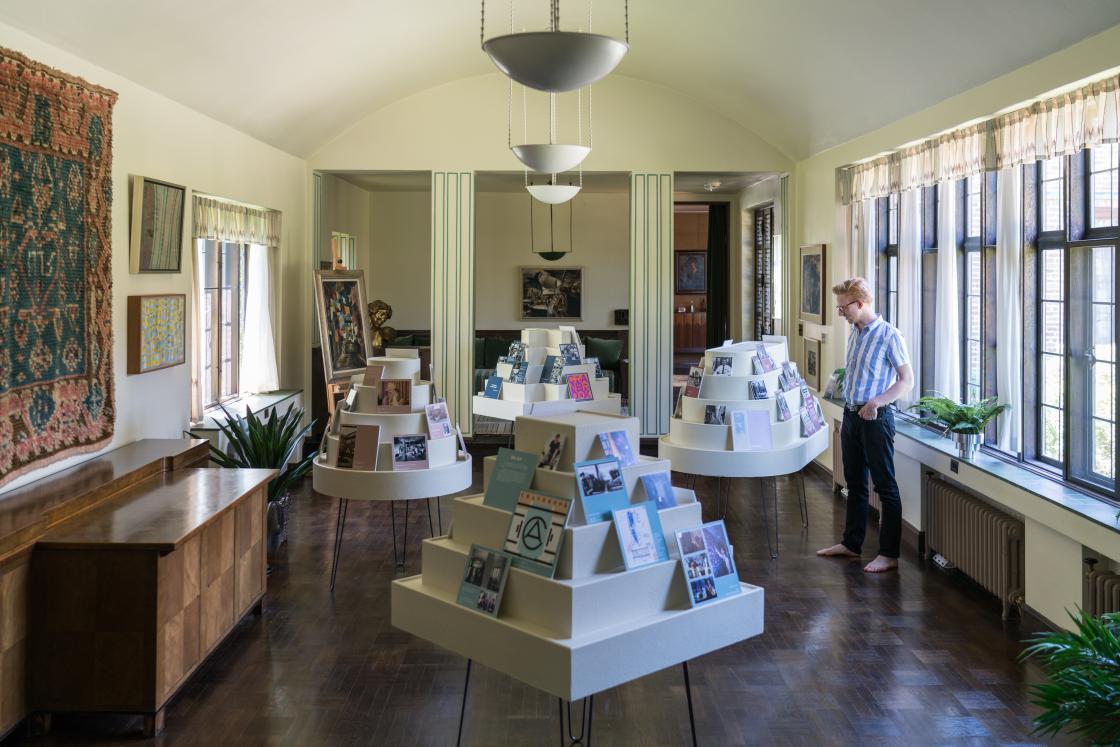 EXHIBITION DESIGN
The exhibition design was developed and produced by Ashley Bigham and Erik Herrmann of the architectural firm Outpost Office. Bigham and Herrmann's design featured five display tables in five distinct primitive shapes representing the past presidents. The tables used the telescoping motif found throughout Saarinen's designs at Cranbrook to generate shelves, and lips on each shelf provided the ideal viewing angle for displaying square exhibition panels of six, eight, or ten inches. The graphic design of the panels was a collaboration between Ashley Bigham and the curator.
The display tables were fabricated at the University of Michigan Taubman College of Architecture, with assistance from architecture student Drew Bradford. The tables are made from CNC-routed Styrofoam, coated with a rigid polyurethane spray (more commonly used as truck bed liner) in off-white. The coating was completed by Line-X of Brighton, Michigan. The hairpin legs were custom produced for the tables by DIY Hairpin Legs of Jacksonville, Florida, and supported a base of medium-density fiberboard into which the foam displays locked.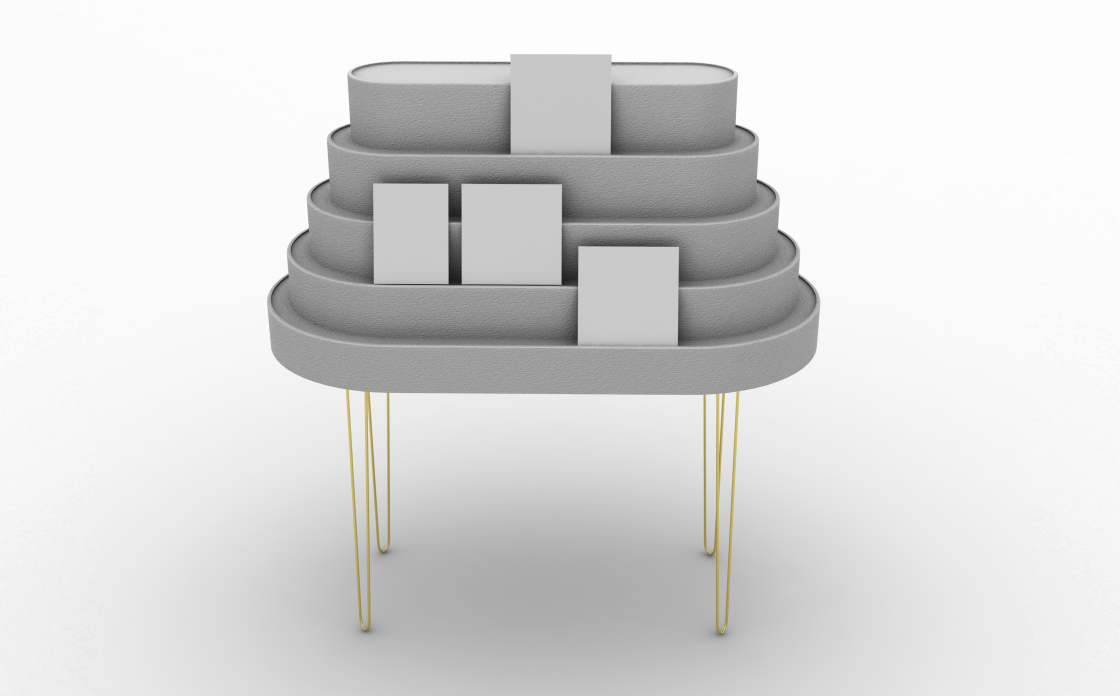 In a happy coincidence, the displays related back to the experimental 1969 concrete-coated Styrofoam domes at the nearby Roeper City Country School by architect-president Glen Paulsen. Working with Caudill-Roweltte and Scott (an architecture firm from Houston, Texas, specializing in educational buildings) and Ted Larson, dean of the Architecture School at the University of Michigan, the new elementary school buildings were constructed using the Spiral Generation System developed by the Dow Chemical Company. The system involved Styrofoam bars that were heated, curved, and stacked from a central armature to form a dome, which was then coated in a thin shell of waterproofing concrete. The domes are still in use, located near the Cranbrook campus off Woodward Avenue. 
IMAGE CREDITS
Banner image: Detail of display stands, Meng Li, photographer. 2018.
Overview of exhibition, Meng Li, photographer. 2018.
Exhibition gallery, P.D. Rearick, photographer. 2018.
Display stand rendering, Erik Herrmann, Outpost Office, 2018.
Roeper City Country School construction and project images are taken from a scrapbook assembled by Glen Paulsen within the S. Glen Paulsen Papers, Cranbrook Archives.