Cranbrook Japanese Garden
New Entrance Garden Donor Wall

The Center salutes our most generous donors, whose cumulative gifts to the New Entrance Garden project in the Cranbrook Japanese Garden exceed $5,000 in monetary contributions. Thank you!
BENCHMARK SPONSOR 
Discount Tire in Memory of Kathleen O'Brien Habucke
WOODEN BRIDGE SPONSORS 
JANET CHORKEY AND RYAN CHORKEY BURKE HONORING WILLIAM AND ALICE CHORKEY AND ROY SLADE
KAREN HAGENLOCKER AND HENRY WHITING, III
PATRONS OF A HOUSE PARTY AT CRANBROOK CELEBRATING LOJA SAARIEN (MAY 2022)
PATRONS OF A GLOBAL HOUSE PARTY AT CRANBROOK AND MILLESGARDEN (MAY 2021)
GWEN AND BRIAN POTIKER
PATHWAY SPONSOR 
Thomas and Lois Booth
Stephanie Fakih
Kitty and Tom Stoner
STONE STEP SPONSORS 
Masami Hida and Camilo Serna
Rita-Ann Lindstrom and Judy Lindstrom
A Gift from Doug and Carol Miller and Susan and Peter Prychodko in Memory of Edith Miller Wagner
Anita Savio
Michael and Elizabeth Larson Willoughby
REJUVENATION PATRONS 
Clannad Foundation
Beth and Dick Lilley
Saida S. Malarney
The Pettengill Family
Anonymous 
List reflects gifts received through February 20, 2023.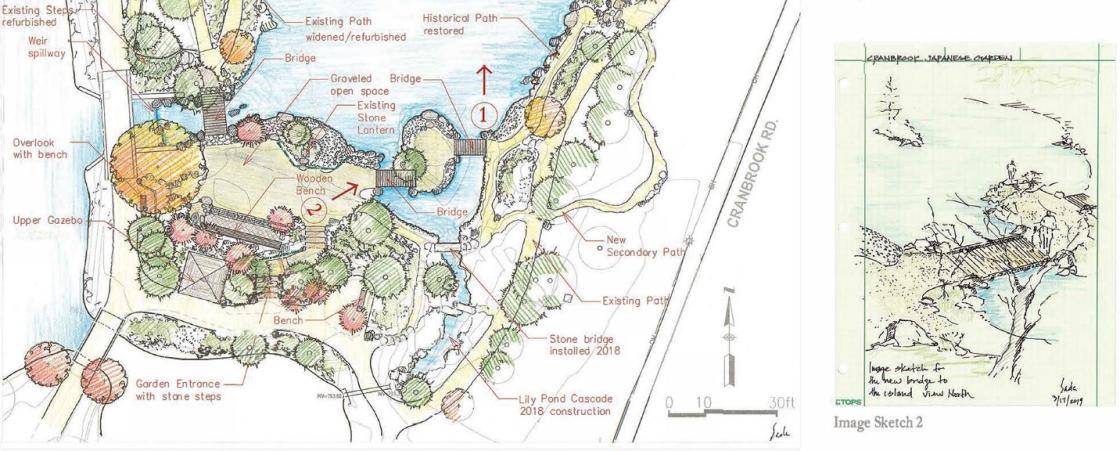 The generosity of our Cranbrook Japanese Garden New Entrance Garden donors also is reflected on the Cranbrook Center for Collections and Research Donor Wall, which acknowledges cumulative giving to all Center programs, endowments, and funds, as well as gifts of Cultural Properties and archival materials.
To learn more about the Cranbrook Japanese Garden and the New Entrance Garden, please visit the Cranbrook Japanese Garden webpage.
PHOTO CREDITS
Banner Image: Cranbrook Academy of Art Students on a Campus Tour, September 2019; Photography by Daniel Smith (CAA '21), Courtesy Cranbrook Center for Collections and Research.
Sadafumi Uchiyama, Designer, Cranbrook Japanese Garden Master Plan, Detail Showing the New Entrance Garden, 2019; Courtesy Cranbrook Center for Collections and Research.