Smith House Tour Information
Please review the information below before your tour to ensure an enjoyable visit. If you have any questions or concerns, or to book a private tour, please contact Cranbrook Center for Collections and Research at 248.645.3307 or center@cranbrook.edu.

PARKING
During the 2023 Tour Season, all tours of Smith House will begin at Smith House—not at Cranbrook Art Museum. The house is located less than one mile from the Cranbrook campus at 5045 Ponvalley Road, Bloomfield Township, Michigan 48304. Please park in the gravel driveway, not on Ponvalley Road.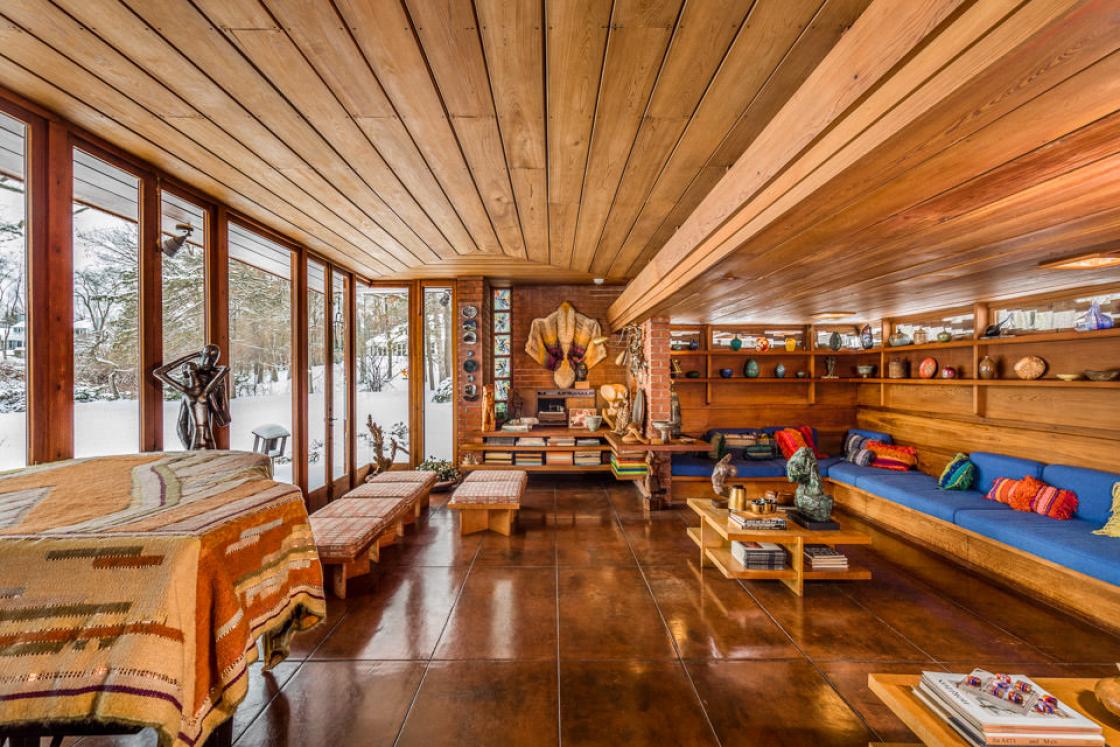 TOUR GROUP SIZE
For your comfort and enjoyment we are keeping tour sizes small. The average tour will be about 10 guests. Tour capacity is subject to change at our discretion. 
ACCESSIBILITY
Due to the historical status and intimate nature of the house, many rooms and passageways are very narrow and therefore the house is not wheelchair accessible. All tours are walking tours and guests must be able to walk and stand throughout most of the tour. 
CHILDREN
For the safety and comfort of all visitors, children younger than eight years old, including infants and toddlers, are discouraged on this tour.
RESTROOMS
There are no public restroom facilities at Smith House; you are welcome to use the facilities at Cranbrook Art Museum before driving to Smith House on Ponvalley Road for your tour. The Museum opens at 11:00am and closes at 5:00pm, and is located ten minutes from Smith House at 39221 Woodward Avenue, Bloomfield Hills, MI 48304. Other than restroom access, tickets to Smith House do not include admission to Cranbrook Art Museum.
COATS AND BAGS
Only small wallets and handheld cameras are permitted on the tours. Please leave all backpacks, purses, camera bags, camera equipment, and other cumbersome items in vehicles. This policy was created for the security and protection of Smith House and its collection of fine and decorative art.
SHOES
To protect the historic integrity of Smith House, you will be asked to wear disposable over-shoe slippers that will be provided.
PHOTOGRAPHY
Photography is permitted for personal use only. No special equipment or tripods may be brought on the tour.
WEATHER CONCERNS
Smith House has no air conditioning and can be warm. Tours take place rain or shine. Please note that tours may be canceled in the event of severe weather. Cancellations will be noted at the top of our website in the user alert banner. 

REFUND POLICY
Tickets are non-refundable. However, with at least three days advance notice, your ticket may be transferred to another tour date during the same tour season, based on availability. Your ticket may be transferred to another participant for the tour on the same day as the original ticket. If your tour is canceled by Cranbrook because of severe weather or wellness protocols, you will be offered the opportunity to reschedule your tour for a later date, convert the cost of your ticket into a donation to Cranbrook Center for Collections and Research, or request a refund.
WELLNESS PROTOCOLS*
Cranbrook Educational Community currently has no COVID-19 restrictions in place.  Visitors should use their best judgement regarding their health and safety when registering for and attending in-person tours. 
*Last updated on March 23, 2023
photo credits 
Interior of Smith House, 2017; Photography by James Haefner, Courtesy of Cranbrook Center for Collections and Research.
Interior of Smith House, 2019; Photography by Brett Mountain, Courtesy of Seen Magazine.