Japanese Garden Tour Information
Please review the information below before your tour to ensure an enjoyable visit. If you have any questions or concerns, or would like to book a private tour, please contact Cranbrook Center for Collections and Research at 248.645.3307 or center@cranbrook.edu.
TOUR LOGISTICS
The tours includes a ten-minute walk from Cranbrook House courtyard to the Cranbrook Japanese Garden over uneven terrain. Guests will be walking through the garden and standing for all of the tour. 
TOUR GROUP SIZE
For your comfort and enjoyment, the average tour will be about 18 guests. Tour capacity is subject to change at our discretion.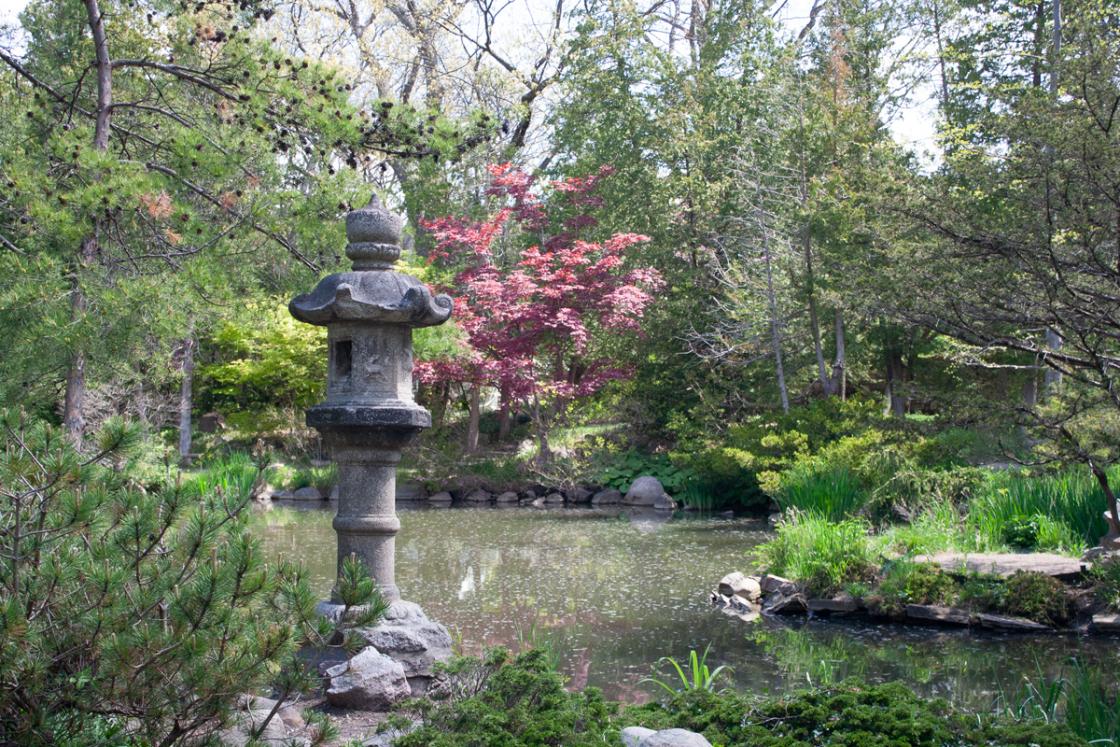 ACCESSIBILITY
The Cranbrook Japanese Garden is a historic landscape preserved and maintained as closely as possible to its original design. As such, there are certain natural and artificial surface conditions, such as grass, wood chips, stones, stairs, steep slopes and uneven terrain which can make walking and use of a wheelchair difficult. Assistance for persons using wheelchairs or walkers is recommended. Cranbrook Educational Community is a private, non-profit educational community that welcomes individuals to its public areas and is committed to providing reasonable accommodations for those who may require them. 
CHILDREN
For the safety and comfort of all visitors, children younger than eight years old, including infants and toddlers, are discouraged on this tour.
RESTROOMS
There are no public restroom facilities once you arrive at the Japanese Garden; please use the facilities at the Cranbrook House Gate House before beginning your tour.
SHOES
Since this is an outdoor walking tour, please wear comfortable shoes for your tour.
PHOTOGRAPHY
Photography is permitted for personal use only. No special equipment or tripods may be brought on the tour.
WEATHER CONCERNS
Tours take place rain or shine. Please note that tours may be canceled in the event of severe weather. Cancellations will be noted at the top of our website in the user alert banner.

REFUND POLICY
Tickets are non-refundable. However, with at least three days advance notice, your ticket may be transferred to another tour date during the same tour season. Your ticket may be transferred to another participant for the tour on the same day and time as the original ticket. If your tour is canceled by Cranbrook because of severe weather or the COVID-19 pandemic, you will be offered the opportunity to reschedule your tour for a later date, convert the cost of your ticket into a donation to Cranbrook Center for Collections and Research, or request a refund.
WELLNESS PROTOCOLS*
Cranbrook Educational Community currently has no COVID-19 restrictions in place.  Visitors should use their best judgement regarding their health and safety when registering for and attending in-person tours. 
*Last updated on March 23, 2023
 
photo credits 
The Red Bridge in Fall 2022; Photography by Marilee Barnett.
Kasuga Lantern in the Cranbrook Japanese Garden; Photography by Thomas Booth.