CRANBROOK VIRTUAL TOURS
Cranbrook Center for Collections and Research is offering Cranbrook Virtual Tours. Working directly with our resident curator, Kevin Adkisson, these tours allow you to enjoy the wonders of Cranbrook's architecture and grounds—from the comfort of your home or business. Contact us to craft your own custom Cranbrook experience for your family, friends, colleagues, or organization. 
THREE VISIONS OF HOME: CRANBROOK HOUSES TOUR
Explore three amazing homes combing art, architecture, and history from the Arts & Crafts era to the groovy 1970s.
 
Three Visions of Home: Cranbrook Houses Tours will resume in 2022. Check back in April 2022 for tour dates!
10:30am—2:30pm
Check-in at 10:15am
$75, including lunch
Limited to 16 guests
Tours begin at Cranbrook House
380 Lone Pine Road
Bloomfield Hills, MI 48304

See all three houses in one day!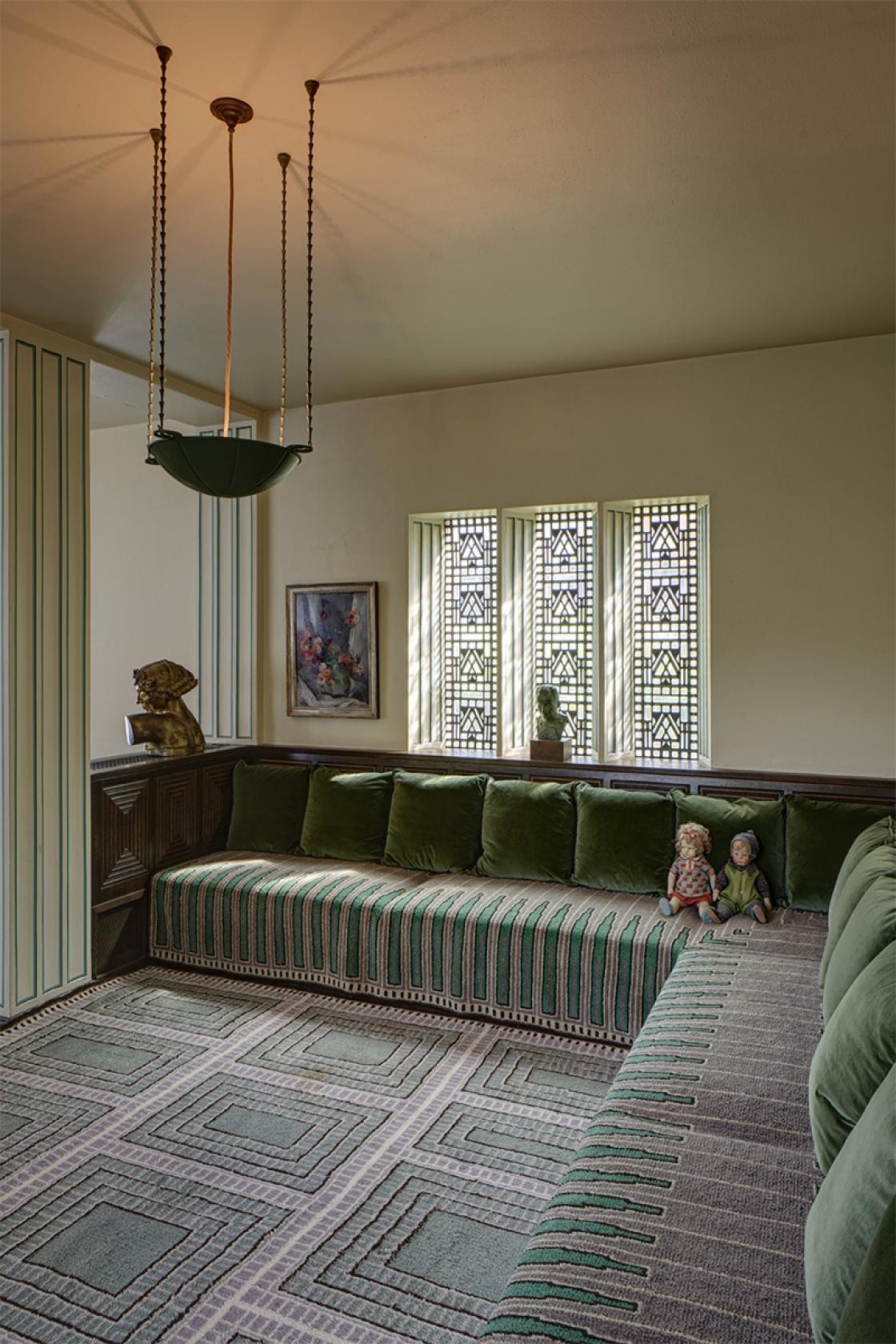 Join the Cranbrook Center for Collections and Research as we take you inside three remarkable homes from across the twentieth century. There's no tour quite like it, with a look into the architectural visions of American living from three internationally significant architects: Albert Kahn, Eliel Saarinen, and Frank Lloyd Wright. Your expert guide will take you through the architecture and innovations of each home, while also sharing the stories of the families who built and lived in these special places. Each house maintains unique and rich collections of decorative and fine art, and over the course of this tour, you will learn about the Arts and Crafts movement and how its legacy lived on at Cranbrook well into the twentieth century. Lunch will take place in the dining hall that Eliel Saarinen designed for Cranbrook School for Boys.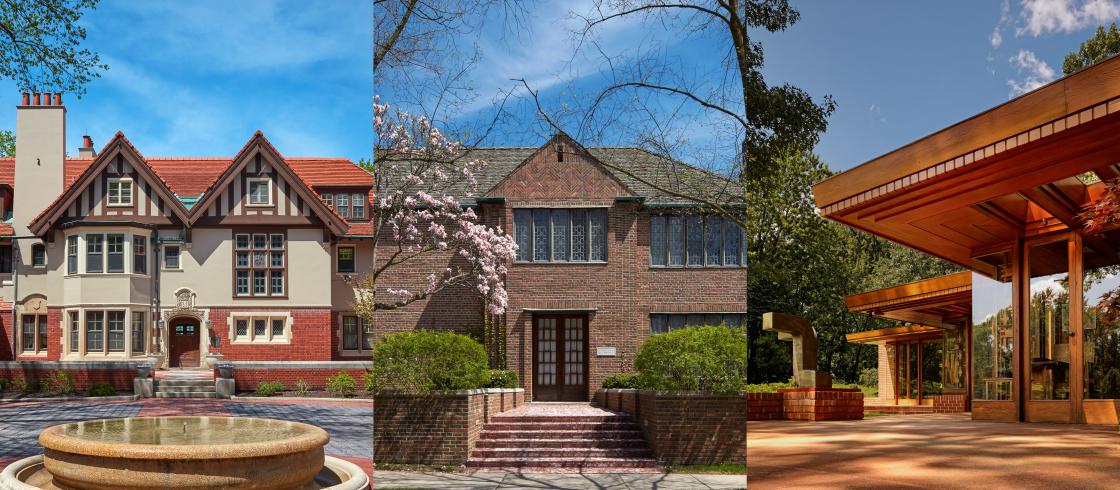 THE TOUR INCLUDES
10:30am 
Albert Kahn-designed Cranbrook House. The founders of Cranbrook, George and Ellen Booth, worked with Detroit architect Albert Kahn to create a large country house in the English Arts & Crafts style. Completed in 1908, with additions in 1918 and 1919, the house was filled not with antiques but with handmade decorative arts from the best makers of their age. Of special interest is the grand library, with its handwoven World War One memorial tapestry and incredible hand-carved oak overmantel celebrating the Arts & Crafts Movement. 
11:10am
Walk to Saarinen House. Leave through the lush, terraced gardens of Cranbrook House and walk across the valley to Cranbrook Academy of Art. The walk includes stops at the Triton Pools, with sculptures by Carl Milles, and the Saarinen-designed Arts and Crafts Courtyard, where the Academy began.
11:30am
Eliel Saarinen-designed Saarinen House. Eliel Saarinen acted as both client and architect for this landmark Art Deco home and studio, which was built to serve the president of Cranbrook Academy of Art. Eliel lived here with his wife Loja from 1930 until 1950. This Gesamtkunstwerk, or total work of art, features handwoven textiles, handcrafted furniture, and custom fixtures all designed by the Saarinens and made at Cranbrook. Our tour includes the gold-domed dining room, one of the country's most spectacular Art Deco interiors, and the studio, where rotating exhibitions focus on the history of Cranbrook.
12:30pm
Walk to Cranbrook School for Boys. The short walk to lunch includes a glimpse of the Oxford-inspired courtyards of Cranbrook School.
12:40pm
Lunch at the historic Cranbrook School for Boys. The tour breaks for a lunch in the historic Cranbrook Schools for Boys dining hall lower level, completed by Eliel Saarinen in 1928. Lunch will include a salad and sandwich bar, chips, and sweets. Lunch in the Dining Hall is subject to availability with Cranbrook Schools; your tour's lunch may be in another location on campus.
1:20pm
Walk to Cranbrook Art Museum for shuttle to Smith House. After lunch, we learn about the buildings and grounds of Cranbrook Academy of Art Museum and Library. Completed in 1942, these are the last buildings built by George Booth and Eliel Saarinen for Cranbrook. A shuttle bus will take us on the short drive from Cranbrook to Smith House.
1:30pm
Frank Lloyd Wright-designed Smith House. Detroit public schoolteachers Melvyn and Sara Smith built this unique family home, an example of Wright's vision for American living which he called Usonia, in 1950. The Smiths dedicated themselves to filling their home with works of art, much of it from Cranbrook student and alumni studios. The tour highlights a tour de force mosaic folding screen by Glen Michaels and monumental metal credenza by Paul Evans. The Smiths' heyday of collecting came in the 1970s, making this house a time-capsule of that period as much as it is a work by America's foremost architect.
2:20pm
Shuttle to Cranbrook House parking lot. The tour ends at Cranbrook House, where your guide will answer any final questions about this special place.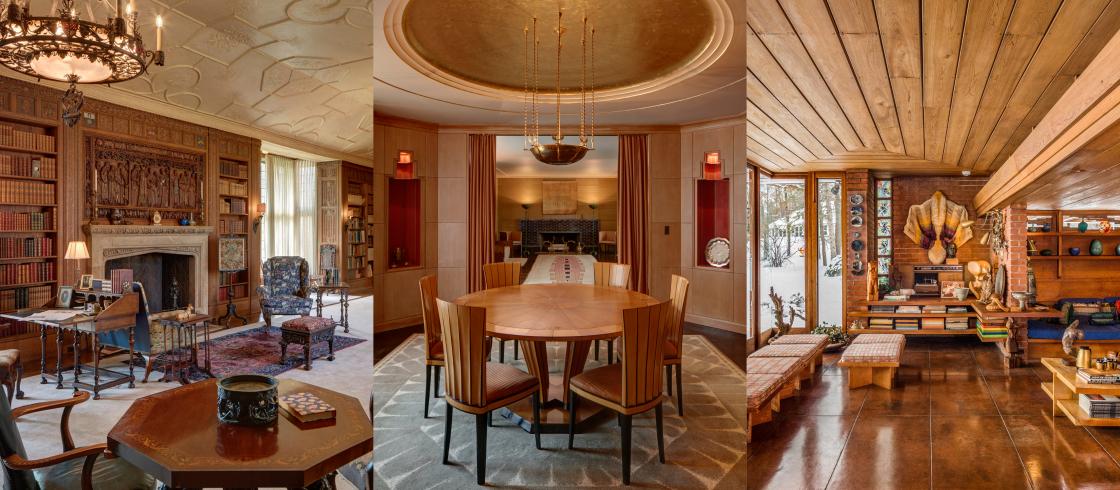 TOUR INFORMATION
Three Visions of Home tours depart from and return to Cranbrook House, located at 380 Lone Pine Road, Bloomfield Hills, Michigan. Free parking is available in the Cranbrook House parking lot, a five-minute walk from the house's front door. 
Please arrive at least 15 minutes in advance of your tour time to check-in. 
All tours are walking tours and guests must be able to walk and stand throughout most of the tour. The tour will include walking outdoors between campus buildings and multiple sets of stairs. There are no public restroom facilities at Saarinen House or Smith House; restrooms are available at Cranbrook House gate house, Cranbrook House, and at Cranbrook School for Boys (lunch). Tours take place rain or shine, and there is no air conditioning in the homes. To protect the historic integrity of Saarinen and Smith Houses, you will be asked to remove your shoes and wear slippers that will be provided. 
For the safety and comfort of all visitors, children younger than eight years old, including infants and toddlers, are not permitted on this tour. Due to the historical status and intimate nature of the houses, many rooms and passageways are very narrow and therefore the houses are not wheelchair accessible.
Only small wallets and handheld cameras are permitted on the tours. Please leave all backpacks, purses, camera bags, camera equipment, and other cumbersome items in vehicles. This policy was created for the security and protection of our collections of fine and decorative art. Personal photography is permitted on the tour.
ADMISSION
Admission: $75
Admission includes lunch.
REGISTRATION
Advance registration is required as participation is limited. Tickets are non-refundable (but may be transferred to another participant). For more information, please contact the Cranbrook Center for Collections and Research. Our Administrative Assistant, Alissa Seelmann-Rutkofske, may be reached at 248.645.3307 (Tuesday through Friday, 9:00am to 5:00pm). Advance ticket sales close at noon on the Wednesday before the Saturday tour date.
PHOTO CREDITS
Photography by James Haefner. Courtesy of Cranbrook Center for Collections and Research.
Smith House interior photography by Brett Mountain for SEEN Magazine. Courtesy of Cranbrook Center for Collections and Research.