Saturday, May 22nd, 2021 |

6:30pm

-

9:30pm
Cranbrook Center for Collections and Research
Bloomfield Hills
,
MI
48304
Virtual Fundraiser Benefitting Cranbrook Center for Collections and Research, including Cranbrook Archives
Celebrating Sculptor Carl Milles and Cranbrook's Swedish Connections
Film Premiere, Dinner, and Auction—Presented in Your Home!

Guests of Honor 
H.E. Karin Olofsdotter, Ambassador of Sweden
Erin DiMarco and Dominic DiMarco, Cranbrook President 
Onita Wass, Director, Millesgården Museum, Sweden
Honorary Global House Party Chairs
Bonnie Larson
Melissa and Thomas Mark, Honorary Consul, Swedish Honorary Consulate in Detroit
Planned Program:
12:00 – 4:00pm      Dinner Delivered to Your Home*
6:30pm                    Virtual Live Streaming of the House Party Begins
6:30 – 7:15pm         Welcome/Cocktails/Appetizers/Music
7:15 – 8:15pm          Dinner 
8:15 – 9:00pm         Film Premiere
9:00 – 9:30pm        Conversation among Guests and Auction Closes
*Dinner delivery is limited to a 50-mile radius from Cranbrook. Guests will be notified of their estimated delivery times the week before the event. Dinners may also be picked up at Forte Belanger, 700 Stephenson Hwy, Troy, Michigan.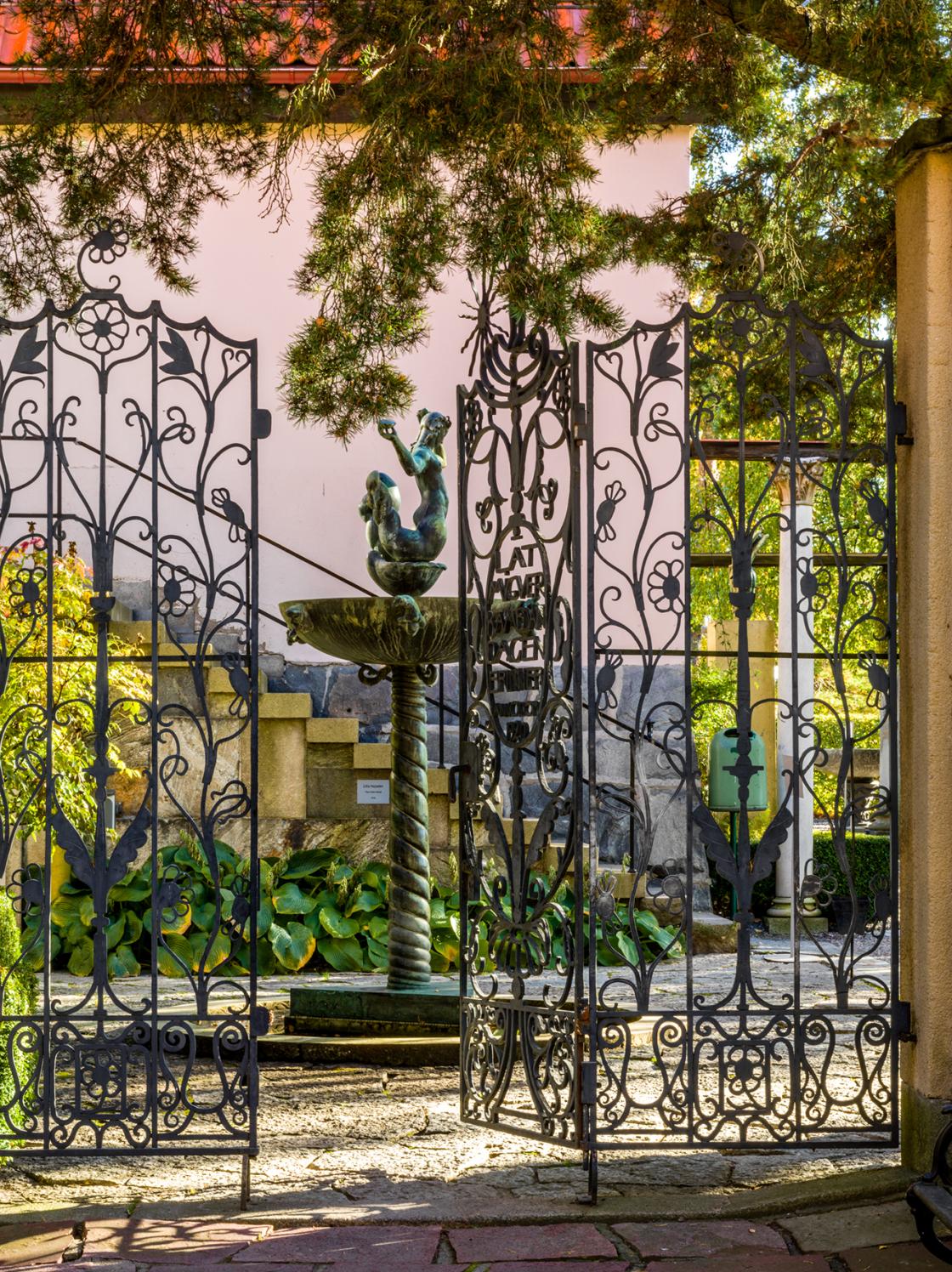 Join your friends at the Center for A Global House Party at Cranbrook and Millesgården as we celebrate Cranbrook's many connections to Sweden. While the internationally renowned sculptor and Cranbrook Academy of Art Artist-in-Residence Carl Milles is central to this story, Cranbrook's Swedish heritage goes much deeper. Even our famous Finnish couple, Eliel and Loja Saarinen, spoke and wrote in Swedish and Loja employed only Swedish weavers in her entrepreneurial enterprise, Studio Loja Saarinen. These stories and many more will unfold as you dine, bid on a carefully selected array of Cranbrook and Swedish auction items, and enjoy the Center's new film—all in the comfort of your home.
A highlight of this fundraiser will be the premiere of a film that provides a special insider's look into the life and work of Carl Milles. Produced exclusively for this event in collaboration with the Center's colleagues in Sweden, the 45-minute film uses spectacular high-definition footage of Cranbrook and Millesgården Museum (Milles's home, studio, and sculpture park in Lidingö, Sweden), alongside historic images from Cranbrook Archives and Millesgården, to tell the story of Carl Milles and Cranbrook as never before. Exploring not only the artist's iconic sculptures on Cranbrook's campus, the film travels through Milles's homes and studios in Michigan and Sweden, stops by the Stockholm foundry where his works were cast in bronze, and surveys Milles's works throughout the world. This transatlantic, behind-the-scenes cinematic tour is sure to give you a new appreciation for Milles and his work in both the United States and Europe.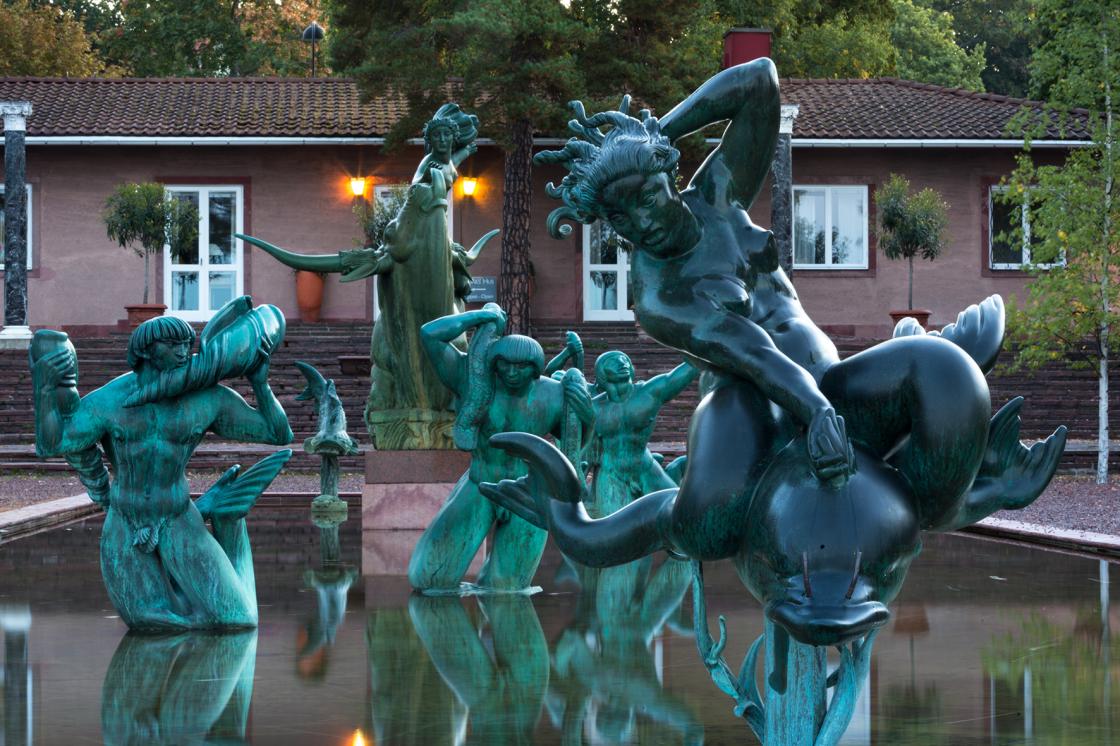 The auction, which will open with an online preview in early May, will feature an enticing array of design objects and one-of-a-kind experiences—curated for the event by Center Director Gregory Wittkopp and Associate Curator Kevin Adkisson. From a reproduction of a rug created for Kingswood School for Girls by Loja Saarinen and her Swedish weavers, to a curator-led tour of the landmark exhibition Scandinavian Design and the United States at LACMA in California, your Global House Party ticket gives you access to the auction preview and auction on the night of the party. 
Your wellbeing is our top priority. This virtual party allows you to support the Center in the safety of your home with opportunities to choose the level of support that allows two, four, or eight people to gather safely with you for the event. For our Host Committee and Patrons, the evening will include a Scandinavian-themed dinner paired with wine, prepared and delivered to your front door with serving instructions by the renowned local caterer, Forte Belanger. For those whose "bubble" is larger or who would like to safely bring together a few more people in one or more locations, tickets at the Sponsor levels will accommodate your needs while providing even more support for the Center and its programs. And one lucky Milles Sponsor will host a memorable dinner for ten guests in Milles House, the original home of Carl and Olga Milles at Cranbrook Academy of Art. For all participants, including those at the Friends and Center Business Friends levels, the evening will include the livestreaming of the Carl Milles film.
While the Center has much to celebrate—including the outstanding success of our virtual programming and greatly expanded online access to our archival collections— your support of A Global House Party at Cranbrook and Millesgården will ensure that the Center emerges from the pandemic more robust than ever. We look forward to sharing this special evening with you.
TICKET LEVELS AND BENEFITS
To purchase tickets and learn more about the ticket levels and benefits, click below.
AUCTION ITEMS
View the Center's carefully curated, unique selection of objects and experiences for the Global House Party Live Auction. Please visit this site on a regular basis, as the list of items will keep growing until the Auction Preview in May.
COMING SOON
GLOBAL HOUSE PARTY 2021 DONOR WALL
Cranbrook Center for Collections and Research gratefully acknowledges our most generous patrons of A Global House Party at Cranbrook and Millesgården. 
We will be updating the Donor Wall weekly—and hope to include your name soon!
ADDITIONAL INFORMATION
For more information about the Center's 2021 fundraiser, A Global House Party at Cranbrook and Millesgården, please contact Anna Mrdeza in the Cranbrook Advancement Office at AMrdeza@cranbrook.edu or leave a voicemail at 248.645.3269. For more information on the Sponsor opportunities and benefits, please contact Center Director Gregory Wittkopp at GWittkopp@cranbrook.edu or leave a voicemail at 248.645.3315.
PHOTO CREDITS
The stunning color photography used throughout the Global House Party webpages is by Yanan Li, who moved to Sweden from China in 2000.  Li, who is one of the few "Hasselblad Ambassadors" in the world, photographed Millesgården for the 2016 book, The Home and Art of Carl Milles: Millesgården (Arvinus + Orfeus Publishing, Stockholm, Sweden). Cranbrook Center for Collections and Research gratefully acknowledges Millesgården Museum and its director, Onita Wass, for providing the photography and granting the Center permission to reproduce the images. For more information on Millesgården Museum, please visit their website.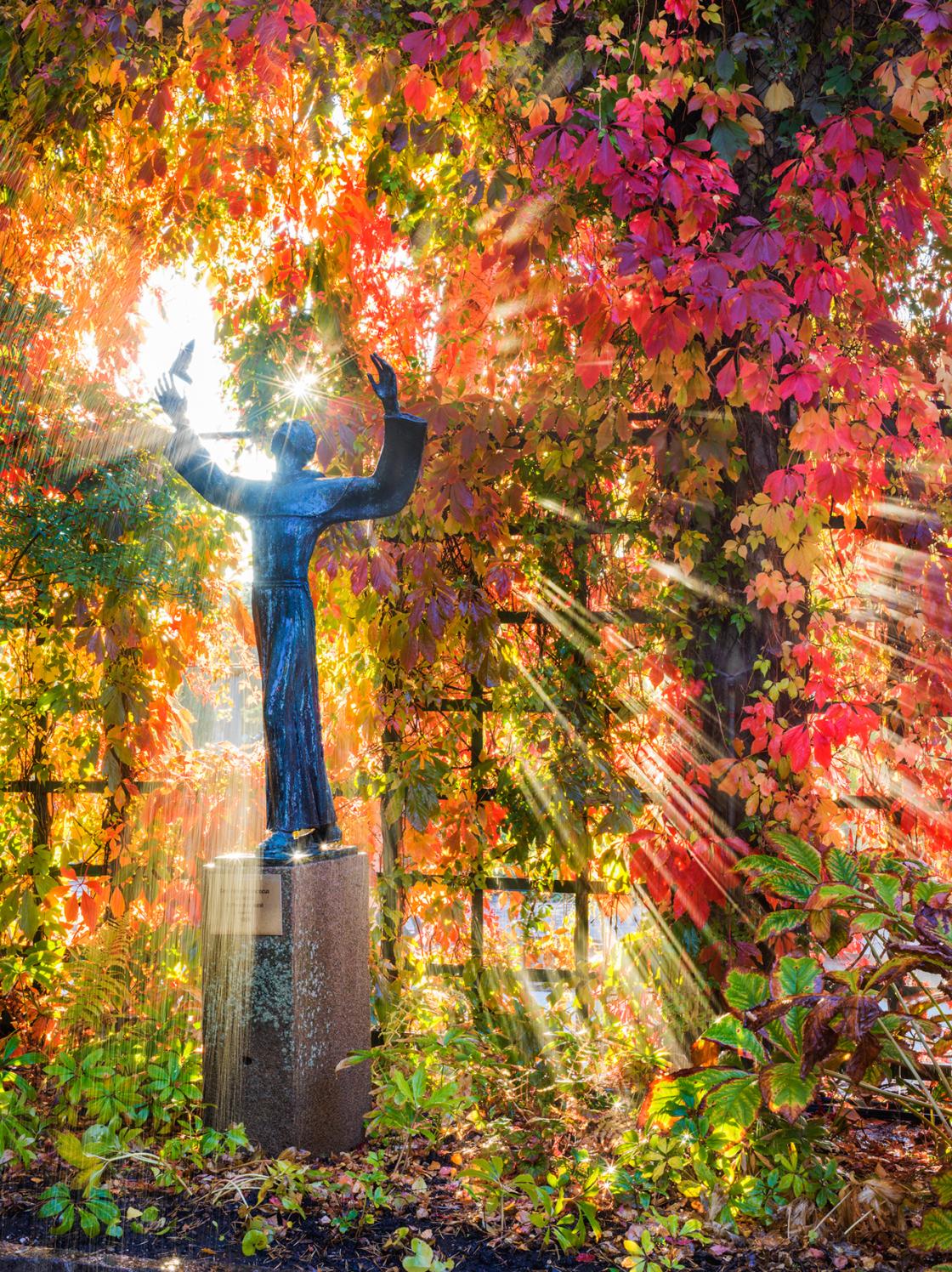 Image Captions (from top to bottom):
Banner Image: Carl Milles's sculptures in silhouette at Millesgården Museum facing Stockholm and Värtahamnen, a neighborhood under construction.
Carl and Olga Milles's private entrance to Millesgården Museum on the upper terrace. The cast iron gate includes the proverb of the artist's sister Ruth Milles: "Let me work while the day is burning."
Milles's Europa and the Bull, three Tritons, and Sunglitter in the pool in front of Anne's House at Millesgården Museum. Anne Hedmark, Milles's secretary, became Millesgården's first hostess and curator in 1950.
Carl and Olga Milles's home at Millesgården Museum reflected in a water-filled granite bath on the upper terrace.
Ticket Levels and Benefits Image: Milles's Triton (detail) at Millesgården Museum. Tritons were marine beings, the sons of the sea god Poseidon. They blew their shells to calm the sea during storms.
Auction Items Image: Mascaron of a satyr, a companion of Dionysus, among roses at Anne's House. Antique architectural elements, such as capitals and columns and this mascaron, are featured in many places around Millesgården Museum.
Donor Wall Image: Milles's Triton (detail) at Millesgården Museum.
Francis of Assisi (1959) sculpture by Frances Rich on the grounds of Millesgården Museum. Rich studied with Carl Milles at Cranbrook Academy of Art.