Roy Slade studied at the Cardiff College of Art and then the University of Wales, and after a two-year stint in the British Army (where, among other duties, he taught painting in Singapore), Slade began his career teaching fine art. In 1967, he immigrated to America and began teaching in Washington, D.C., where he served as Dean of Corcoran School of Art from 1970 to 1977 and Director of the Corcoran Gallery of Art from 1972 to 1977, when he left for Cranbrook. After resisting initial invitations to come to Cranbrook from President Mitchell, Slade accepted the position as President of the Academy in 1977.
Slade became the first president without direct personal ties to Eliel Saarinen, nonetheless he was deeply moved by the campus architecture and the Academy's history. As he set out to reinvigorate the artistic and academic mission of the school, he pushed for greater appreciation of Saarinen's legacy and buildings.
Moving into Saarinen House, Slade took down the partitions and false walls erected over the years in the studio to reconnect Saarinen's studio with the main house. He then worked with designers Jean Faulkner and Carl Magnusson (Director of Graphics and Showroom Design at Knoll) on renovating the home with iconic pieces of modernist furniture, including Eames lounges, Warren Plattner suites, Breuer's Wassily armchairs, and a large, custom mauve sofa from Knoll. It was all arranged on "Gibraltar Ash" off-white wool wall-to-wall carpeting by Jack Lenor Larsen, backgrounded by white walls and white ceilings. Artworks by Cranbrook (and Cranbrook-adjacent) artists and designers from many decades–not just the 1930s–were blended together into a comfortable, deliberately eclectic look. This 1977 renovation brought back many pieces of original Saarinen furniture, but it did not attempt to recreate the house's historic interior design.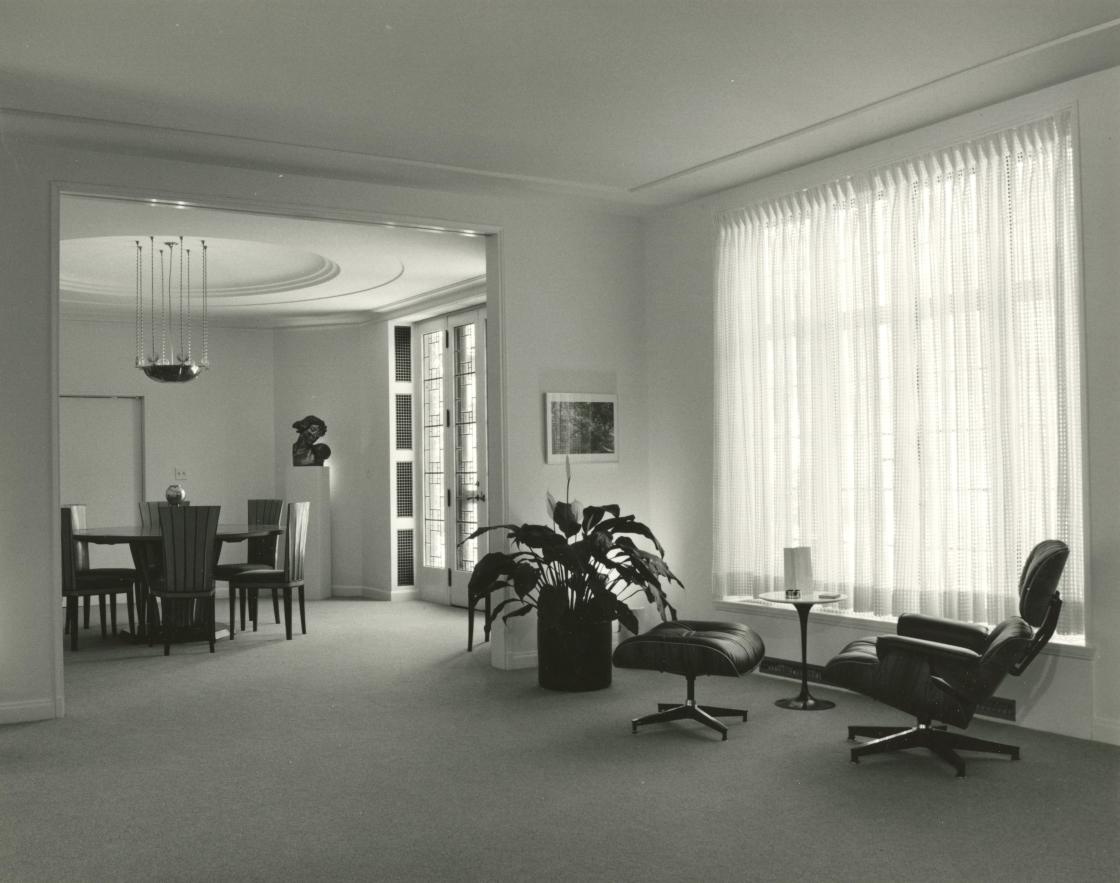 Restoration of the home to its historic, Saarinen-designed aesthetic began in earnest in the 1980s under the supervision of Cranbrook Academy of Art Museum curator Gregory Wittkopp. Saarinen's rich color scheme and variety of materials–including the gilded dining room ceiling—were painstakingly recreated. In 1990, Slade and his family relocated the President's residence from Saarinen House to the adjoining Milles House. This allowed for the eventual opening of the home to the public, in May of 1994.
SLADE'S ART
Associated with the Color School in Washington, D.C., at Cranbrook Slade began working on smaller canvases. Feeling, as he describes, intimidated at the thought of practicing in the studio of Saarinen himself, Slade set up his studio in the house's basement. His layered paintings are inspired by the architectural details of Cranbrook, specifically the modulation of light and the design of Saarinen's windows.

Click here to view more works by Slade.
THE ACADEMY, 1977 - 1994
Wanting to energize the Academy, Slade brought in new faculty who were intentionally not Cranbrook graduates. He visited student studios often and took notes and sketches of each student work. He invited international artists to lecture and critique students, and visiting artists were hosted in the Saarinen House master bedroom.
Slade approached reestablishing Cranbrook's eminence in part by mining its rich past. Nothing proved as significant as the Design in America: The Cranbrook Vision: 1925-1950 exhibition and catalog, which positioned Cranbrook, its campus, and the Academy's artists as central players in the birth of American Modernism. Travelling to Detroit, New York, and Helsinki, the show toured treasures of Cranbrook and inspired a new generation to appreciate this special place.
Click on the images below to learn more:
×
To learn more about Roy Slade and his presidency of Cranbrook Academy of Art, visit Cranbrook Archives to explore the Cranbrook Academy of Art: Office of the President (Roy Slade) Records. You can see the collection's finding aid here.
IMAGE CREDITS
Banner Image: Detail of Cranbrook Academy of Art Student Survival Handbook, Katherine McCoy, designer (attributed). May 1980.
Roy Slade in Saarinen House's "Cosy Corner," 1985. Richard Hirneisen, photographer.
Living Room and Dining Room of Saarinen House, Jack Kausch, photographer. ca. 1980.
Roy Slade, Vortex, 1982-83. Collection of Cranbrook Art Museum, Gift of Don and Lillian Bauder.
Cranbrook Academy of Art Course Catalog Cover, 1985. Katherine McCoy, Constance Birdsall, and Peter Wong, designers.
All images courtesy of Cranbrook Archives.